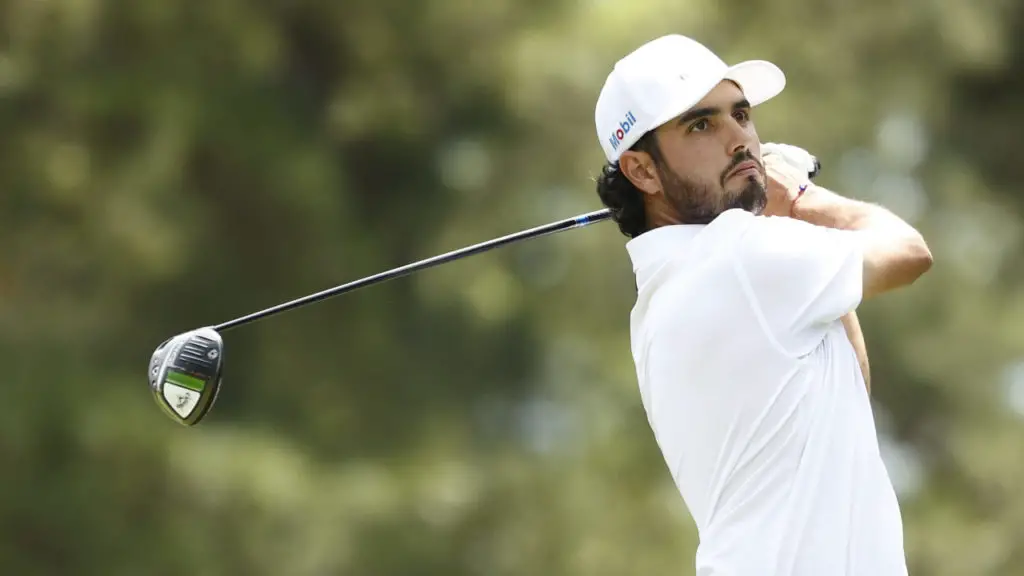 Abraham Ancer builds confidence after another strong finish
Mexico's Abraham Ancer finishes second at Wells Fargo Championship
Abraham Ancer was back in the hunt Sunday, getting closer to his ultimate goal. The former University of Oklahoma golfer can sense the confidence building as he chases his first PGA Tour victory.
Only Rory McIlroy was better than Ancer during the Wells Fargo Championship at Quail Hollow Golf Course. Ancer settled for second place with the PGA Championship on the horizon later this month. 
"Yeah, I enjoy being in the hunt," Ancer said. "And I like looking at the leaderboard and seeing my name up there and I'm not like, 'Oh, my God, I have a chance.' And you maybe get a little bit more nervous. 
"I see my name and I'm looking to see what I need to do now instead of like how I need to play, maybe be a little more conservative. I know I can look at a leaderboard now and see where I am and I know if I make a couple birdies, I feel the confidence of doing that and I feel comfortable."
Ancer, who was born in McAllen and raised across the border in Mexico, joins 2020 Houston Open winner Carlos Ortiz as the only Mexicans currently on the PGA Tour.
Last November Ortiz snapped a 42-year drought between PGA Tour victories by a native of Mexico. A week later, Ancer entered the final day of the 2020 Masters among the leaders. Ancer hit a stunning 76 on the final round of the 2020 Masters to finish tied for 13th after hitting 68, 67 and 69 in the first three rounds of that Major. 
Abraham Ancer secured best finish of the year
He had his best finish of the year this past weekend in Charlotte, where he hit 69-70-70-66 to finish 275 (-9). Ancer earned a $882,000 while tying for his best finish on the PGA Tour.
The purse at the Wells Fargo Championship was the second best of Ancer's career. It trailed only the $999,000 he earned for finishing second at The Northern Trust in August 2019. 
Ancer, 30, has finished second four times on the PGA Tour. Three of those runner-up finishes have been in the last two years. It seems almost a just a matter of time before he earns his first PGA Tour victory.
Ancer's focus will now turn to the PGA Championship, which will be held at Kiawah's Ocean Course. He hopes Quail Hollow helped prepare him for South Carolina.  
"Yeah, it gets me pumped up knowing I'm performing well on golf courses that are big venues," Ancer said. "You've got to hit it out there. … Kiawah's just a couple weeks from now, and that's a big golf course as well. I'm pretty pumped to see how my game stacks up out there. This gives me a lot of confidence, for sure."
Get the Our Esquina Email Newsletter
By submitting your email, you are agreeing to receive additional communications and exclusive content from Our Esquina. You can unsubscribe at any time.