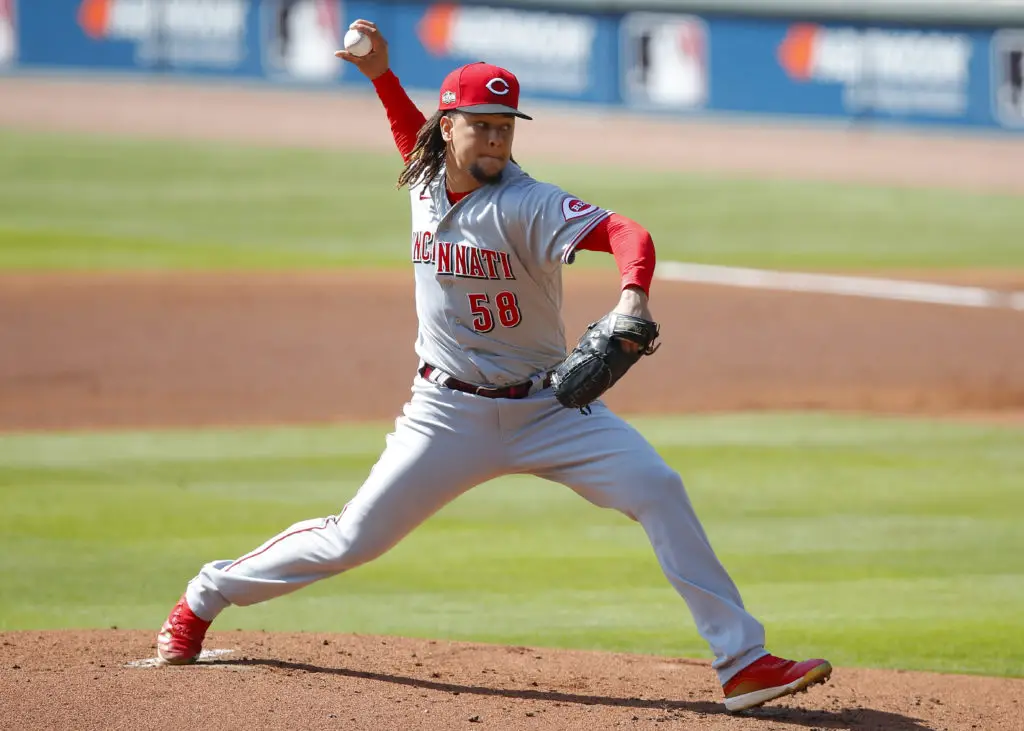 MLB Players: Better Know Your Pelotero Part 4: The Latino Cy Young
No Latino has won a Cy Young Award in more than a decade, and here are a few who can break that drought.
When Opening Day arrives Thursday, it will be 11 seasons since the last time a Latino won the Cy Young Award, when Seattle Mariners' icon Félix Hernández took home the award in 2010.
Prior to that it was fellow Venezuelan Johan Santana, who earned his second as a member of the Minnesota Twins in 2006.
Suffice to say, it's been a while since we've seen a Latino Cy Young Award winner. 
And as it currently stands, it's hard to imagine with the current crop of Latino starters in the league that we'll see a surefire winner anytime soon. That's not to say we're not close, however. 
Over the past several days, Our Esquina has unveiled its picks for Latino rookies of the year, bounceback candidates and breakout stars. 
We begin our final batch of our "Better Know Your Pelotero" series with the Latino Cy Young.
For the purposes of today's piece, we'll quantify the Latino Cy Young as a Latino pitcher with the most capability to impact his individual team in the upcoming season, potentially earning Cy Young Award votes in the process, but not wholly necessary. 
We'll also identify a reliever who could challenge for the year-end Trevor Hoffman and Mariano Rivera Reliever of the Year Awards as well as an up-and-coming Latino pitcher. 
Let's jump in: 
National League
Luis Castillo — RHP, Cincinnati Reds
Luis Castillo is an easy choice because he's the most likely to win a Cy Young at some point in his career.
His changeup is one of the best pitches in the game, and he's shown extended periods of flashes during his short career.
In 2020, he went 4-6 with a 3.21 ERA in 12 starts. His September was particularly noteworthy, as he went 4-1 in five starts with a 2.20 ERA and 37 strikeouts in 32 2/3 innings. Opponents were hitting .190. 
In the worst start of his September, he gave up four earned runs in four innings. Take that start away and he has a 1.26 ERA. 
Castillo will start on Opening Day for the second time of his career, and with Trevor Bauer gone via free agency, Castillo stands firmly as Cincinnati's ace for 2021.
Edwin Díaz — RHP, New York Mets
Edwin Díaz was one of baseball's best closers in 2018, when he racked up 57 saves in 73 games to the tune of a 1.96 ERA, earning an All Star Game nomination, the Mariano Rivera Reliever of the Year Award and Cy Young and MVP Award votes, too.
It was an all-time season by a reliever, and Díaz found himself traded shortly after in a blockbuster deal with the New York Mets. 
Instead of getting "better," it appeared as if Díaz regressed. All of a sudden. Díaz couldn't get batters out. Blown saves and a higher ERA replaced his All-Star stats from the previous season.
Still, his peripherals checked out, and he did finish with 26 saves. Chalk it up to fatigue from the massive use the year before, adjusting to a new league or both. Because in 2020's truncated season, Díaz displayed many of the tools that made him one of the best closers in baseball to begin with. 
A 1.75 ERA, six saves and 50 strikeouts definitely had Díaz feeling great again and opposing hitters nervous. 
With the New York Mets set to make a huge run for the NL East crown this season, Díaz will be an invaluable tool for that goal.
Sixto Sánchez — RHP, Miami Marlins
The Marlins rookie rounds out the National League portion of our rankings as someone who can easily challenge for this year's Rookie of the Year Award. 
As we wrote in our "Rookies to Watch" piece, Sánchez has electric stuff. 
There's no doubt he'll pick up where he finished 2020. With the Marlins hoping to prove that last season was no fluke, he'll factor greatly in the rotation. 
American League 
Eduardo Rodriguez — LHP, Boston Red Sox
A little over a week ago, Rodriguez was set to make Red Sox history by becoming the third Latin American-born starter to get the ball on Opening Day and the first native of Venezuela. 
It's a huge honor for Rodriguez, who missed the entirety of 2020 following COVID-19 complications, and who was arguably the best Latino starter in 2019 when he nearly won 20 games with a 3.81 ERA and sixth-place AL Cy Young finish.
Since then Rodriguez will miss Opening Day with a reported "dead arm." He isn't expected to miss much time, however, with increasing hope that he can pitch in the Sox opening series. 
Opening Day aside, there's no doubt that Rodriguez will make a huge impact this year. 
As the up-and-coming staff ace, he'll help lead a majorly Latino Red Sox team that despite its various departures could still challenge for a Wild Card spot.
Diego Castillo — RHP, Tampa Bay Rays
Castillo was simply disgusting in 2020 — in a good way. His 1.66 ERA in 22 games (21 2/3 innings) was a major factor in the Tampa Bay Rays winning the AL East over the favored New York Yankees.
He followed that up with an impressive 1.64 ERA in the postseason from the American League Wild Card Series through the World Series, spread across 10 games, 11 innings.
Castillo will once again anchor the backend of an excellent Rays bullpen with the versatility to close on a Monday and pitch through a tight 7th inning on a Tuesday. 
That versatility will be key to the Rays' success in '21. The key will be utilizing Castillo efficiently over a full 162-game stretch to mitigate any fatigue carrying over from the sprint that was the '20 season.
Cristian Javier — RHP, Houston Astros
It's no secret that the Houston Astros rotation isn't what it was a few seasons ago with the likes of Justin Verlander, Gerrit Cole, Charlie Morton and Dallas Kuechel leading the way. 
However, in the time since those departures and an unfortunate injury to Verlander, the Astros have had an extended look at a variety of youngsters, who have since replaced their former All-Star predecessors. 
The likes of José Urquidy and Framber Valdéz, while not otherworldly, have shown that not all is lost in H-Town. One starter in particular that's worth watching is Cristian Javier. 
The 24-year-old right-hander from Santo Domingo in the Dominican Republic came into the fold in '20 with a 3.48 ERA across 12 games, striking out 54 batters along the way.
His hard work earned him a third-place finish in AL Rookie of the Year award voting. 
He'll get the ball in Houston's second game of the season against the A's, and his development as a starter will be one to watch this upcoming season.
Get the Our Esquina Email Newsletter
By submitting your email, you are agreeing to receive additional communications and exclusive content from Our Esquina. You can unsubscribe at any time.