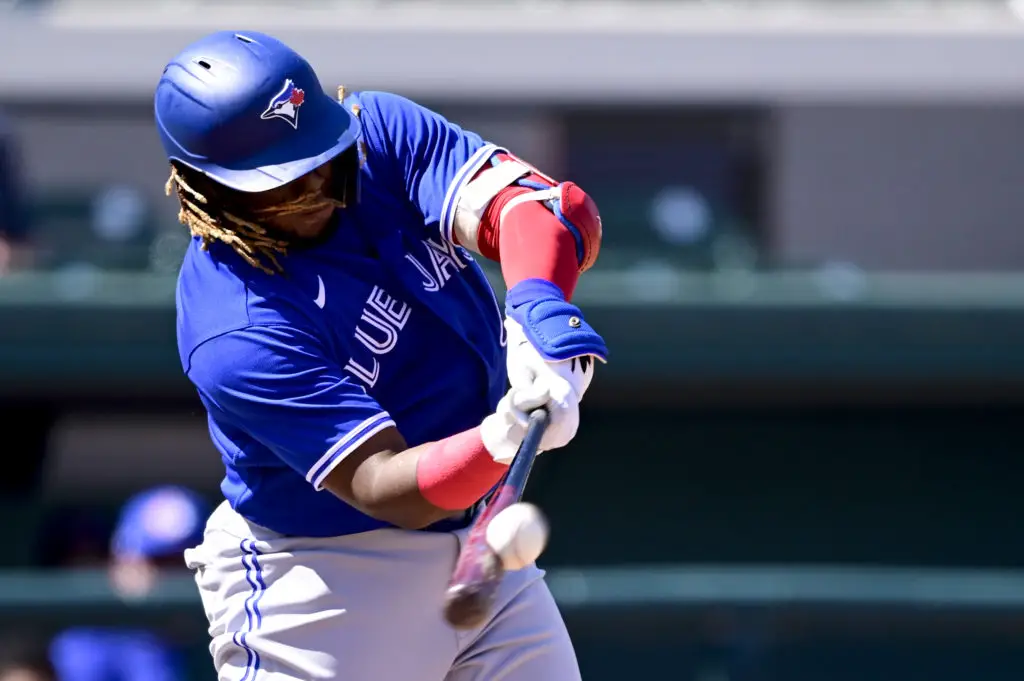 MLB Players: Better Know Your Pelotero, Part 3, Breakout Stars
Vladimir Guerrero Jr. highlights this list of MLB players ready for to breakout.
Breakout, as it relates to MLB players, is hard to quantify. A breakout typically earns guys a callup from the Minor Leagues or a spot on the Opening Day roster. Heck, going 2-for-4 after a 0-for-16 slide could be considered a breakout.
For the purposes of this piece, we'll consider a breakout in two ways. One, as it relates to making good on the promise that's followed them. And two, a player who can make a major impact. 
Vladimir Guerrero Jr. — 1B/3B, Toronto Blue Jays
There is perhaps no bigger breakout candidate than Guerrero. Once the No. 1-ranked prospect in all of baseball, Guerrero hasn't exactly shown off the legendary bat he inherited from his father, Vladimir Sr.
Firmly in the plans for first base and a whole lot lighter, Guerrero should finally come into his own in '21. 
There's a few reasons why that will be the case. First, it helps that Guerrero is admittedly in better shape than he has been showing up for the last couple of seasons. Two, the Blue Jays major additions over the winter (George Springer and Marcus Semien) takes some of the pressure off Guerrero to produce high in the lineup. Three, a move to first base, potentially permanently, gives Guerrero more time to work on his bat skills instead of trying to fix his defense along with his hitting skills.
He's hitting .484 so far this spring, putting the ball in play and driving in runs. That should continue on into the regular season and make Guerrero a household name just like his father.
Alex Reyes — RHP, St. Louis Cardinals 
Similar to Sixto Sánchez, Reyes has been one of the most talked about MLB players for some time. But for all the wrong reasons. 
In '16, Reyes' 1.57 ERA in 12 games gave every reason for fans to picture him as the future ace of the club once franchise stalwart Adam Wainwright hung up his cleats. 
But Reyes' journey to future ace tumbled shortly thereafter. In '17, he underwent Tommy John surgery, and in '18 another surgery to reattach a tendon to his right lat.
He posted a 3.20 ERA in 15 games in '20, which signaled a major step forward in Reyes getting back to where he once was and where he could potentially be. 
Fully healthy, Reyes will be limited to 100 innings in '21, per the Cardinals, and will see the majority of his time out of the bullpen.
At 26 years old, he still has age on his side, and with guys who can give multiple innings being a luxury following the pandemic-shortened season, Reyes could play a key role. 
José Rojas — Utility, Los Angeles Angels 
Rojas, an Anaheim native and 36th round MLB Draft pick, isn't exactly a household name. Yet. 
He's hit .333 this spring with 10 hits, two homers and six RBIs. It's a continuation of what he's been doing in the Minor Leagues for some time.
At Triple-A in '19, he hit .293/.350/.502 with 31 home runs and 107 RBIs across 126 games. 
The truth is he can flat out rake. 
Of course, the Angels' offense hasn't exactly been the reason why they haven't made the playoffs since '14, but a bat like that can surely help assuage some of the question marks that surround the rotation. 
More runs are better than no runs. 
Adrián Morejón — LHP, San Diego Padres
The Padres showed out in a big way this winter adding former Cy Young Award winner Blake Snell, perennial Cy Young Award candidate Yu Darvish and Joe Musgrove to a rotation that already had Dinelson Lamet and Chris Paddack with Mackenzie Gore waiting in the wings. 
With Snell, Darvish, Lamet and Paddack being the Padres' rotation frontrunners, one spot remains in the backend. Enter Morejón.
The crafty southpaw pitched to a 4.66 ERA in 9 games, punching out 25 batters in 19 1/3 innings, good for a 11.6 K/9 ratio.
17 strikeouts in 14 innings pitched this spring is a continuation of that trend. 
Featuring a four-pitch mix, including a devastating split-finger and nasty curve, Morejón is the exact type of pitcher that can help the Padres bridge the gap between them and the Dodgers in the NL West.
At the very least, having another left-handed look against the majorly lefty lineup will be something of great use for the Friars.
Get the Our Esquina Email Newsletter
By submitting your email, you are agreeing to receive additional communications and exclusive content from Our Esquina. You can unsubscribe at any time.