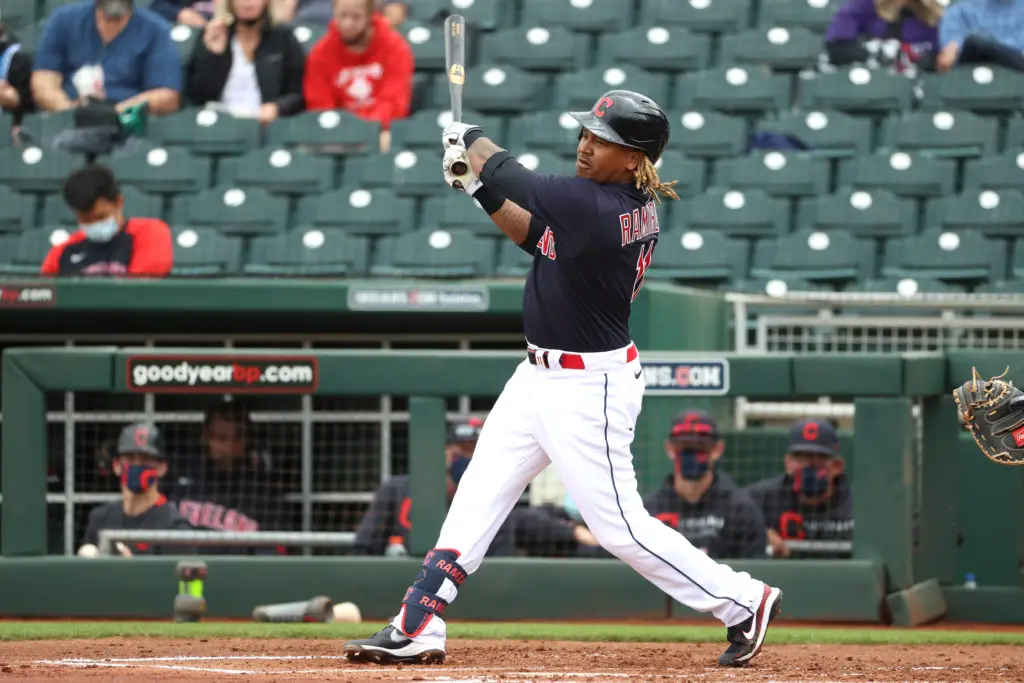 José Ramírez among contenders to challenge Trout for AL MVP
This season could finally be the year José Ramírez wins the AL MVP
In the final edition of "Better Know Your Pelotero" we highlight José Ramírez and other top American League candidates who could challenge perennial favorite Mike Trout for the MVP Award.
Whereas the National League has no shortage of surefire Latino picks for MVP. including Juan Soto who stands as the odds-on favorite to win it, the AL is in a more interesting position.
Right now, where the AL stands is a healthy mix of great young talent, plus established vets, some of whom have already taken home an MVP Award or came dangerously close. There isn't a single player who could run away with the award like Soto, but rather a group of players who could make the ballot interesting by year's end.
For the purposes of today's preview, we'll highlight five candidates from the AL. Four of those candidates will be players who could feasibly win the MVP. The final candidate is a dark horse, an under-the-radar player who will undeniably make an impact on his team, potentially earning year-end MVP votes.
For the final time, let's dig in: 
José Ramírez — 3B, Cleveland Indians
We begin our final countdown with last year's runner-up as our favorite to finish in first at the end of the 2021 season.
José Ramírez has steadily been one of the best players in all the AL, particularly over the last four seasons. In 2017-18, Ramírez finished in third place consecutively in MVP ballots, taking home two Silver Sluggers and an All-Star Game nomination in the process. 
The 2019 season wasn't his finest season by any means (.255/.327/.479 line in 129 games), but he did slug 23 home runs and knock in 83 RBIs. Ramírez returned to form last season with a career-high 163 OPS+, 17 home runs and 46 RBIs in 58 games.
After cooling off a bit in August, Ramírez finished off strong to finish in the Top 3 of balloting once again, and took home his third Silver Slugger award.
So why is he our No. 1 candidate over the reigning AL MVP José Abreu. 
For one, Ramírez is younger. He'll be entering his age-28 season, which many would chalk up as the start of his "prime" years. Two, a full 162-game schedule, allows for the ebb and flow of hot periods and cool weeks. We believe that Ramírez's body of work can be accurately judged in a full season, instead of a 60-game sprint where there's less room for error.
Losing Francisco Lindor via trade definitely hurts the depth of the Indians' lineup and takes a gash at their chances for an AL Central title, but this is Cleveland we're talking about here. They always manage to find a way to excel, and Ramírez will be a big part of that in '21.
Anthony Rendon — 3B, Los Angeles Angels 
In '19, Rendon was an icon as a member of the World Series winning Washington Nationals. Leading the league in doubles for a second-straight season and RBIs, Rendon earned his first All-Star Game selection, a Silver Slugger and a third-place MVP finish.
Then shortly after he signed a megadeal to join the Angels, and suddenly everyone forgot about him.
But Rendon didn't forget to continue producing. He finished the shortened '20 season with a .286/.418/.497 batting line, nine homers and 31 RBIs in 52 games. It was quietly a really good season. 
As proven by his years in Washington, Rendon can rake with or without the addition of multiple superstars. But with the Angels lineup becoming a Top-10 lineup in the league entering '21, Rendon's bat becomes that much more dangerous. Couple that with his amazing glove at third and you have a second bona fide MVP candidate behind Mike Trout.
With the Angels looking to return to the postseason for the first time since 2014, expect Rendon to be a major part of that effort. 
José Abreu — 1B, Chicago White Sox
It's been said many times over, but we'll say it again for good measure. Abreu has been one of the most underrated superstars in all of baseball since entering the league in 2014 and winning Rookie of the Year honors as a 27-year-old. 
Several seasons later and several years older, Abreu finally got his due by taking home the AL MVP Award, making him the first Latino since Miguel Cabrera to win the year-end honor.
It was an all-time season for Abreu, who led the league in games played, hits (76), RBIs (60), slugging percentage (.617) and total bases (148). Not to mention he hit .317 and popped 19 homers. 
For those who have been following Abreu over the years, 2020 was Abreu doing what he does best: hit. 
There's no doubt that Abreu will continue to do just that throughout the '21 season. But he sits lower on our list despite being the reigning MVP for a variety of reasons.
First, he'll be entering his age-34 season, which is about the time that players, even superstar players, begin to start tapering off. 
Two, Abreu had the benefit of a 60-game sprint on his side when balloting took place. While it's possible that Abreu's stats would have remained consistent in a full 162-game stretch, it's equally likely that they too would have cooled down a bit, thus making an otherworldly season in a pandemic look rather worldly. 
While Abreu's '21 may have him playing back on earth, the White Sox and their lineup still remain as otherworldly as ever, giving Abreu ample way to potentially reproduce his MVP season. 
George Springer — OF, Toronto Blue Jays
While not a slam dunk pick, Springer is exactly the type of player who could reasonably challenge for the MVP and no one would be surprised. 
He can slug with the best of them, put the ball in play just about anywhere and can play some good defense, too. 
The modern-day Mr. October enters the '21 season on a new team. He traded his Astros uniform for the Blue Jays' signature blue hues. 
In Toronto, Springer will likely hit leadoff, with a deep lineup — arguably deeper than the Astros lineup — behind him. 
This is a Blue Jays team that made a late push for the coveted AL East, but with the addition of Springer and Marcus Semien in the offseason, could win the division outright over the Yankees and Rays, both of whom are favored at the moment. 
That deep lineup will certainly provide Springer with multiple opportunities to drive in runs and get at-bats, all of which will help aid his MVP case. 
Carlos Correa — SS, Houston Astros
At 20 years old, Correa won the Rookie of the Year over fellow countryman Francisco Lindor. 
Yet whereas Lindor continues to steadily get better year over year, Correa has been in a habitual state of periods of good, great and mediocre. 
The most games he's played in a season so far came in 2016 (153). Perpetually sidelined by injuries, the full potential for Correa hasn't been displayed. Yet. 
As we mentioned in yesterday's piece, by season's end there will potentially be five shortstops all vying for a mega contract with Correa being among that group.
Money is a powerful tool and with Correa reportedly already being offered a six-year extension worth around $120 million, expect the young shortstop to be gunning for the money bag. 
The AL West is as wide open as it's been in some time, and the Astros aren't ready to hand over their title for "Best in the West" just yet. Correa figures to be a major bat in the lineup and for good reason, too. A major season is not out of the realm of possibility for Correa or a major payday, either.
Featured photo Abbie Parr/Getty Images.
Get the Our Esquina Email Newsletter
By submitting your email, you are agreeing to receive additional communications and exclusive content from Our Esquina. You can unsubscribe at any time.