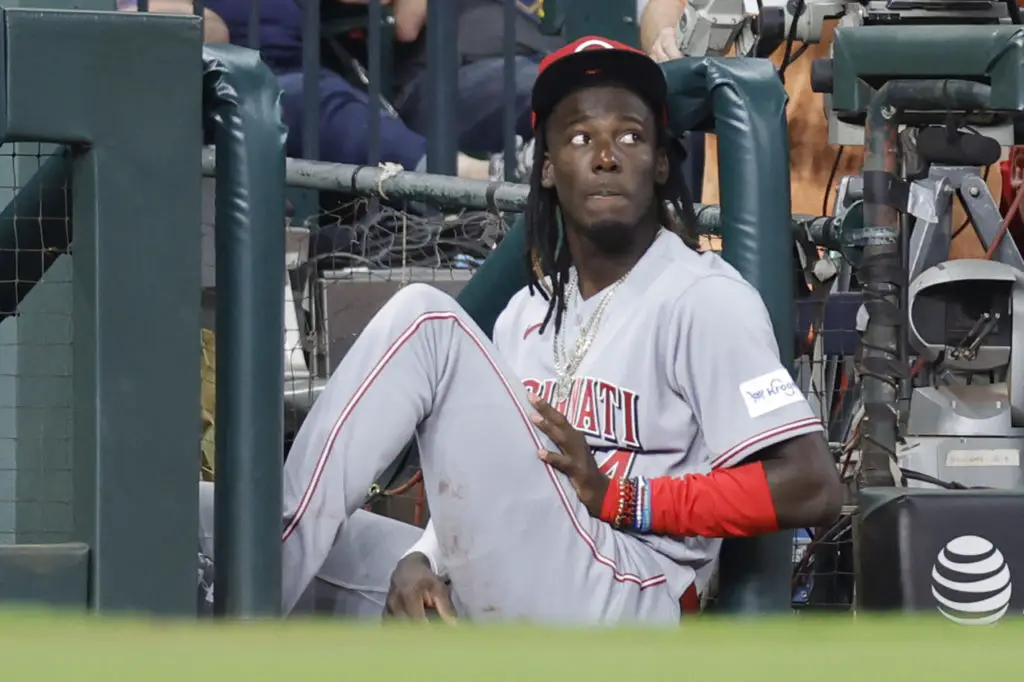 Phenom Elly De La Cruz sparks Reds resurgence
Elly De La Cruz is honored to wear Eric Davis' No. 44
HOUSTON – Elly De La Cruz wears the number 44 and a gold necklace when he steps onto the baseball field in his Cincinnati Reds uniform. A special pendant with a picture of his parents, Carmen and Antonio De La Cruz, hangs from the necklace.
The picture in the pendant that hangs on his necklace was taken the day he was signed by the Reds on July 2, 2018, when he was 16. The gold necklace holds a special sentimental value because it was taken on one of the days he will never forget. 
No. 44 may just be a number that was assigned to him, but it also has special significance to Elly De La Cruz.
Following Eric Davis' path
"It's an honor to wear it," De La Cruz said in Spanish. "The great Eric Davis wore the number 44."
Davis was also 21 years old when he debuted for Cincinnati in 1984. He had a tremendous career for the Reds. During his nine-year tenure with the Reds he was a two-time All-Star, a two-time Silver Slugger Award winner and a three-time Gold Glove winner.  
Davis, a speedy 6-foot-2 outfielder, had a lengthy 17-year career. Davis relied on speed and power. Elly De La Cruz does too. Eric the Red won the 1989 Home Run Derby, beating Puerto Rican Ruben Sierra.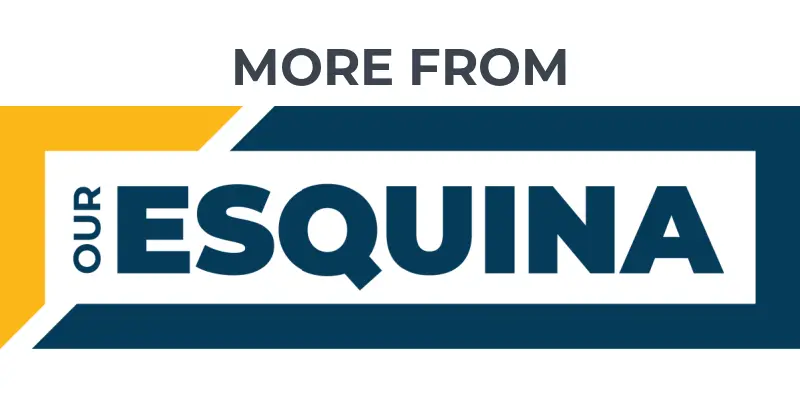 Wake Forest's Danny Corona Jr. capitalizes on father's sacrifices
Cincinnati Reds Hall of Famer Eric Davis is Talkin' 21
White Sox Oscar Colas among rookies to watch
Davis was an All-Star that year, setting career-highs in home runs with 34 and 101 RBIs. He ranked third in stolen bases in 1986 with 80. Davis trailed only Rickey Henderson, who had 87, and Vince Coleman, who stole 107 bases. 
Although Davis had an impressive baseball career and De La Cruz is starting his, Reds manager David Bell is pleased that his 21-year-old rookie shortstop can relate to the 1990 World Series champion.
"Eric Davis is a great role model," Bell said. "And somebody to look up to, just how he played the game, he had a great career and he was Red."
Elly De La Cruz has speed to burn
Elly De La Cruz, a native of Sabana Grande de Boya, Dominican Republic, is off to a fast start. He has contributed enormously to the Reds. Before De La Cruz was promoted to the major leagues, the Reds were under .500 with a 27-33 record. 
Since his call-up over 10 days ago, Cincinnati is 8-2 with two walk-off wins against the Dodgers and a sweep over the defending World Series champion Astros on the road. The Reds are 37-35. 
Thus far, La Cocoa – which is a nickname given to him by a childhood friend – is hitting .273. He has one home run, one triple, two doubles, five RBIs and six stolen bases in 44 at-bats. 
De La Cruz has an average exit velocity of 92, which puts him in the 95th percentile in MLB. He also has the highest exit velocity by a Red this season with a hit of 114.3 mph. 
De La Cruz has elite speed. He has a sprint speed of 31 feet per second, which puts him in the 100th percentile. On his first career hit, he sprinted to turn a single into a double. He ran from home to second in 7.74 seconds.
The 6-foot-5 switch-hitter has certainly created a spark to his team and his clubhouse. With his raw power and lighting speed, De La Cruz has the Reds only a half-game back from first place in the NL Central.
'Very positive'
"He's very positive," Bell said of De La Cruz. "He stepped right in and showed that he belongs here. There is no question about that. 
"Since Day 1, there was a boost of energy that he provided to our team. He is not trying to do too much. It's kind of who he is and that kind of player he is. He has that much ability on the field." 
According to Elias Sports, De La Cruz became the second player since 1900 to generate a single, double, triple, home run and a stolen base in his first three career games. The Milwaukee Braves' Bill Burton is the other player. 
La Cocoa's vigor on the baseball diamond is nothing new to him. He has played baseball fiercely and with intensity his entire life.
"Ever since I was young, I always told myself to play every game like it's my last," De La Cruz said. "Aggressive all the time and never lose the intensity. One doesn't know what could happen. With a little hit a game could be won."
Elly De La Cruz claims to be the fastest man in the world. That's a stretch, but he definitely has enough talent to replicate or perhaps exceed what Davis did for the Reds.
Get the Our Esquina Email Newsletter
By submitting your email, you are agreeing to receive additional communications and exclusive content from Our Esquina. You can unsubscribe at any time.