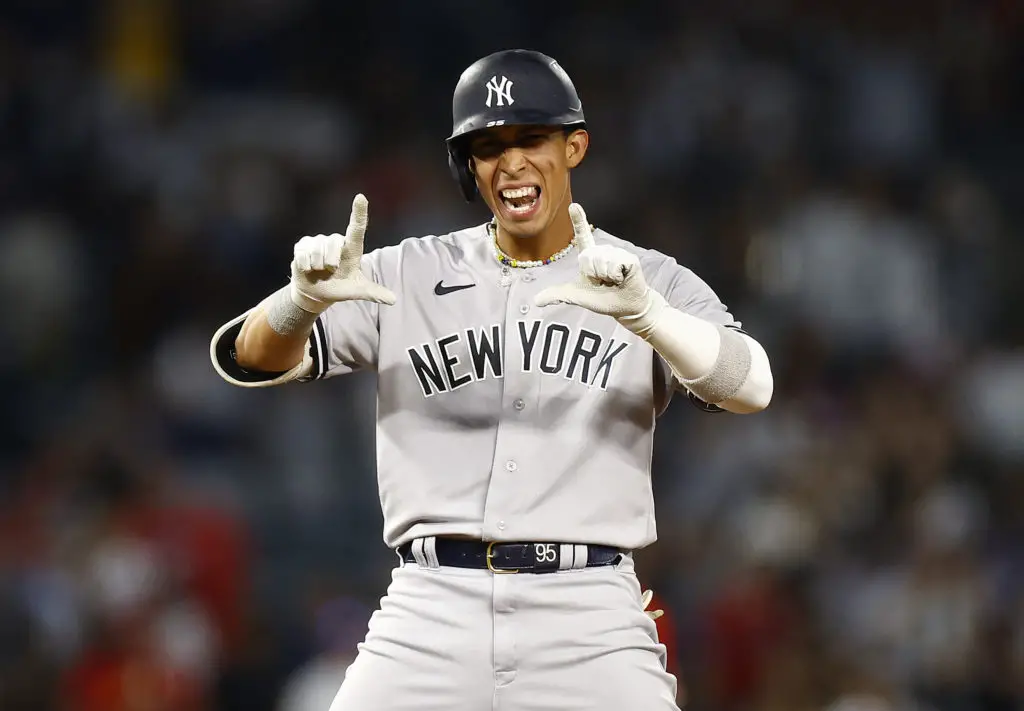 Oswaldo Cabrera finds role all over with Yankees
Young Yankees utilityman benefits from versatility
HOUSTON – Many teams in Major League Baseball have benefited from having a utilityman like the Yankees' Oswaldo Cabrera on their rosters. Players like Chris Taylor, Ha-Seong Kim, Brendan Donovan, Aledmys Diaz and many more have helped their respective teams reach the postseason.
Ben Zobrist, Marwin Gonzalez and Kike Hernandez are just one trio of utility men who have helped their teams win World Series titles in the last decade.
Cabrera, 24, set his mind to become a "super-utility" man. He aspired to become a player who could play multiple positions across the diamond. The young Venezuelan was influenced to play the utility role by Gonzalez, his countryman.
"That was the type of guy I watched when I was young," Cabrera said. "Gonzalez played all the positions and played well wherever he was placed. In my mind I was like, 'I want to be like that guy.'"
Gonzalez played parts of 11 seasons in the majors and helped the Astros win the 2017 World Series.
Oswaldo Cabrera inspired by Marwin Gonzalez
In the minor leagues, Cabrera worked extensively at each position. If the Yankees needed him to play one position, then he was OK with that. But he just wanted to be on the field.
Cabrera has played seven of the nine positions on the field with the Yankees this season. He has yet to pitch or catch in the majors, but he has played everywhere else on the diamond.
He's played 40 games at left field, 38 in right field, and 13 at third. Cabrera has also played six games at second, five at shortstop, and one each at first and center field.
"He's pretty unique," Yankees manager Aaron Boone said of Cabrera. "He came up as a pretty good infielder with the ability to play shortstop. 
"Then we really brought the outfield into play last year. We had a need, and he came up. He was such a valuable player for us. He proved that not only he can play the outfield, but he can play it well."
MORE FROM OUR ESQUINA
Miguel Cabrera should have his numbers retired
Miguel Cabrera deserves a legend's sendoff
Underrated Bobby Abreu deserves a place in Cooperstown
Cabrera's parents would drive him to different ballparks around their neighborhood when he was growing up. He would sit and watch other baseball teams compete. Then he later learned how to play.
The Guarenas, Venezuela, native started to watch players like Bobby Abreu, Omar Vizquel, and his childhood hero, Miguel Cabrera. He was ecstatic when he had the opportunity to meet Miguel Cabrera last week in Detroit.
Oswaldo Cabrera and some of his teammates were able to hang out with the future Hall of Famer and just talk baseball.
Special bond with Jose Altuve
"When I was young, I watched Miguel Cabrera play," Oswaldo said. "For me playing against that player, that legend, my hero, it made me feel proud of myself. I'm here playing on the same field where 'my hero' is playing."
From one future Venezuelan Hall of Famer player to another.
Oswaldo Cabrera and the Yankees swept the Houston Astros, where the starting second baseman Jose Altuve plays at home.
In 2015, at 16-years-old, Cabrera signed with the Yankees as an amateur free agent. In the same year, Jose Altuve and the Astros eliminated the Yankees in the American League wild-card game at Yankee Stadium. 
That was just the start for Altuve's career. Since then, Altuve has been the 2017 AL MVP, 2019 ALCS MVP, a five-time Silver Slugger, two-time AL batting and World Series champion.
Cabrera and some of his teammates walked up to Altuve before a game during the 2022 ALCS. He greeted Altuve and then talked baseball with the eight-time All-Star.
"I had asked a lot of questions," Cabrera said. "He was able to help us and teach us how to get better at this game."
Cabrera vows to pass his baseball knowledge to others in the future . Just like his  panas like Altuve did for him, he will share tips with the next generation of big leaguers.
Get the Our Esquina Email Newsletter
By submitting your email, you are agreeing to receive additional communications and exclusive content from Our Esquina. You can unsubscribe at any time.