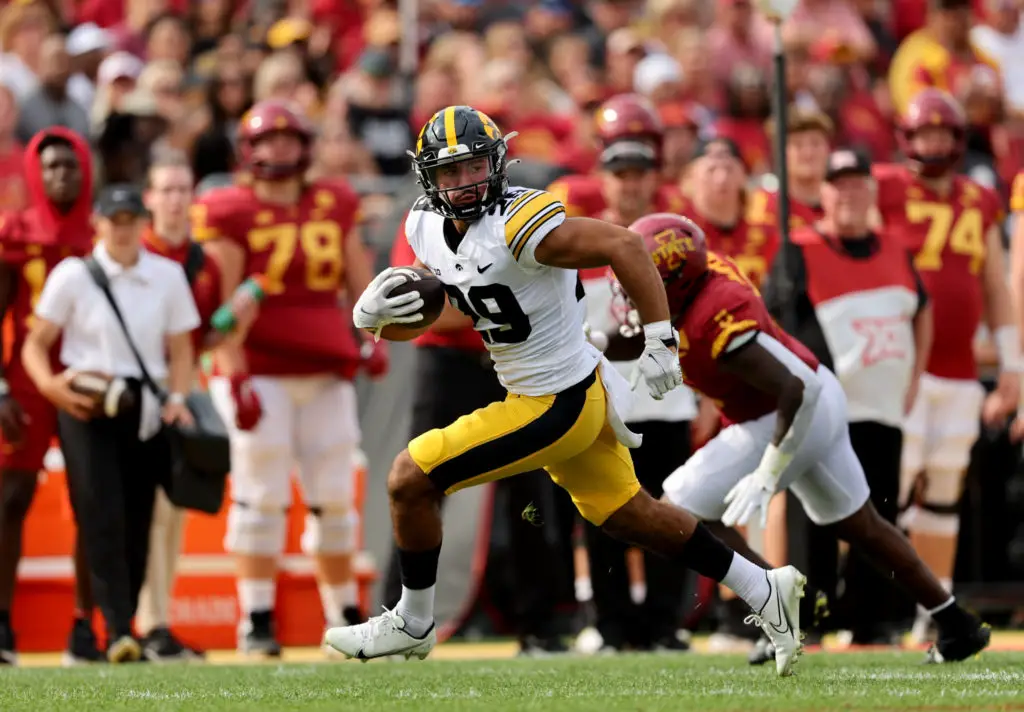 Iowa's Sebastian Castro shines for Hawkeyes
Sebastian Castro highlights recap of Latinos in college football
Sebastian Castro was all over the place for Iowa's defense Saturday, highlighting Week 7's recap of Latinos in college football. The senior embodies the rugged defense that has carried the Hawkeyes to the Big Ten West Division lead.
Castro had seven tackles, two for a loss, in a 15-6 victory over Wisconsin. He added a game-sealing interception in the final minute. Castro once again showed the form that earned him the Big Ten Defensive Player of the Week honors in Week 2.
For his performance against the Badgers, Sebastian Castro is Our Esquina's Player of the Week for Week 7.
The Chicago native with roots in Mexico has made three interceptions this season. Wisconsin had a 2nd and 10 from the Iowa 37-yard line when Castro picked off Braedyn Locke to seal the victory with 38 seconds to play.
"This game was going to come down to physicality," Castro told Iowa beat writers after the game. "I feel we came out there and did that. We did just that."
Sebastian Castro collects third interception
Castro, 23, has been one of the best stories in the Big Ten this season. He patiently waited his turn before becoming one of the leaders of Iowa's defense as a redshirt senior.
He has aspired to play in the NFL since he was playing football in front of his maternal grandparents' home in Oak Lawn, Ill. Now he is shining at the CASH position, which is a mix between the linebacker and safety position in Iowa's defense.
Castro, who also helped Iowa get a safety, showed his team-first mentality as well. It appeared as though he could have had his second Pick-6 of the season, but he didn't try to run his interception back. He played it smart and fell to a knee to essentially end the game.
"The win, I can't ask for more," he told the media after they asked him about the potential Pick-6. "I think I had a pretty good day today. I think I had enough."
Offensive player of the Week: Joey Garcia
Appalachian State quarterback Joey Aguilar threw for 305 yards and two touchdowns against Coastal Carolina. He added six yards on three carries in the 27-24 loss in a rare Tuesday night game.
Despite the loss, Aguilar did enough to be Our Esquina's Offensive Player of the Week for Week 7.
Oregon State running back Damien Martinez rushed for 90 yards on 15 carries in a 36-24 victory over UCLA. Bruins receiver Logan Loya had five catches for 48 yards and a touchdown in the loss. 
Cal quarterback Fernando Mendoza completed 10 of 17 pass attempts for 149 yards, two touchdowns and one interception. He also rushed for 12 on seven carries in a 34-14 loss to Utah. Aaron Blancas had two receptions for 35 yards and a touchdown in a 42-41 victory over Eastern Washington.
Kansas State's RJ Garcia III had one catch for eight yards in the 38-21 victory over Texas Tech. Wyoming's Ryan Marquez had one catch for 27 yards. Notre Dame freshman receiver Rico Flores Jr. had a 24-yard catch in the 48-20 victory over USC.
Kent State running back Gavin Garcia rushed for 37 yards on eight carries in a 28-14 loss to Eastern Michigan. North Carolina State freshman wide receiver Kevin Concepcion had six receptions for 63 yards. He added 33 yards on the ground on four carries.
Xavier Restrepo shines in loss
Miami's Xavier Restrepo brought in 11 receptions for 96 yards and two touchdowns in a 41-31 loss to No. 12 ranked UNC. Texas Tech running back Cam'Ron Valdez rushed six times for 22 yards against Kansas State. His longest carry went for 14 yards. He also contributed with three receptions for 27 yards. 
UTSA's Oscar Cardenas and David Amador both had 13 receiving yards. Amador had two catches and Cardenas a lone reception in the 41-20 victory over UAB.
East Carolina sophomore quarterback Mason Garcia completed 12 of 26 pass attempts for 155 yards. He also added 38 yards on 12 carries and a rushing touchdown in a 31-10 loss to SMU. Northern Arizona quarterback Angel Flores threw one pass for three yards and rushed twice for 26 yards.
New Mexico State quarterback Diego Pavia guided the Aggies to a 27-13 victory over Sam Houston. He threw for 286 yards and two touchdowns while completing 20 of 36 passing attempts.
Pavia also rushed for 115 yards and a touchdown on 15 carries in the Wednesday night game. Syracuse quarterback Carlos Del Rio-Wilson was 2-for-9 for 29 yards and an interception. He also rushed for four yards on two carries in a 41-3 loss against Florida State. TCU's Sophomore running back Franklin Estrada II had a four-yard carry.
Defensive Player of the Week: Sebastian Castro
Sebastian Castro anchored Iowa's defense against Wisconsin. See above.
UCLA Kain Medrano recorded two tackles. Nehemiah Martinez had one tackle for Texas Tech. Kansas State Anthony Frias II recorded one tackle in the victory over Texas Tech.
MORE FROM OUR ESQUINA
Iowa's Sebastian Castro learned patience, love early
Gallegos, Woodyard, Sanchez highlight Latino High School All-America Football Team
Five-star Devin Sanchez has football elites after him
Arizona's Nick Fernandez had one tackle in a 44-6 victory over Washington State. Ron Stone Jr. had one tackle for Washington State. Idaho State's Mathew Sanchez and Adrian Rodriguez each had two tackles. 
Colorado State senior linebacker Justin Sanchez tallied nine tackles. Tulane linebacker Jesus Machado had four tackles in a 31-21 victory over Memphis on Friday. Wisconsin's Gio Paez had four tackles against Iowa. 
Fresno State sophomore Dupre Mendoza had a tackle in a 37-32 victory over Utah State. New Mexico State's Tyler Martinez had four tackles, including one for a loss. Gabriel Iniguez added a tackle for a loss. 
Big day for Jshawn Frausto-Ramos
Friday was a great day to be a St. John Bosco Brave. While his former high school teammates were beating the No. 1 high school team in the country, Stanford freshman Jshawn Frausto-Ramos had the best game of his college career.
Frausto-Ramos, who has appeared in every game this season, got his first official stats Friday night. He had four tackles in a 46-43 double overtime victory over Colorado. Junior linebacker Wilfredo Aybar added a tackle for the Cardinal. 
New Mexico's Alec Marenco had five total tackles. Bryce Santana and Gabriel Lopez added two total tackles. Notre Dame's defensive tackle Gabriel Rubio had one tackle against USC. 
Korey Hernandez and Adrian Hernandez had two tackles in Eastern Michigan's victory over Kent State.
Special Team Player of the Week: Chase Contreraz
With Iowa State losing 7-3 against Cincinnati, Cyclones kicker Chase Contreraz pulled off a fake field goal. On 4th and 5 on Cincinnati's 15-yard line, Contreraz ran for six yards and a first down. That new set of downs helped Iowa State take the lead for good in the second quarter of a 30-10 victory.
Contreraz was also 3-for-3 on field goal attempts with a long of 34 yards. He added three PATs to account for 12 of the Cyclones' 30 points.
Miami kicker Andres Borregales had a lone field goal try that he successfully converted for 28 yards. He was 4-for-4 on PATs in Miami's losing effort against UNC. Texas Tech kicker Gino Garcia was good on all three PATs.
LSU kicker Damian Ramos converted both of his field goal attempts. His longest was a 35-yard kick. He converted all six PAT attempts. Colorado kicker Alejandro Mata, Our Esquina's Player of the Week in Week 6, missed his only field goal attempt in the overtime loss against Stanford. He converted all five of his PATs.
Tulane kicker Valentino Ambrosio made a 26-yard field goal and all four PATs against Memphis. UCLA kicker RJ Lopez made a 36-yard field goal and three PATs against Oregon State. Idaho kicker Ricardo Chavez one successful PAT attempt.
Bowling Green kicker Alan Anaya was 1-for-2 on field goal tries. He converted a 23-yard field goal in a 24-14 victory over Buffalo. He added three PATs. Eastern Michigan kicker Jesus Gomez made four PATs in the victory over Kent State.
Get the Our Esquina Email Newsletter
By submitting your email, you are agreeing to receive additional communications and exclusive content from Our Esquina. You can unsubscribe at any time.