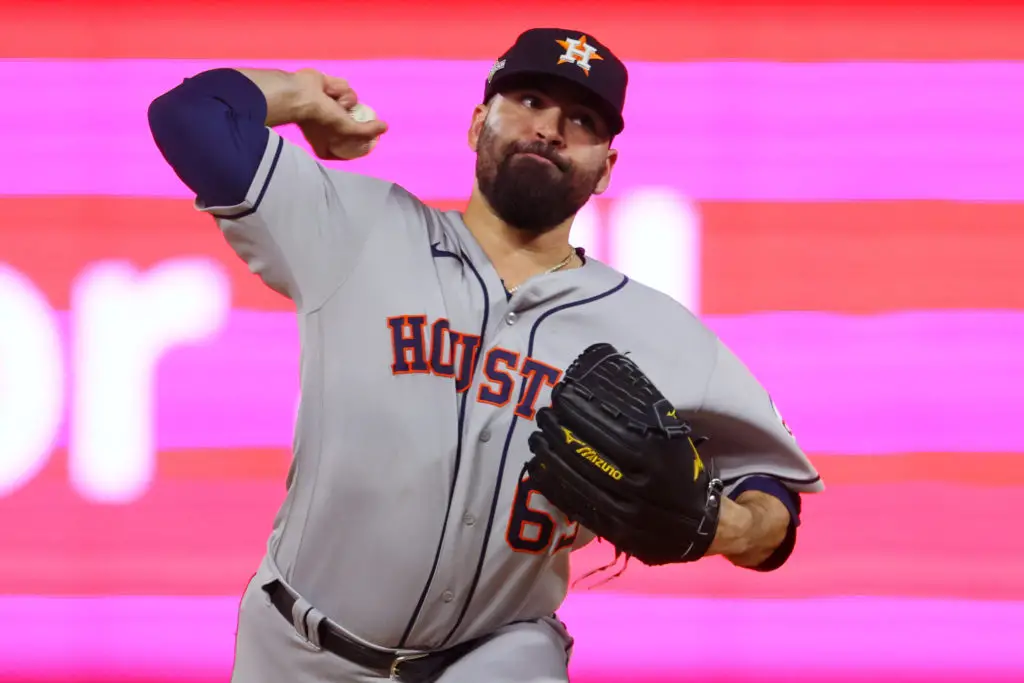 'Big Game' Jose Urquidy shines again for Astros
Jose Urquidy helps Astros clinch seventh consecutive ALCS berth
Uncertainty has been a trend this year for Jose Urquidy. From dealing with shoulder inflammation in early May to not knowing whether he'll be a starter or a reliever later in the season, the Astros' Mexican righthander has coped with lots of uncertainty.
No matter the situation, though, Urquidy has been ready to pitch whenever he has been healthy enough to step onto the mound. 
Astros manager Dusty Baker announced that Urquidy would face the Twins in Game 4 of the American League Division Series only a day before his scheduled start. The Mazatlan, Mexico, native hurled a gem Wednesday night to help the Astros clinch their seventh consecutive American League Championship Series appearance. 
Jose Urquidy, 28, came into his start self-assured. He relied on his five-pitch arsenal to dice through Minnesota's line-up. He tallied six strikeouts in 5 ⅔ innings while allowing three hits and two runs in Houston's 3-2 victory. 
While he was unsure of his role coming into the Division Series, Urquidy was cool and collected in his biggest start of the season. Being able to perform extraordinarily in a moment's notice is part of Urquidy's repertoire. 
Jose Urquidy comfortable in October
"Yeah, in that kind of situation, I think I have a big hunger there," Urquidy said. "Obviously my focus and my plan to prepare has to be very clear, and I have to put all my mind on it. 
"I feel very comfortable being here with this team, pitching there, creating a good plan of attack with my catcher. I know I've got good offense and defense behind me, and that makes me feel a lot of confidence."
Royce Lewis hit a solo home run off Urquidy in the first inning to give the Twins a 1-0 lead. Michael Brantley countered with a homer in the second to tie the score. Then Jose Abreu hit a two-run homer to give the Astros the lead for good in the fourth inning. Edouard Julien homered off Urquidy in the sixth, but the Twins couldn't get more runs off the Astros' bullpen.
The Astros have trusted Urquidy in crucial postseason scenarios since he was a rookie in 2019. He's earned the trust of his managers A.J. Hinch and Baker. Baker was out of baseball in 2019 when Urquidy pitched 5 ⅔ scoreless innings in Game 4 of the 2019 World Series against the Nationals on the road.
MORE FROM OUR ESQUINA
Hector Herrera, Jose Urquidy raise Mexican flag
Jose Altuve treats home crowd with his 2,000th hit
Jose Altuve, Yordan Alvarez power Astros
Two years later, Urquidy was 2-0 with a 3.00 ERA for Baker in the 2021 World Series against the Braves.  In that Fall Classic, he started a game and won another in relief. No pitcher from Mexico has won more World Series games than Urquidy, who is 3-0 with a 1.23 ERA over five appearances (two starts) in the Fall Classic.
"I started noticing Urquidy at that time in that (Game 4 of the World Series) in 2019," Baker said, "And I didn't know him, but he's a 'Big Game' guy. He kept using the clock to his advantage to compose himself. And he scared me a few times because he was down to one second or two seconds, and I'm like, 'come on, Urquidy.'"
In the 2019 postseason Urquidy came on in a relief role in both the ALDS and the ALCS. Later he was granted a World Series start, helping the Astros tie the Series at two games apiece. He was part of the Astros' starting rotation to begin the season, but the right shoulder inflammation he endured in May caused him to have the same experience he has had in the past. 
Strong finish
Urquidy started four games and made six relief appearances after returning from the injured list. He struggled throughout the season as he readjusted to his utility role. 
Urquidy ended the regular season on a high note against the Arizona Diamondbacks, though. When J.P. France had to step away from a crucial start, the Mexican hurler was quick to step in. He learned he was going to the pitch that same day.
Urquidy gave the Astros a much-needed quality start. He threw six-scoreless innings, surrendering only two hits. This start helped the Astros secure their sixth AL West Division crown.  
"That's a hard position, being in that position for sure," he said. "But I've got to prepare my mind. I've got to be ready for any situation."
Urquidy's preparation paid off in the Division Series. He now faces a new challenge. The Astros are in the ALCS once again, and he will need to be ready at a moment's notice, considering that his versatile role is uncertain as of now. 
Get the Our Esquina Email Newsletter
By submitting your email, you are agreeing to receive additional communications and exclusive content from Our Esquina. You can unsubscribe at any time.