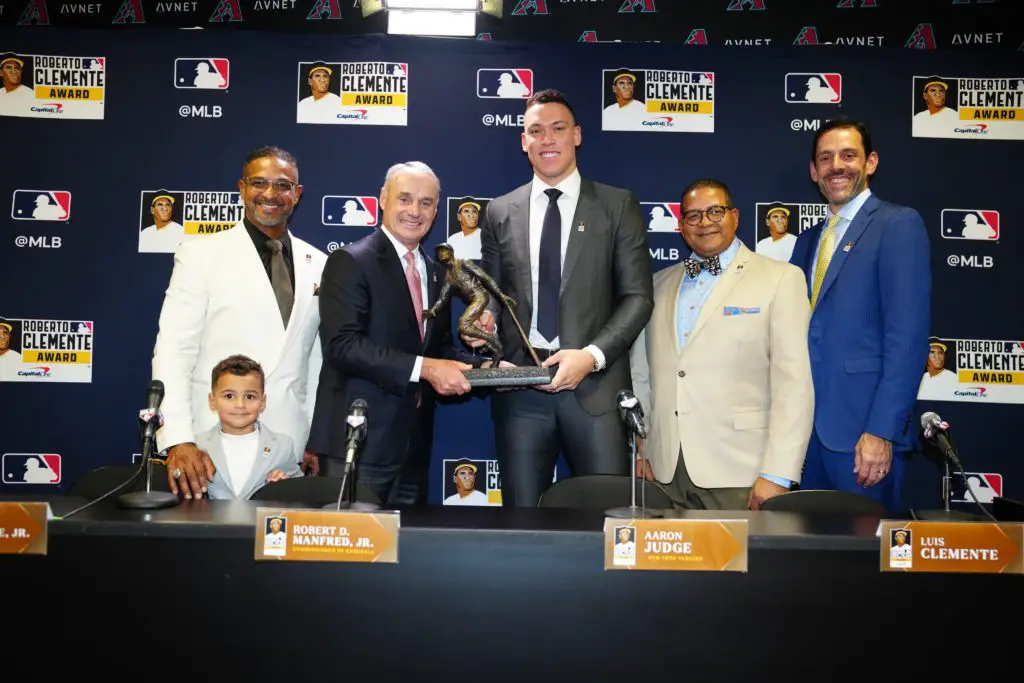 All Rise, Aaron Judge wins Roberto Clemente Award
Former AL MVP wins prestigious Clemente Award
Aaron Judge set a few goals after he was drafted in the first round of the 2013 draft out of Fresno State. His top goal was to have his name penciled into the Yankees' starting lineup. Then he wanted to play well enough to stay in the majors. 
Judge's first goal was met when he made a cameo in the majors in 2016. A year later, he hit a league-leading 52 home runs and 114 RBIs to win the 2017 American League Rookie of the Year award. He also finished second in the 2017 American League MVP race behind Houston's Jose Altuve that season.
In 2022 he finally won the AL MVP Award. On Monday night he received the most prestigious award in baseball. He earned the 2023 Roberto Clemente Award for his philanthropic efforts before Game 3 of the World Series at Chase Field.
Early in his career, the Yankees' captain decided that he didn't want to be known only by his stats. He also wanted to be remembered for his achievements off the field. 
Clemente's sons proud of Aaron Judge
Judge founded his ALL RISE Foundation in 2018. Luis Clemente, the oldest son of the late Roberto Clemente, told Judge that he was proud that he won the Roberto Clemente Award. 
"Parents, we commend you for doing such a great job," Luis Clemente said of Judge's parents. "This is a phase that many youngsters look upon too. And what you're doing, inspiring them to become incredible human beings and citizens, it's really truly amazing. 
MORE FROM OUR ESQUINA
Cabrera, Judge among Roberto Clemente Award nominees
Astros visit Roberto Clemente Museum
Roberto Clemente Jr. recalls dad's final day
"That's what our father made sure to do with his legacy. And you're a great representative of it. So congratulations."
With the help of his mother Patty Judge, who is the president of the ALL RISE Foundation, the foundation has served over 2,000 youth. They strive to instill responsibility and character skills to form the next generation of leaders.
Helping many
The All Rise Foundation sponsors baseball and softball camps. They also help create aspiring leaders' programs in California and New York. The 2022 AL MVP didn't stop his charitable work there. He also participated in the Make-A-Wish Foundation.
His service in his communities has been recognized by all of baseball. Judge has continued Roberto Clemente's legacy.
"Just being a nominee is an incredible honor that a lot of players look forward to," Judge said. "And now getting a chance to be a Roberto Clemente Award winner, it's tough to describe."
While addressing Luis and Roberto Clemente Jr., Judge paid tribute to the late Hall of Famer and Puerto Rican icon.
"The legacy your father left — we can sit here and talk about the stats, what he did on the field," Judge said. "He was a generational talent on the field, but he was a generational ambassador for this game off the field. How he touched the lives of the youth, inspired the youth, inspired this next generation of ball players that we see today. 
"We see so many young players that represent the game the right way. They play the game the right way. They give back to the kids."
Aaron Judge joins elite group
Aaron Judge is the fourth Yankee to win the Roberto Clemente Award. He follows Derek Jeter (2009), Ron Guidry (1984) and Don Baylor (1985).
MLB commissioner Rob Manfred thanked Capital One for being the Clemente Award's presenting sponsor. Future Hall of Famer Albert Pujols and Hall of Famers Jeter, David Ortiz and John Smoltz were among the past Clemente Award winners who joined Judge at the award's press conference Monday at Chase Field.
"We talk about the Clemente Award being our highest honor," Manfred said. "It is our highest honor because it represents the combination of on-field excellence and service in our communities. And I can tell you, I said this to Aaron standing outside, the applications for this award are really a credit to Major League players as a whole. They're just outstanding, and every year it's difficult to make a choice.
"I want to thank our great partners at Capital One for sponsoring, not only the Roberto Clemente Award but the activities surrounding the award that take place on Roberto Clemente Day."
Get the Our Esquina Email Newsletter
By submitting your email, you are agreeing to receive additional communications and exclusive content from Our Esquina. You can unsubscribe at any time.