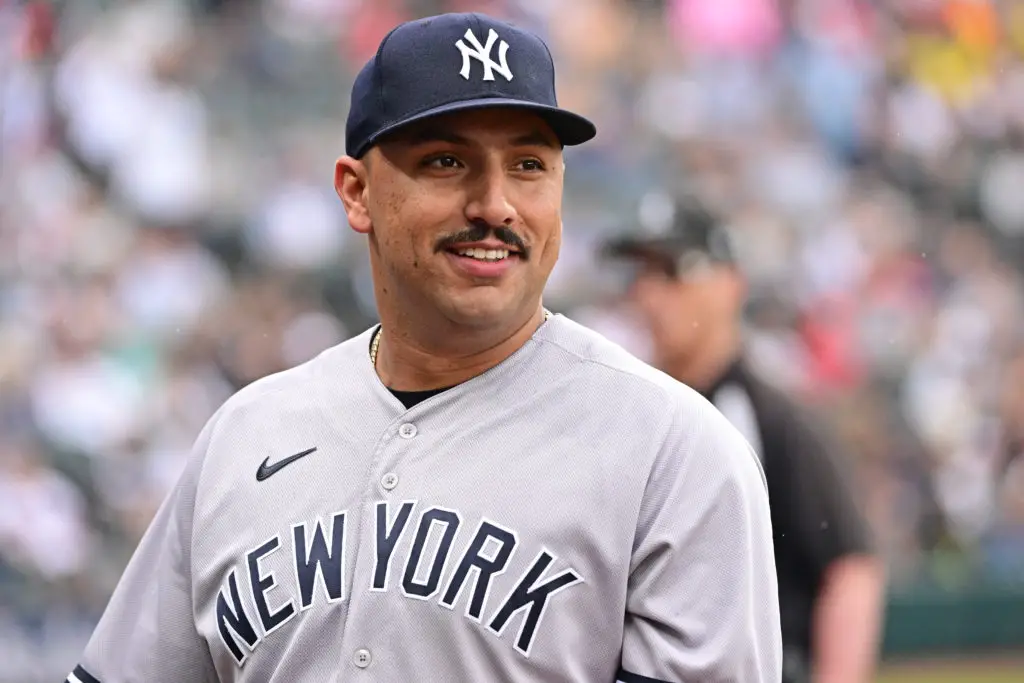 'Nasty' Nestor Cortes learns cost of fame
Yankees pitcher Nestor Cortes under bright lights now
BALTIMORE – For more than three years, New York Yankees starter Nestor Cortes was just another serviceable pitcher. He was a pitcher teams picked up and let go at will, a person teams use as a temporary roster spot filler.
Over the last year and a half, though, Cortes has proven to be more than that. 
The 27-year-old Cubano has taken on the personality of "Nasty" Nestor as an MLB pitcher who doesn't fit the prototype. He isn't 6-foot-5, and he doesn't throw 97 mph. But he has still managed to pitch to a 2.47 ERA in 21 starts dating back to last season.
Much of it is due to his impeccable command of the strike zone. His ability to mess with a hitter's timing has also played a major role in his ascension to stardom.
Above his locker at Oriole Park in Camden Yards, the hosts of the MLB Network talk show "Intentional Talk" discuss Cortes' start the night before. Against the Chicago White Sox, Cortes tossed eight innings and allowed just one run on just 3 hits.
This start lowered his ERA to an American League-leading 1.35 for the 2022 season.
When asked how it feels to see his efforts being acknowledged on television, he just smiles.
"It's been cool to see all the different opinions," he said. "Hopefully, I can keep having success so they can keep talking about me."
Owning up to mistakes
Cortes' success has certainly kept people talking about him. It has not always been for positive reasons. While the "Hialeah Kid" was silencing White Sox bats in Chicago, a batch of questionable old Tweets came to light.
Unfortunately, when a public persona acquires some success, a few people look for ways to take it away.
He wrote the tweets in question when Cortes was 17 or 18 years old. In them, he uses a form of the n-word. Some appear to be lyrics from rap songs. Others appear to be friendly banter among friends.
Upon learning about these Tweets, Cortes felt disappointed. He made his big league pitching debut five years ago. Why were these Tweets being unearthed now?
He decided the best course of action was to deactivate his account.
"I was mad at myself to see that still in my Twitter," he said. "For the last two years or three years, I've been pretty positive about sending good messages, and when I saw that, I was a little pissed off at myself."
No apologies
It's clear that Cortes' intentions were never to cause anybody harm. He did pass up on a teachable moment by removing his account.
In certain communities, people refer to one another using the n-word — with an -as, not an -er. In most cases, it's a substitute for words like "dude" or "homie".
Growing up in Washington Heights, an upper Manhattan neighborhood populated primarily by Dominican immigrants and African-Americans, I referred to my friends in this way. It was a term we heard our favorite artists – Latino and Black –  use in song lyrics and interviews.
It doesn't make it right, but it is the reality, and Cortes shouldn't be ashamed of it.
My apology would have included a statement about how much I have grown since then, how I have learned the history of the word and no longer use it, even in its more innocent form.
Then, I would have doubled down on the positivity, which has clearly been his main focus since attaining cult status in 2021.
Instead, his now restored account is cleared of questionable content.
Nestor Cortes is just a regular guy
At the end of the day, Cortes still views himself as a regular guy fulfilling his dreams. And the fact of the matter is that he is just a regular guy, fallible and all.
He walks around the Yankees locker room with a Super Mario-inspired Nestor Cortes T-shirt, happy to field questions from reporters and engaging in conversation with teammates.
He even admits to pinching himself – figuratively speaking – to see if all of this success is real.
"I remember when I came up and I started facing guys like (José) Altuve and all these guys I was seeing on TV," he said. "I was like, 'Wow, it's pretty special that we're here competing against each other.'"
It's no mistake that Cortes owns the fourth best fWAR in the AL. His hard work and determination has made it possible for him to become a legitimate baseball star.
His handling of this "controversy" all but assures that star stays up.
Get the Our Esquina Email Newsletter
By submitting your email, you are agreeing to receive additional communications and exclusive content from Our Esquina. You can unsubscribe at any time.