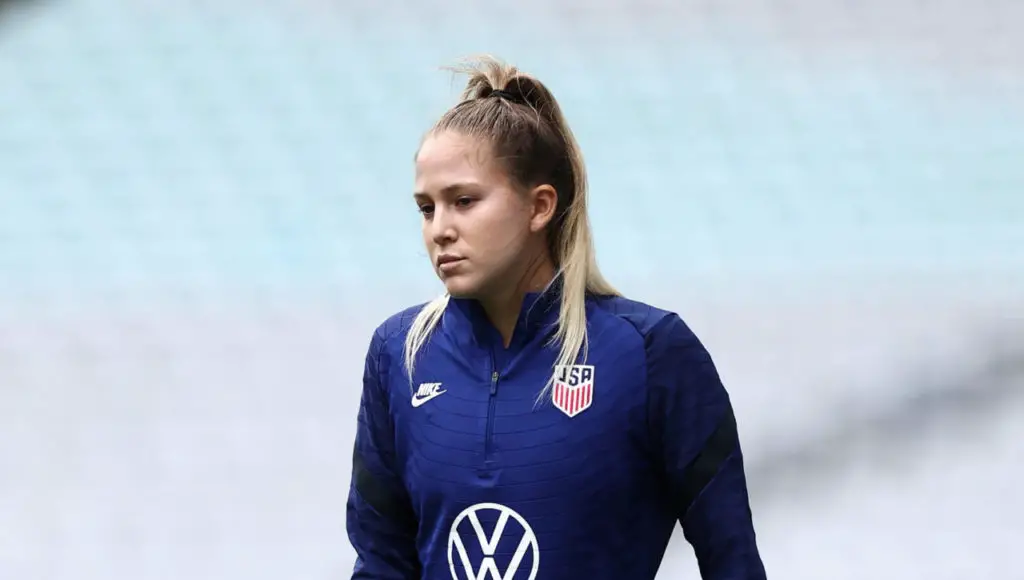 Ashley Sanchez seeks place on U.S. women's soccer team
Ashley Sanchez set for SheBelieves Cup
Ashley Sanchez doesn't speak much Spanish, and her paternal grandmother doesn't speak much English. Yet, the young American soccer star has always figured out a way to connect and communicate with her abuela.
The charismatic Sanchez knows just enough Spanish to embrace her family's roots in Jalisco, Mexico. Moreover, she appreciates the sacrifices her grandparents and parents have made to help her become one of the best women's soccer players in America.
So when she wears the U.S. women's national soccer team jersey, Sanchez knows there's an opportunity to inspire fellow Latinas.
"It means a lot to me," Sanchez said of being one of the few Latinas to ever play for the U.S. women's national team. "I've been playing since I was really young.
"I think knowing there hasn't been that many Latinas in the cycles, not even just making a World Cup roster, but there's not even that many Latinas in the (player) pool at all." 
Long journey for Ashley Sanchez
Sanchez's father Rafael grew up in Azusa, Calif. He played baseball growing up, but he saw a soccer gift in his daughter early. Ashley Sanchez was taken to private skill sessions from the time she was eight years old until she was about 12.
Admittedly, there were times when she would cry on the way to her thrice-weekly skill sessions. The extra work and sacrifices have paid off tremendously. She was invited to U.S. youth national team camps so much, she was eventually home schooled before enrolling at UCLA.
In 2016 she was U.S. Soccer's Young Female Player of the Year.
Ashley Sanchez has already made U.S. Soccer history. She's the first and only player to represent the U.S. women's national teams at the Under-17 and U-20 Women's World Cups in the same year. Sanchez scored in both of those tournaments. She was the U-17 captain and the youngest player on the U-20 team in 2016.
Sanchez, who will celebrate her 23rd birthday on March 16, was invited to her first senior national team camp at 16 in 2016. 
"It was definitely challenging," she says. "You look up to these people for so long and you're competing with them at practice. Obviously everybody wants to continue to make the next camp."
Chance to raise awareness
It took five years before she finally made her debut with the senior team last November. Now, she's trying to establish herself with the senior women's national team. She joined the U.S. senior camp in January and earned a spot on the roster for the SheBelieves Cup, which kicks off this week.
Sanchez is a skillful, entertaining midfielder with a strong social media presence. She helped the Washington Spirit with the 2021 NWSL title. The Pasadena, Calif., native and former UCLA star followed that up with two national team caps in November.
Sanchez and Boise, Idaho, native Sofia Huerta, 29, hope to become just the second Mexican Americans to compete in the Women's World Cup and Olympics for the powerhouse U.S. women's national team. 
Defender Stephanie Cox, whose maiden name is Lopez, is the only Mexican-American to have played for the U.S. in the Women's World Cup and the Olympics.
"So I'm one of a couple," she said. "I think it's important to make everything I can of myself to be able to make these rosters and have my name out there and raise more awareness of Latinos in sports."
Get the Our Esquina Email Newsletter
By submitting your email, you are agreeing to receive additional communications and exclusive content from Our Esquina. You can unsubscribe at any time.