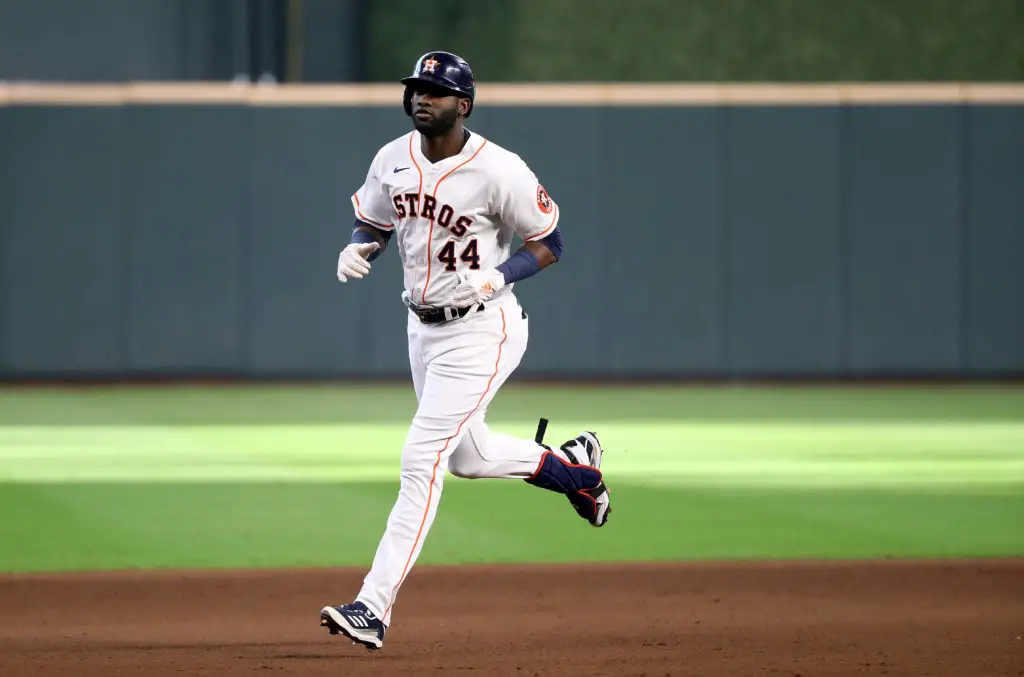 Yordan Alvarez Glad to Help Astros Again
Yordan Alvarez opens Division Series with homer, 2 RBIs
HOUSTON – Yordan Alvarez felt helpless last October as he watched his Astros teammates in the postseason from afar. The 2019 American League Rookie of the Year tried to keep in touch through text messages, but it wasn't the same watching on television.
Alvarez and his potent bat were silenced last year while he recovered from surgeries on both knees. That's why Thursday night felt so much sweeter for the 6-foot-5, 225-pound slugger from Las Tunas, Cuba.
On an afternoon Lance McCullers Jr. threw 6 ⅔ dominant innings, Alvarez helped spark the Astros' offense to open Game 1 of the Division Series with a 6-1 victory over the White Sox.
"I was in communication with them daily," Alvarez said of last postseason. "I spoke with the guys. We'd joke around. I think now this year we knew the potential that we'd have to be in the playoffs, and I'm happy to be with them."
Alvarez entered the season with plenty of questions about his knees. He answered them all while hitting .277 with 33 home runs and 104 RBIs, both career highs. He also proved more than capable of playing left field after being limited to the designated hitter's role as a rookie.
Yordan Alvarez showcases wheels
Alvarez is so comfortable with his knees now, he got the Astros on top with smart, aggressive base running. He led off the second inning with a walk and moved to second one out later on Carlos Correa's single to right. He then tagged over to third on Kyler Tucker's line out to right field.
Jake Meyers took care of the rest with an RBI single to right. An inning later, Alvarez strolled to the plate after Jose Altuve gave the Astros a 2-0 lead with an impressive slide home on Alex Bregman's fielder's choice, RBI grounder to third. 
Alvarez added an RBI double to left-center field. He added a leadoff home run to right-center field in the fifth to go ahead 6-0.
"We have a very unique offense in the sense that we can do it in a lot of ways," McCullers said. "Obviously, you saw some power today. Yordan, that's one of the most crazy home runs I've seen hit here, just how high he hit it. That's deep out there in right-center."
The blast was Alvarez's second career postseason homer. It was also his first postseason homer since Game 5 of the 2019 World Series, when he became the youngest native of Cuba to homer in the Fall Classic.
Alvarez missed last postseason
The Astros got within a victory of a return to the World Series last year. So it's fair to wonder if the Astros would have won the seven-game American League Championship Series against the Tampa Bay Rays with Alvarez. 
"That's a huge bat," Astros manager Dusty Baker said. "I thought many times over the winter what it would have been like to have Yordan in there. But nobody is going to give me any sympathy for a player that's hurt, especially a key player like that."
The Astros labored through the 2020 COVID season essentially without Alvarez. He was delayed from joining the team after he got COVID. Then when he finally returned, he wasn't around for long.
He homered in his first game last year, but he was done for good after his second.
"I didn't even know what I had. He came back for two games," Baker said. "The first game back he hit a homer. I was envisioning what it would be like to have him back, and then he got hurt, and he was out the rest of the year. So I'm very thankful to have him back."
Alvarez is glad to be back too. 
"It means a lot to me," he said. "I felt it last year when I couldn't be with the team. Those were moments that I could only see on TV. I think the moment has arrived, and now I can be with my team."
Get the Our Esquina Email Newsletter
By submitting your email, you are agreeing to receive additional communications and exclusive content from Our Esquina. You can unsubscribe at any time.