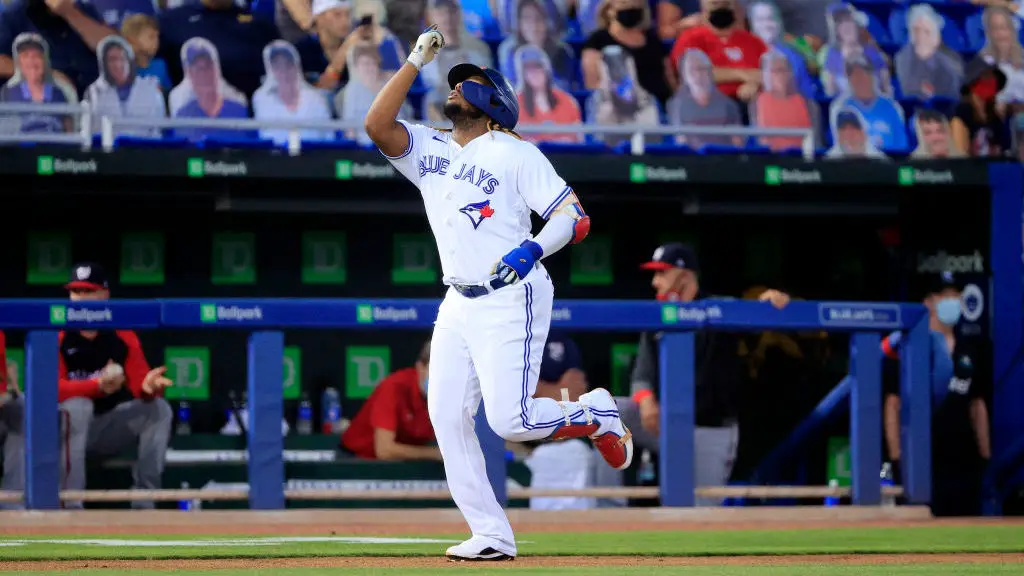 Fit Vladimir Guerrero Jr. flexes with three homers for Blue Jays
Vladimir Guerrero Jr. rewarded for offseason work
Vladimir Guerrero Jr. was so subdued afterward, it was clear the Hall of Famer's son expects greatness. Ultimately, though, the Blue Jays' slugger conceded that he had the best game of his brief career. Not that there was any doubt, however.
It was almost as though Guerrero was back at the 2019 Home Run Derby in Cleveland. That's the type of power display he put on at TD Ballpark in Dunedin, Fla. Only this time, the pitcher wasn't a friend lobbing meatballs up there. He actually torched a future Hall of Famer. 
Guerrero feasted on future Hall of Famer Max Scherzer for two home runs on his way to a career high three home runs. It was a beautiful display of power and precision. He drilled shots to left, center and right field on a night he had a grand slam among his three homers.
"I think that's special," Blue Jays manager Charlie Montoyo said in the postgame Zoom conference. "Not many people can do that. Again, I wish you could see his batting practice. 
"That's what he's been working on in batting practice the whole time, trying to go the other way, hitting the ball where it's pitched, and he's taken it to the game. It's been fun to watch."
Guerrero is living up to the hype he carried into his 2019 rookie season when he and Fernando Tatis Jr. were considered the best prospects in baseball. While Tatis shone in his sophomore season, Gurrerero admittedly let himself go.
Vladimir Guerrero Jr. looks the part now
Guerrero ballooned to 280 pounds last season, prompting him to apologize to his teammates and vow to make changes this winter.
He lost 42 pounds in the offseason and played winter ball in his father's Dominican Republic. The work is paying off. He is hitting .360 with seven home runs, 19 RBIs and a 1.117 OPS.
At 22 years and 42 days old, he became the youngest player in baseball to ever hit three home runs with a grand slam in the same game. He is also the youngest player in MLB history to have three home runs and seven RBIs in the same game.
"I think mainly I feel good, thank God," he said in the Zoom conference afterward. "I believe in my team, believe in my teammates and the coaches. I think that's the way we are trying to be ready for the game."
When asked what it felt to home run off a pitcher who also gave up a home run to his father, he praised Scherzer. 
"I think you feel very good about hitting a home run against a legend like that," he said. "I feel great."
Guerrero also downplayed the significance of sending each of his home runs to different parts of the ballpark. He is pleased as long as they go over the fence, he noted. Who doesn't?
Best game of Vladimir Guerrero Jr.'s career
Guerrero ultimately conceded the obvious. 
"Yes, sure, I think this has been the (best) game of my career," he said. "It's the first game of my career that I hit three home runs, so I think that has been the game of my career at this point."
More importantly for Guerrero, he is being rewarded for his offseason conditioning program and commitment to eat healthier. 
The talent has been evident for several years. What he did to Scherzer and the Nationals was merely a taste of what's to come if Guerrero remains healthy and committed to his workout routine and new eating habits.
"We talked to him last year at the end of the year, and his goal was to get in better shape and to do better," Montoyo said. "And he did. He deserves all the credit for what he's doing right now because he had an outstanding offseason and he's ready to play. He's doing what we thought he was going to do." 
Feature photo by Sam Greenwood/Getty Images.
Get the Our Esquina Email Newsletter
By submitting your email, you are agreeing to receive additional communications and exclusive content from Our Esquina. You can unsubscribe at any time.