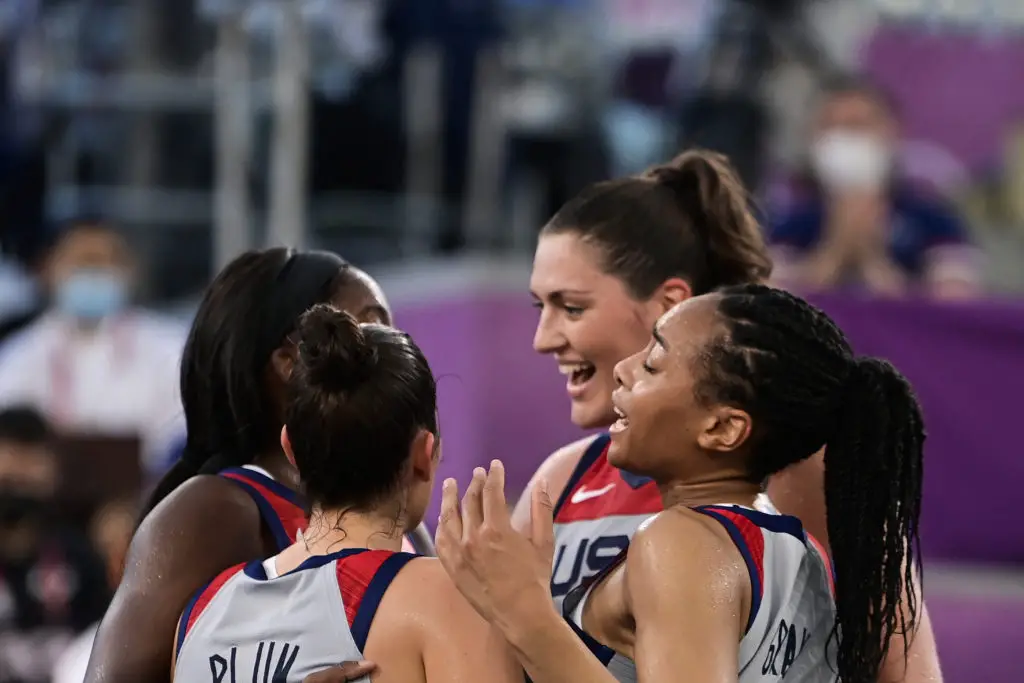 U.S. Women's Basketball Team Deserves Larger Audience
Juan Lozano takes a look at Olympic ratings, Deion Sanders and Tokyo Games
You would never really know it, but the U.S. women's basketball team is dominant. They're going for the seventh consecutive Olympic gold medal and ninth overall. 

Sue Bird and Diana Taurasi, a Latina, are going for their fifth gold medal. Dawn Staley is looking for her third gold medal, her first as a head coach. 
There's a history of sustained success here with eight gold medals in 10 Olympic appearances and 14 gold medals in 17 FIBA World Cups. 
It will be interesting to see what the television ratings are for the U.S. women's basketball team's Olympic contests versus those of the women's national soccer team. 
Why is this of interest? Women's college and professional basketball ratings are much larger than those of their soccer counterparts. Frankly, it's not even close.  

Yet the women's soccer team is ratings gold. In 2019, the Women's World Cup final attracted more viewers than the 2018 Men's World Cup finals. You'd have a hard time finding FIBA Women's World Championships on television. 

Ratings disparity
I'm going off my perception here, but I don't see bars opening early to air women's basketball contests the way they do women's soccer contests. 
I'm interested in knowing why this is? USA Women's Basketball has been successful in a way that the soccer team (four gold medals in 6 appearances and four World Cup trophies out of 8) has not.  

Let me be clear. They are good. 
The women's basketball team is just THAT good. I just don't think they are celebrated as much. What do you think?

Does any of it have to do with the composition of the two teams? 
I'll leave this chart here and let you decide. 

 
Black 
White 
Latina
TOTAL
 
TOTAL
USA WBB
9
2
1
12
USWNT (SOCCER)
5
16
1
22
 
 
 
 
 
 
PERCENTAGE of TEAM
USA WBB
0.75
0.166667
0.083333
 
USWNT (SOCCER)
0.227273
0.727273
0.045455
 
Let me know what you think at juanlozano@ouresquina.com
Olympics drain?
It's still early, but the 2021 Tokyo Games has all the makings of the most financially disastrous Olympic Games in history. 
Tokyo Games officials estimated a cost of about $7.4 billion when they originally put together the bid. Government officials now estimate that the cost will be in excess of $20 billion. 
By comparison, the total cost of the second-most expensive Olympics, the 2012 London Games, was about $14.8 billion. 
Having no fans in venues adds to the sticker shock. But it isn't just fans who are staying away.

Television ratings for the Opening Ceremony, televised on NBC, were the worst in the last 30 years, and 35.8% below the Opening Ceremony for the Rio Games in 2016. 
It's still early, but this lack of attention and interest in the Games will hinder athlete marketability, including that of Latino athletes, weightlifter Sarah Robles; softball player Rachel Garcia; among others.
Deion Sanders at it again
Deion Sanders is one of the best football players I've ever seen. He took away an entire side of the field as a cornerback and was magic with the ball in his hand after interceptions or in the return game during a 14-year- long Hall of Fame career. 
This is to say nothing of a nine-year- Major League Baseball career. 
He was a flashy and entertaining player who was also known for his attire and talk as much as his play on the field.

He was and still is excellent at getting attention, something he has done in his short time as head football coach at Jackson State.

I'll spare you the details of what transpired after his first game as Jackson State head coach. It's here if you're interested. 
In coaching there's a running joke about how much a guy changes when he goes from an assistant on staff to the head coach's seat. Sanders' approach hasn't changed from his playing and broadcasting days- he still looks for and covets attention.

However, his message has changed and now he's morphed into the "get off my lawn" guy, you know, the old man in the neighborhood that yells at the young folks for slights, whether real or not. 
The Jackson State head coach's latest attention- getting antics center on the perceived slight of being called by his first name. 

Sanders walked out of a media obligation over being called by his first name without  explaining anything more than the interviewer or the media would never call Alabama head coach Nick Saban by his first name, a conclusion that was quickly and easily refuted. 
Without additional explanation, no one can really understand what the slight involves. Judging from his introductory press conference, he wants to be known as "Coach Prime," an absolutely ridiculous request of adults who cover the team and the sport.

Prime whine
Media members don't have to call him coach. He is not their coach. Nor is Coach a credentialed or professional designation term.

Baseball managers aren't referred to as 'Manager" in a press conference nor are general managers in any sport referred to as that. 
There's an easy solution to this.  He can always go to the Chancery Court in Hinds County, Miss., and get his name legally changed to "Coach Prime." I looked up the process for name change in Mississippi. It's a relatively easy one. 
Sanders, formerly of Barstool Sports and the NFL Network and who had his own reality show, has had significant issues with the media in the past.

Remember when he dumped ice repeatedly on baseball announcer Tim McCarver? Check out the video. It's incredible. 
Sanders' hostility with media that he isn't associated with isn't surprising. 
The rationalization of that act, years later, still makes no sense and suggests a lack of level of introspection. He's not the guy to be lecturing people on appropriate manners. 
Get the Our Esquina Email Newsletter
By submitting your email, you are agreeing to receive additional communications and exclusive content from Our Esquina. You can unsubscribe at any time.