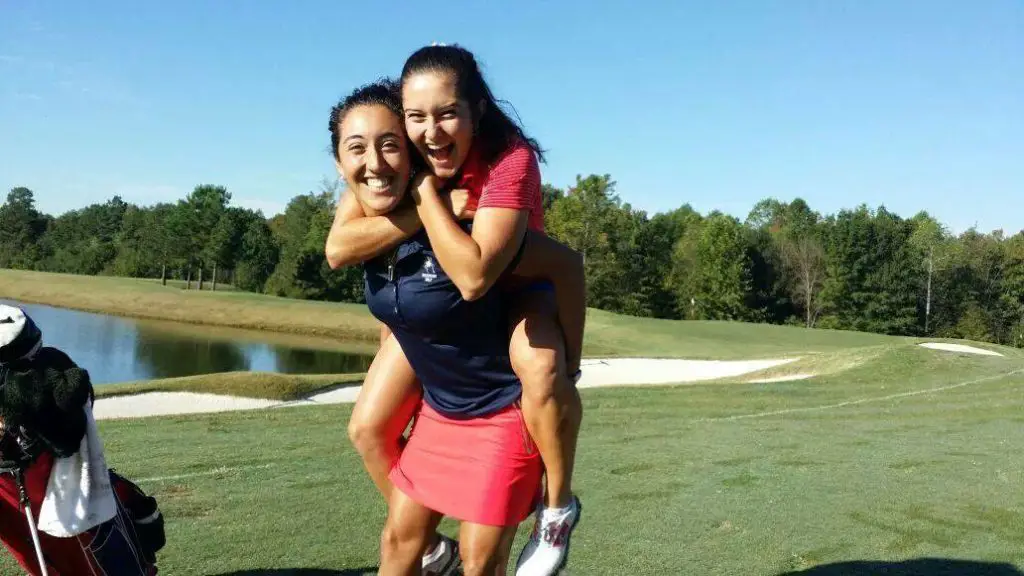 Sisters Sara and Elsa Diaz soar together in golf
Diaz sisters share dream of Elsa Diaz reaching LPGA
Professional golfer Elsa Diaz ends each phone call to her manager, who doubles as her older sister Sara, with an "I love you." They schedule weekly meetings to solely discuss golf.
The Diaz sisters then call each other at other times in the day to discuss clothes, friends and their family.
"Whatever I am going through emotionally or physically, she always changes our course," Elsa said. "If I need a little more help or more time, she will adjust to that. I don't know how other player/agent relationships are, but for Sara to do that for me is something that is very valuable for a professional golfer."
Sara and Elsa Diaz have been together since their dad first taught them the sport almost two decades ago. Adolfo Diaz got them involved with First Tee competitions in San Antonio, knowing the game would be good for his girls in business and could help make college affordable. 
They fundraised, competed and climbed up the youth amateur ranks. Each used their golf experience to earn scholarships to pay for their college education.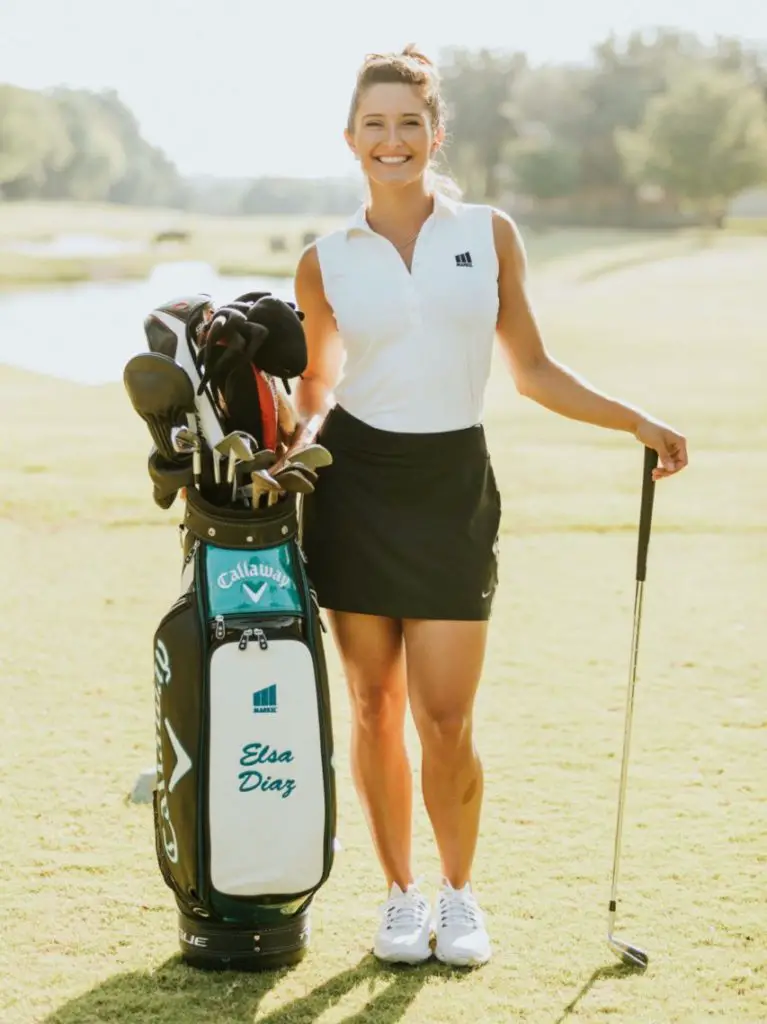 Elsa Diaz eyes LPGA
Now, Elsa continues chasing her dreams of becoming a regular on the LPGA Tour while Sara manages her career and works to help promote Latinos on the PGA Tour.  
 "I feel like we fit in the roles very well," Elsa said. "I think with Sara being my older sister, she has always taken care of me. 
"And Sara understands the Latin culture very well. When I look at PGA Tour, I think, of course, you need Sara. She's perfect for it."
There is no golfer Sara is more passionate to help and promote than her own sister. 
Despite being born in the United States, the siblings were raised speaking Spanish in Mexico until they returned to the United States when Elsa was 7 and Sara was 11. The transition wasn't easy, as they knew no English.
"I came in middle school, and it was a difficult transition," Sara said. "I remember what the English sounded like when I didn't understand anything. I remember asking my father, who grew up in California and knew the language very well, 'When am I going to learn it? When is it all going to sink in?'"
Elsa, Sara and their brother Adolfo would sit around the kitchen table staring at homework that made no sense to any of them.
Growing closer while adjusting to States
The transition brought the siblings closer and they quickly learned English. 
"It gives us perspective," Sara said. "When you live in two different countries, you get two different points of view. You get to choose what you like about two cultures. We live in two worlds. When we are in the United States, we're very Latin. And when we're in Mexico, we're very American."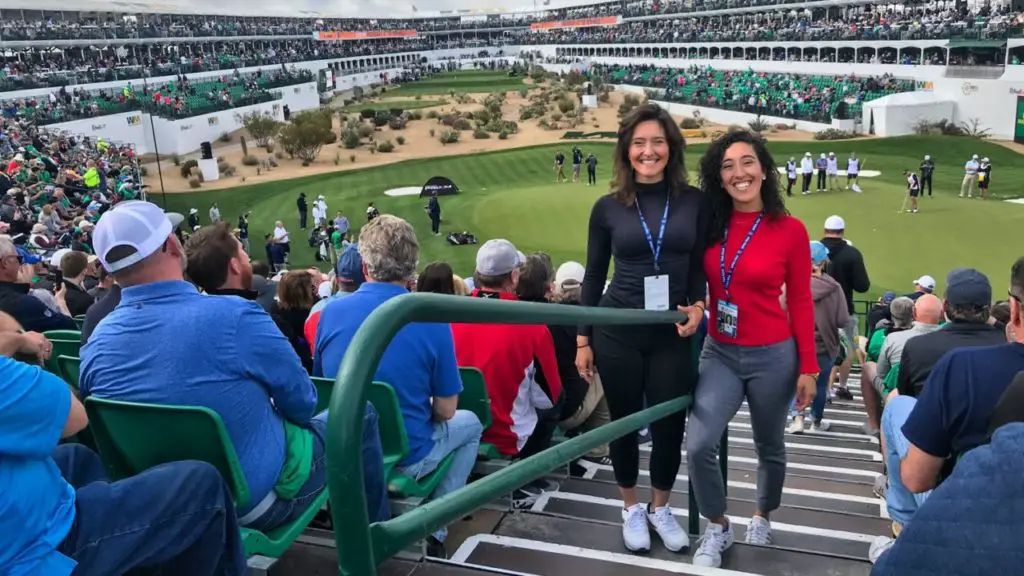 Finding their place was not always easy. 
"For a while, when you're a kid, you think where do I stand?" Elsa said. "But now I am comfortable being in the middle." 
Being bicultural and bilingual means they can easily crack jokes in Spanish and English to their friends and enjoy music by Elton John and Daddy Yankee.
"I love the back and forth we can both do," Elsa said. "I feel so blessed. And sometimes I forget that everyone does not have this bicultural view of life."
Elsa and Sara began learning how to play golf at the same time from their dad, when Elsa was 9 and Sara was 13. Adolfo's interest in golf began when he noticed some of his chiropractic patients had neck and back pain caused by golfing.
He started to learn the game in order to figure out how to play without getting hurt. 
Learning from their father, Adolfo Diaz
Quickly, he fell in love with the sport. Adolfo Diaz began teaching his children. They caught the bug as well. 
Adolfo even developed his own swing technique to assure his kids would stay healthy. That swing technique ended up also guaranteeing quick success. 
With her father's technique, Elsa could compete at a high level early despite her lack of experience. Her love of golf flourished through those experiences."
Sara and Elsa continued playing golf through college and even played a year of Division I together at the University of Richmond. They pushed and motivated each other while also discussing swing mechanics they had both grown up on.
"We were basically attached at the hip," Sara said of their time together at the University of Richmond. "To me, it was a dream come true. I always wanted to play with Elsa and we made it happen."
Elsa Diaz appreciates sister's representation
Now, they no longer golf on a team together, but with Elsa on the mini tours and Sara as her agent and working for the PGA they're on a different kind of team. Elsa continues to visit her father whenever she can and works on her technique with him. Sara uses her bilingualism to interview and promote Latino golfers as a manager in charge of the PGA Tour's multicultural marketing strategy.
"I have seen how golf can change people's lives," Sara said. "Those are the stories I want to tell. I want to tell the Latino community we have great Latin players and look at what they have been doing.  
"Elsa has been able to make a career of it and we've been able to pay for our education through the game. I feel very proud of everything we're trying to do."
Get the Our Esquina Email Newsletter
By submitting your email, you are agreeing to receive additional communications and exclusive content from Our Esquina. You can unsubscribe at any time.