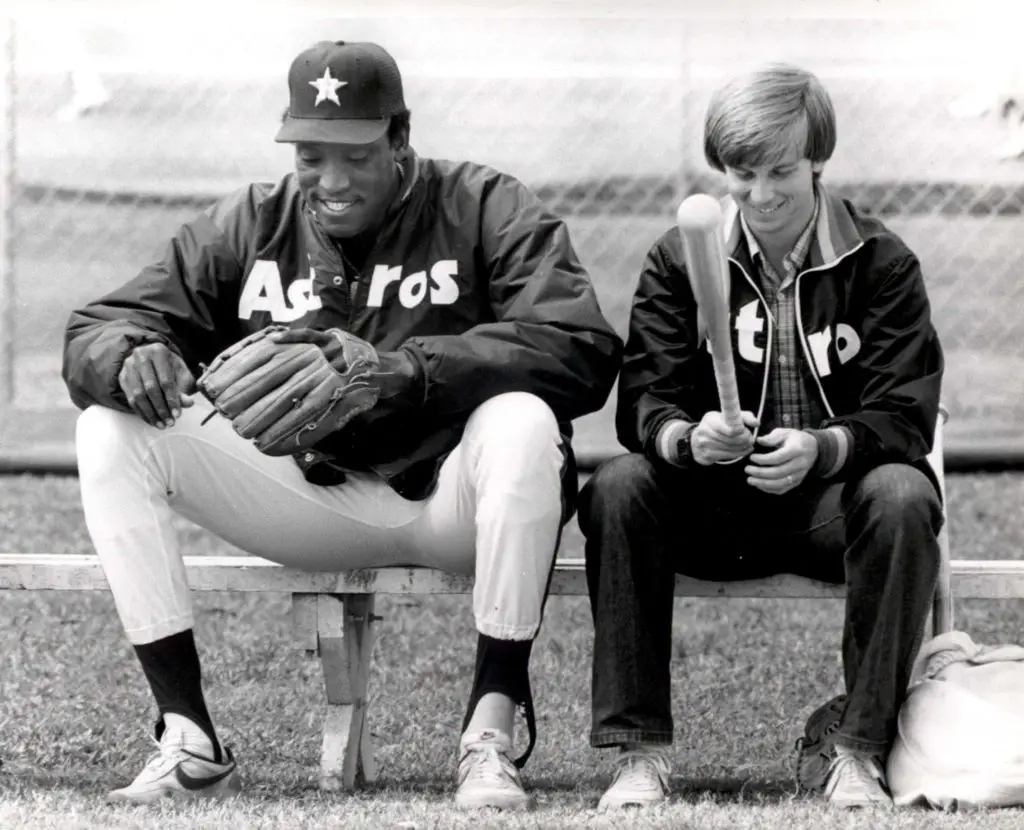 Ed Wade remembers J.R. Richard and Iconic Picture
Ed Wade recalls legendary J.R. Richard picture
Former Astros fireballer J.R. Richard was one of the most intimidating pitchers of his era. His grip was as legendary as the dominant fastball that helped him lead the majors in strikeouts in 1978.
Richard, a member of the Astros Hall of Fame who died Wednesday, is considered one of the best players in franchise history.

He dominated like few others in the 1970s, going 107-71 with 76 complete games, 19 shutouts and a 3.15 ERA for Houston from 1971 through 1980.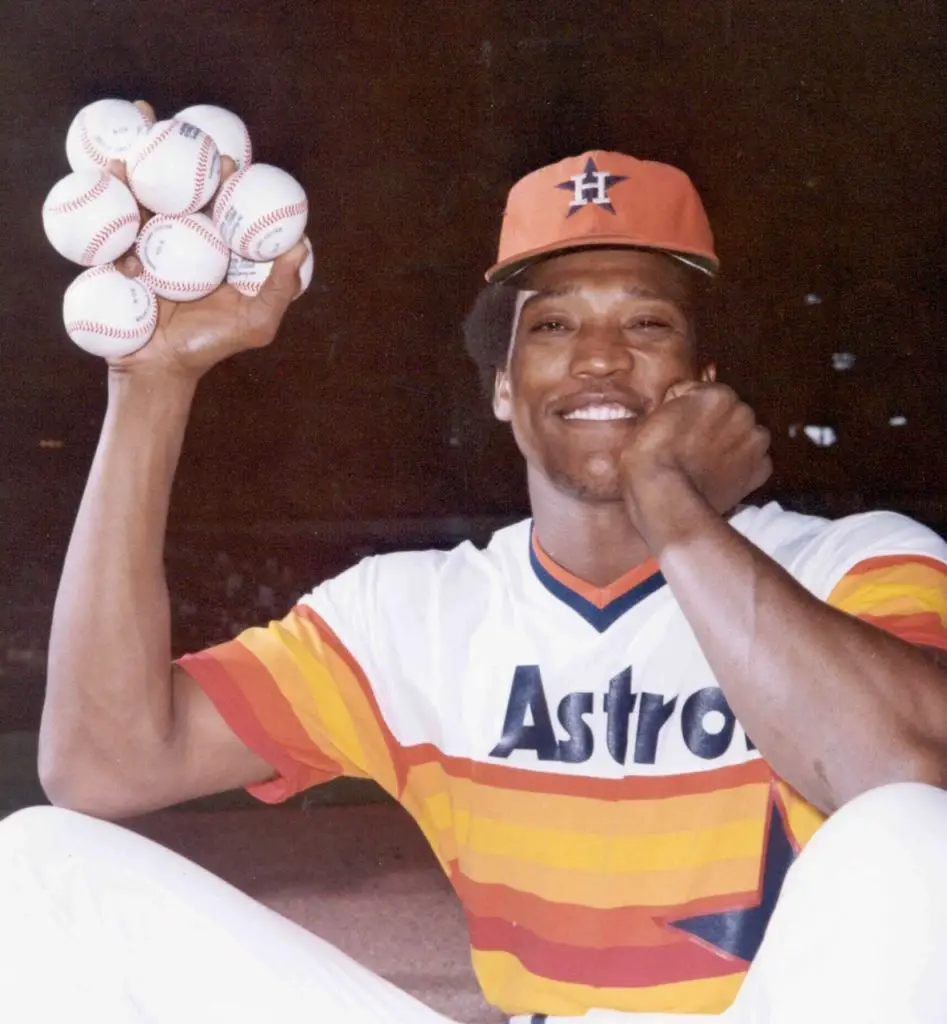 The 1980 All-Star and 1979 National League strikeout leader had his career derailed by a stroke, finishing with 1,493 strikeouts over 238 games.
Richard's powerful grip was captured masterfully in an iconic shot that was set up by Ed Wade, the former Astros general manager who was serving in the team's public relations department at the time.
Wade, who set the foundation for the Astros' 2017 World Series champions as GM from 2007 through 2011, recalled that it didn't take long to capture the iconic picture.
Richard asked Wade what he wanted. Wade told him he wanted the ace to hold eight baseballs, one more than Reds catcher and future Hall of Famer Johnny Bench had famously held.
"Thirty seconds later," Wade recalls, "we were done."
Below is a Q&A Wade did with Our Esquina about the iconic picture.
OE: What motivated you to set up that picture of J.R. Richard
Wade: I believe we took the picture in the early stages of the 1980 season.  My recollection is that we were doing a poster in honor of his back-to-back 300 strikeout seasons.
OE: What are your memories of that day with J.R. Richard?
Wade: Johnny Bench had recently appeared for a picture holding seven baseballs, so I approached J.R. about holding eight. Having been squeezed around the waist by J.R., I had no doubt he could do it. 
We were in the stands at the Astrodome. Without the benefit of pine tar or any other sticky substance, he took all of about 30 seconds to place the balls in his hand, turned his hand toward Harold Israel, the team photographer's camera, and the photo was taken.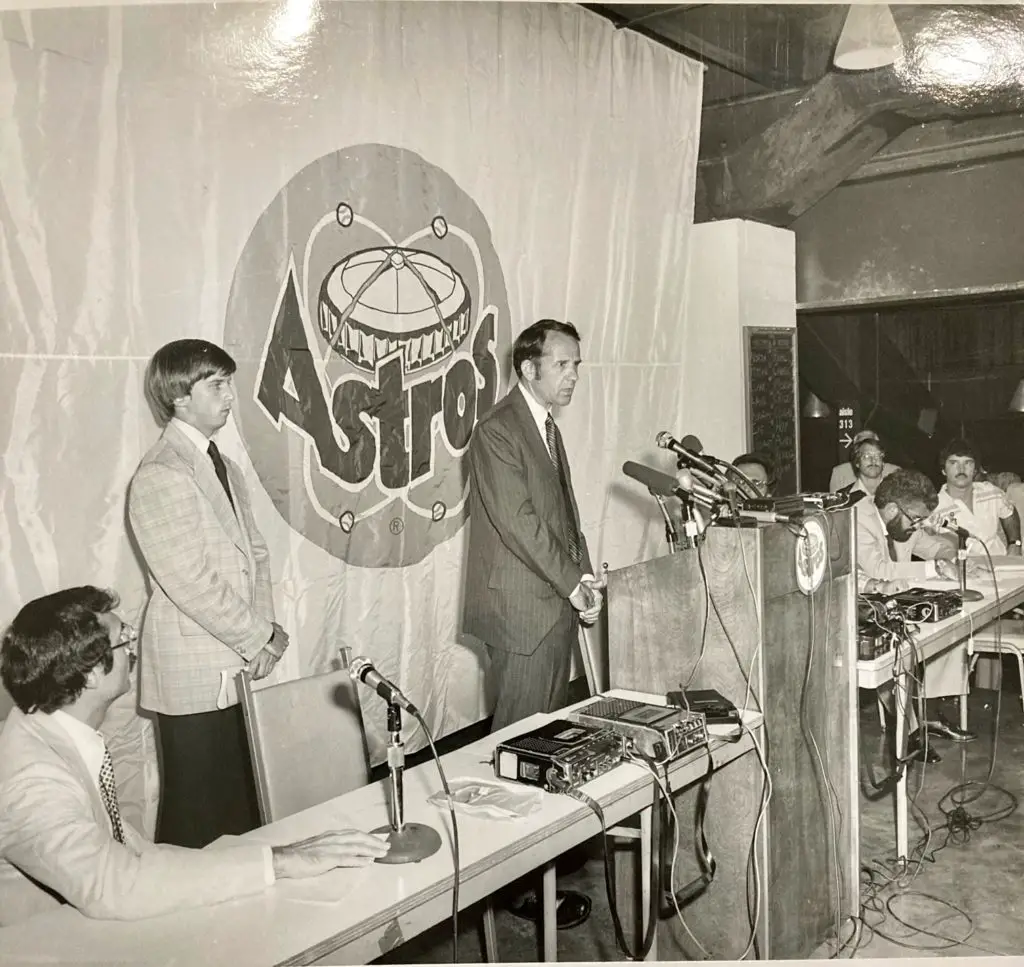 OE: Did you keep in contact with J.R. Richard over the years?
Wade: I remember visiting J.R. a few times in the hospital after his stroke. I also remember the press conference, which was conducted at the Astrodome after he was hospitalized. Tal Smith, J.R.'s agent Tom Reich and a number of doctors participated.
I was tasked with reading an extensive medical summary. It was a very difficult time for everyone associated with the Astros.  Most of us were in a state of shock that someone as strong and vibrant as J.R. could have experienced such a traumatic medical episode. 
It was remarkable how the players were able to pull together and fight their way to the National League Championship Series.
After J.R. had his stroke, he came to spring training in Cocoa in 1981 in an attempt to make his comeback. His return generated quite a bit of national attention.

As the P.R. Director, I spent quite a bit of time with him, ushering him to remote live shots such as ABC's 'Good Morning America,' etc.
He was very cooperative, but it was a struggle for him to do his rehab and accommodate the media at the same time, and it was apparent that his chances of returning were remote.
Shortly after the beginning to the '81 season, I left the Astros and went to the Pittsburgh Pirates.  I really didn't have contact with him until I returned as Astros' GM (2008-11) when I would see him occasionally.
OE: Where do you think J.R. Richard rates among Astros greats?
Ed Wade: Looking back at J.R.'s career, it's easy to envision him continuing that pre-stroke success and riding it to a spot in Cooperstown. He had just turned 30. Prior to 1980, he had thrown 200 or more innings for five straight years, including two in which he had come close to throwing 300 innings. 
As great as the Astros performed in '80, there's no telling how the season could have finished had J.R. not suffered his stroke.  There aren't many starting rotations that could match up against J.R., Nolan Ryan, Joe Niekro, Joaquin Andujar and Vern Ruhle. 
There's no doubt that he would have been remembered as one of the game's all-time greats.  I can remember Larry Bowa, the Phillies' great shortstop, telling me that players used to try to beg out of games against the Astros, claiming to have "Ryanitis" and "the J.R. flu."
OE: What years did you work for the Astros? And what roles?
Ed Wade: I interned in the Phillies' PR department in 1977. In October of 1977 I was hired as an assistant in the Astros' PR department. I became the club's PR Director in June of 1979 and stayed in that role until May of 1981, when I left to take a similar job with the Pirates. I came back to the Astros in September of 2007 when I became the GM, staying in that role until the club was sold following the 2011 season.
I spent 41 years in the game, finishing as a professional scout for the Phillies in 2017.
Get the Our Esquina Email Newsletter
By submitting your email, you are agreeing to receive additional communications and exclusive content from Our Esquina. You can unsubscribe at any time.