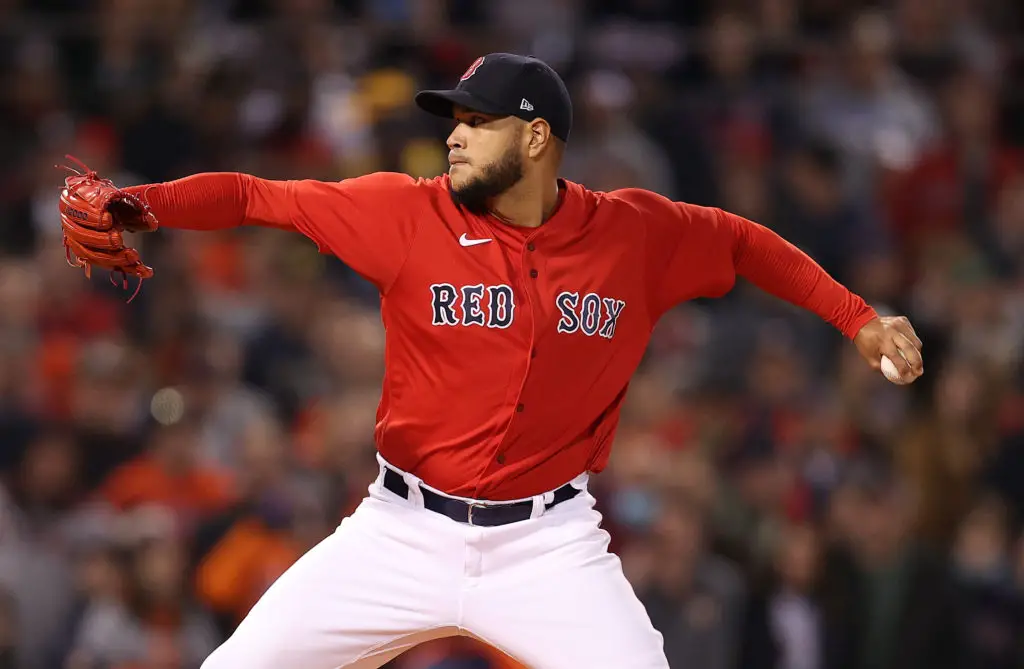 Red Sox show Astros it's Boston's time
Red Sox pile on the runs as Eduardo Rodríguez pulls the plug on the Astros offense.
BOSTON – Boston Red Sox starter Eduardo Rodríguez pointed at his wrist after forcing Houston Astros shortstop Carlos Correa to ground out to end the sixth inning of Game 3 of the ALCS. Though it was the subtlest of motions, a tap on the wrist, Alex Cora wasn't having it. 
Just four days before, in Game 1, Correa did the same thing after hitting a home run that gave his team the lead. In the heat of the moment, it's the best example of letting the kids play. For the Red Sox manager, however, it was the wrong place and the wrong time.
As Rodríguez walked into the dugout, doing his retaliatory gesture, an animated Cora had something to say.
"Don't do that," Cora remembers saying. "Because we don't act that way. We just show up, we play, and we move on, and he knows."
To his credit, Correa didn't take the celebration personally.
"He did my celebration, I thought it was kind of cool," the 27 year old Boricua said. "It's just the way baseball should trend moving forward. We talk about making baseball fun. We talk about baseball growing and more people coming to watch the sport, you need things like that. You need players to have fun."
In his postgame comments, Rodríguez expressed regret for his actions on the field and even vowed to apologize to Correa if they ever crossed paths.
E-Rod electric in Fenway
It was clear from the first inning that Eduardo Rodríguez was pumped to be on the mound in his team's first home game this series. He came out touching 96 mph on the radar gun, which is about 3 mph more than his average this season.
"It was (an) electric fastball tonight," catcher Christian Vázquez said. "I think it's adrenaline. … You know, you get locked in, and you do it for your team, for your teammates, and give everything you got."
Not only was Rodríguez throwing harder than usual, he had great command of the pitch. This allowed him to utilize his other pitches more effectively. 
"I will say like I said in my last start, I had my fastball command working today," Rodríguez said. "And I feel like every time I have my fastball command working, the rest of the pitches I can work with."
The southpaw tossed six innings and allowed three runs, making him the sixth Red Sox pitcher in LCS history to deliver a quality start. He is the only Latino on this exclusive list of pitchers.
What's more, he is the only left handed pitcher in the team's history with 7 strikeouts and no walks in a postseason game at Fenway Park. A truly historic night for the 28-year-old Venezolano.
Red Sox Making History
This Postseason, I have described the Boston Red Sox as "scorching," and tonight was no different. After their 12-un barrage against Houston in Game 3, they now lead all postseason teams in:
Runs scored – 57 R (The next best team has scored 44 R)
Home runs – 20 HR (The next best team has hit 9 HR)
Batting average – .317 (The next best team has a .291 AVG)
OPS – .940 (The next best team has a .766 OPS)
To top things off, their hottest hitter, Kiké Hernández, stays on fire. After adding two more hits in Game 3, Hernández now has 16 hits for the postseason. This is a record for any six-game span in MLB history.
Even Rafael Devers is putting up historic numbers. During a 7-game hit streak that dates back to Game 1 of the ALDS, el Dominicano joins the likes of David Ortiz and Manny Ramirez in recording at least 10 hits, four home runs and 11 RBIs for the Red Sox in the postseason.
This type of offensive performance is not lost on Alex Cora, who is happy that everything is clicking right now.
"Now it's not about 30 homers or 100 RBIs," Cora said. "Now it's about winning four games, and they're doing everything possible in that batter's box to grind at-bats and to put good at-bats, and they're doing that."
Get the Our Esquina Email Newsletter
By submitting your email, you are agreeing to receive additional communications and exclusive content from Our Esquina. You can unsubscribe at any time.