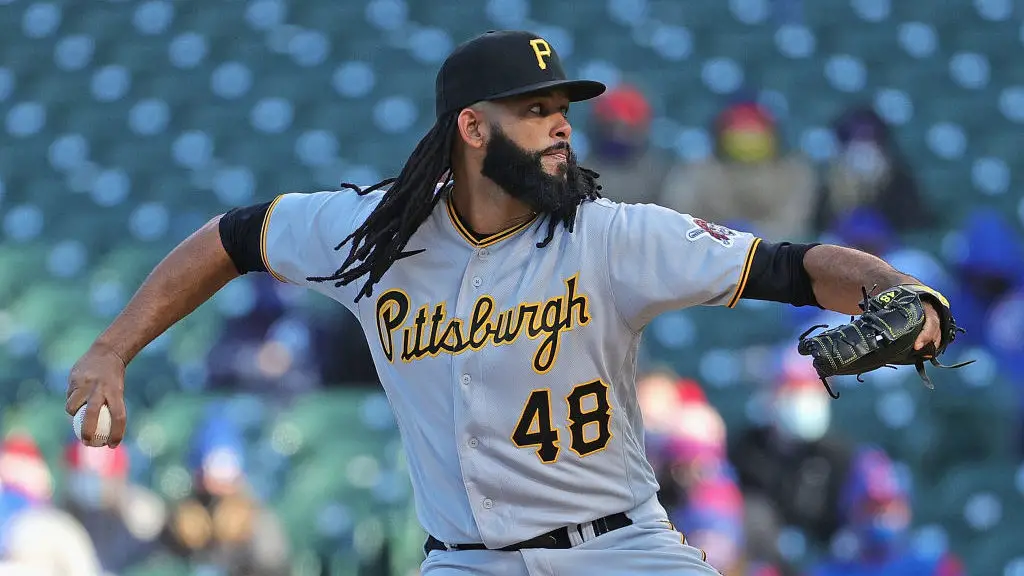 Pittsburgh Pirates reliever Richard Rodríguez is in the zone
With increased confidence in a filthy four-seam fastball, Cibaeño Richard Rodriguez is looking to finally put himself on the big league map.
Richard Rodríguez has been a steady big leaguer going on four seasons, but you might not have even known it. Having started his career with the last-place Baltimore Orioles in 2017, he was designated for assignment after a poor string of appearances that saw his ERA balloon to 14.29.
That might have been the end of the story for a player trying to make it in baseball's biggest stage. For Rodríguez, however, that was only the beginning.
The Pittsburgh Pirates offered the Dominican righty a minor league deal later that winter. After just five stellar minor league innings, they had seen enough. Rodríguez was making his way back to The Show. He never looked back.
Now, Pittsburgh hasn't really been in contention for anything for the better part of a decade, which explains Rodríguez's anonymity. However, since his Pirate debut, the Cibaeño has only gotten better and better.
Most impressively, he's doing it while increasingly relying more on one pitch: the four seam fastball.
Rodríguez's Elite Four Seamer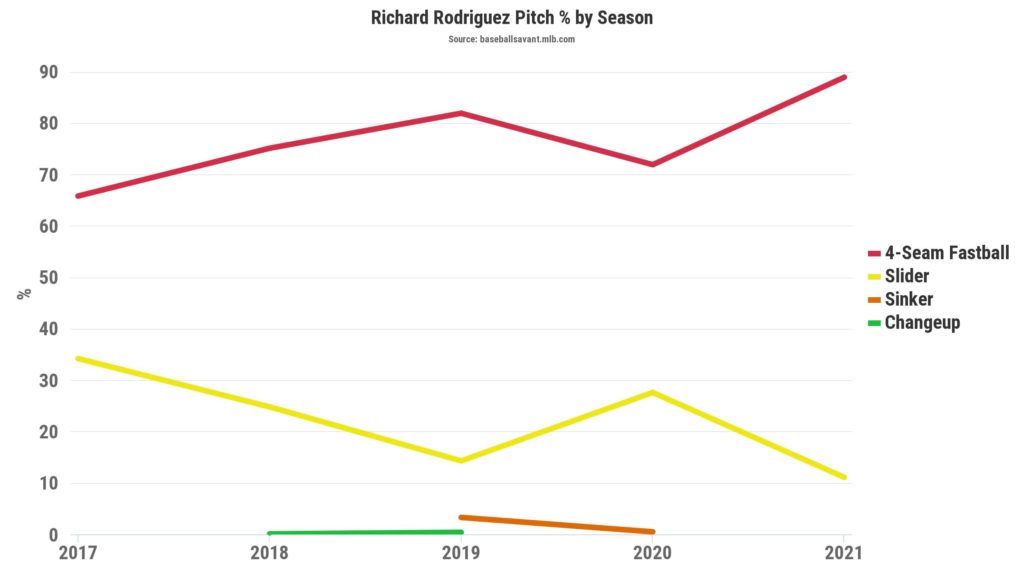 Throughout his career, Rodríguez has experimented with changeups and sinkers. He wisely abandoned those after not seeing as much success as he has with the four-seam fastball. He kept his slider as a secondary pitch but is using it less than he ever had. The reason being that his four-seamer is of the elite caliber.
On average, Richard Rodríguez's four-seam fastball has a total movement of 21.5 inches this season. This is up from 20.4 inches last season.
To put this in perspective, his four-seamer is similar to that of Lucas Giolito, whose four-seamer averages 21.5 inches. It is also comparable to Gerrit Cole (22.7 in.) and Trevor Bauer's (22.5 in.) FF. All three of these pitchers are in the top 10 of Baseball Savant's spin direction leaderboard for total movement.
One explanation for the filthy movement could be increased velocity. This season, the 31-year-old has increased his velocity to 2019 levels, an average of 93.2 mph. That's up from 92.9 mph last season, which may seem minuscule, but has apparently made a difference.
In the Zone
To start the 2021 season, Rodríguez has already appeared in nine games, tossing 9.1 innings and allowing no runs. His success is due in large part because of his confidence in his fastball.
This is evidenced by a career-high strikeout-to-walk ratio and CSW% (called+swinging strike%). Not only is he throwing his four-seamer for strikes, but batters tend to miss it when they swing at it.
A birds-eye view provides a better picture. This season, Rodríguez has started an at-bat with a called strike 73% of the time. That's up from 63.4% last season. For the remainder of an at-bat, a ball is called a strike 28.2% of the time, which is up from 19.9% last season.
What's more, the movement on these pitches has increased so much that batters are swinging at his pitches less than they ever have. This season, he's posted a 38.5% swing percentage compared to 45.3% last season.
The Pittsburgh Pirates are projected to finish last, which may keep Rodríguez as a relative unknown for a while longer. Unless – à la Glasnow, Cole, Morton, and Musgrove – he is traded to a contender sometime mid-season. If he can stay in the zone until then, get ready for his coming-out party. It should be fun to watch.
Featured photo by Jonathan Daniel/Getty Images
Get the Our Esquina Email Newsletter
By submitting your email, you are agreeing to receive additional communications and exclusive content from Our Esquina. You can unsubscribe at any time.