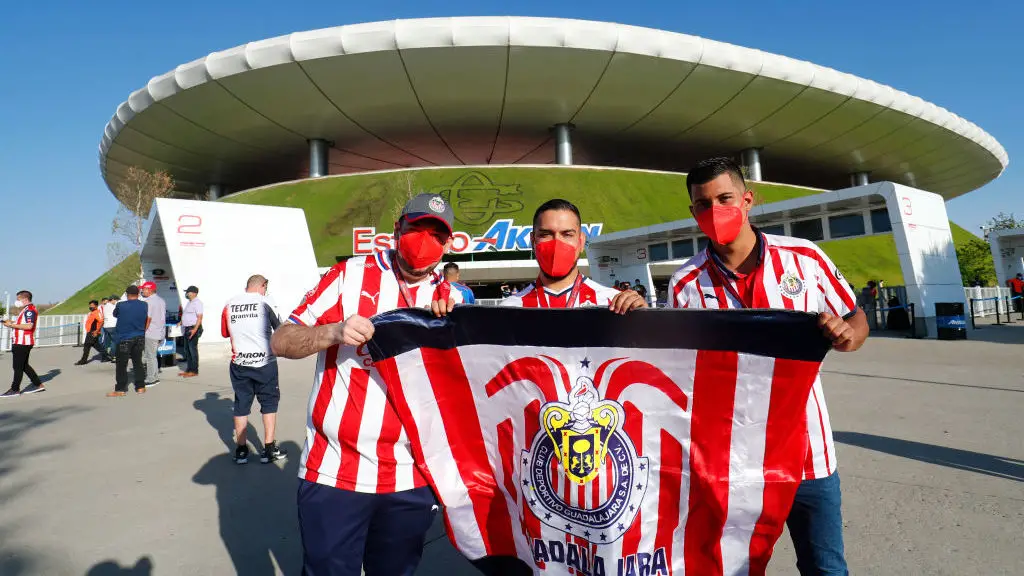 Our Scene: What's hot this week in Latino culture, sports.
Juan Lozano breaks down all we need to know in Latino sports, arts and culture this week.
The major streaming services have produced some interesting sports-related content. I've been impressed with the three seasons of the Netflix series, "Formula 1: Drive to Survive." It goes behind the scenes to look at the Formula One racing season and the racing teams, including Mexican driver Sergio Pérez of the Red Bull racing team. 
Amazon Prime has "Chivas: El Rebaño Sagrado." It is a binge worthy, four-episode series on the Mexican soccer team C.D. Guadalajara, more popularly recognized as Chivas.  Our scene is always full of Chivas fans.
The series is a fascinating look as Chivas attempts to recover from the passing of team owner Jorge Vergara. It tracks their fall from the ranks of the most successful Mexican soccer teams to a more modern organization under the leadership of Vergara's son, Amaury. 
It's a fast moving show and series that should interest Chivas fans and soccer fans who like to peek under the hood and see how organizations make decisions and conduct their affairs. 
Captivating look at Chivas
The focus on individual players and their challenges is captivating. You see Chicote Calderón's return to Chivas after a public appearance after a loss, which led to local gossip and team discipline. You also see "Pollo" Briseño struggle to live up to expectations as a starter. These are just two of the many intriguing storylines in the series. 
The interviews and access more than make up for storylines that producers might have missed, such as the rabid fan base's discussions throughout the country, head coaching changes, and the team's history. 
It's only four episodes so we know they can't include more, but perhaps it's worthy of a longer series. We certainly would watch. 
Pedro Gomez, one of the good ones
I did not know Pedro Gomez well. Former Milwaukee Journal-Sentinel writer Drew Olson introduced us one night in 2008 in a Milwaukee press box. 
Drew, also one of the good ones, must have known that both Gomez and I would hit it off. We most certainly did. 
Gomez died unexpectedly on Feb. 7. Our Esquina recognized Gomez's contributions to baseball, the sports journalism profession and to the lives of writers after his passing. 
Others have also discussed what Pedro meant to them. He most certainly had plenty of fans, admirers and friends. 
Earlier this month, the book "Remember Who You Are: What Pedro Gomez Showed Us About Baseball and Life" came out with 62 essays. Writers, baseball decision makers, journalists, athletes and family members discussed the impact Gomez had on their lives. 
It was a moving and personal read. I'm fairly certain contributors were brought to tears while writing their essays. I fought back tears while reading about what Pedro meant to them.
Moving essays
One of the main takeaways from the book is the ease with which Pedro could navigate both the English and Spanish speaking world. Gomez was a major part of our scene. He was conversant about both worlds with interests ranging from New Wave music to Latin American affairs and everything in between.
We admired his depth of knowledge as well as his way of being.  I just wish we could have heard more from Latinos in sports on what he meant to those of us who held him in the highest esteem. 
There's no concise way to describe how it felt to see him on the air or his work in print. But watching his work was beautiful. It gave me pride similar to what I felt when watching Roberto Durán beat Iran Barkley in 1989 or Juan Manuel Márquez coming off the mat and knocking out Manny Pacquiao in 2012.
Pedro was that dominant. 
Talking to him though? It felt like getting off the plane in Miami or setting foot in East Los Angeles. You knew all was good and you were with your people. You were tied by language, and that goes a long way when you're trying to find your way.   
Kentucky Cubans
We all know that Miami is the capital for Cuban Americans. But there are pockets of Cubans elsewhere.  I was in Houston a few weeks ago, and all three of my rideshare app drivers were Cuban. 
I did not know about the growing Cuban population in Louisville.  LOUISVILLE! Guess that's part of our scene now too.
This Fodor's article highlights the growth, in the last decade of Cubans in Louisville. 
In fact, per the article, "Louisville has the second largest population of Cuban immigrants per capita of any other American city outside of Florida."
I knew of a Mexican community in the Derby City. As I ate at a taquería near the University of  Louisville's football stadium the patrons told me that many members work in the horse breeding and racing industry.  But Cubans? I never knew that. 
Tidbits from our scene
Here are some video and audio productions that might be of interest. 
Is it Fernando Tatis, Jr. or Fernando Tatis, III ? The Search for Fernando Tatis' Grandfather is a fascinating look at the family dynamics of one of MLB's brightest stars. 
Mike Tyson and now retired UFC champion Henry Cejudo spoke with former heavyweight champion Andy Ruiz on the Hotboxing' with Mike Tyson podcast. Ruiz discussed self-imposed obstacles that prevented him from successfully defending his championship. He mentioned what he plans to do to get back the belts.
Nigel Thompson of AL DÍA in Philadelphia examined Ted Williams's little-known Mexican lineage that ranges along the border from El Paso to San Diego. As a fellow San Diegan I knew the story. I can even get you to his childhood home with my eyes closed, but I doubt too many others know that Teddy Ballgame indeed had Mexican roots. 
KCET in Southern California and Yvonne Cordes look at the mutual aid societies that were once commonplace in Mexican migrant communities. They are re-emerging in Southern California thanks to some breweries and restaurants.
 Along the lines of the mutual aid society, in Chicago, street vendors joined forces to form a co-operative and rent and now purchase a kitchen, which they utilized to get city vending licenses. 
In my younger years and before they became chic, I would get teased for eating at food trucks, convenience stores, food trucks and gas stations. This is a list of some of the better gas station food in the San Francisco Bay Area, including a unique Mexican and Mediterranean mashup.
I'll stop by on my travels. Thanks for the recommendations Elena Kadvany. 
Hasta la próxima and like the Gansito commercials from the 1980's, Recuérdame.'
We think sharing information and sharing stories is one of the truest signs of generosity. Thanks for letting us share with you. Please let us know if there is a story that we need to cover or if there is something that needs inclusion in this column. I can be reached at juanlozano@ouresquina.com. 
Get the Our Esquina Email Newsletter
By submitting your email, you are agreeing to receive additional communications and exclusive content from Our Esquina. You can unsubscribe at any time.