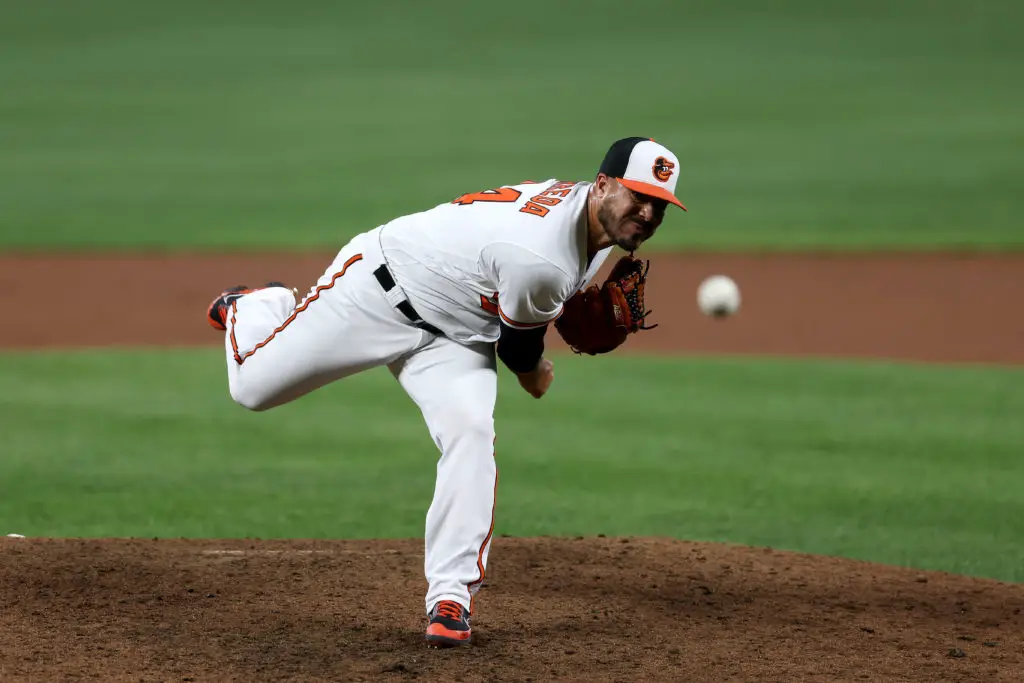 Orioles Rookie Manny Barreda Fulfills Fairytale MLB Debut
Manny Barreda fulfills childhood dreams
BALTIMORE – As a child, Baltimore Orioles rookie Manny Barreda often dreamed of being a Major League Baseball player. His father, who played amateur baseball, introduced him to the game and served as his throwing partner throughout his youth.
Barreda thought back to his youth Wednesday night after earning the victory in his big league debut.
"I remember being an elementary student and writing, 'I'm going to play Major League Baseball,'" Barreda said after beating the Kansas City Royals in relief.
After 15 years meandering through the Minors and the Mexican League, the 32-year-old Mexican American pitcher finally took a big league mound.
A few weeks after representing Mexico at the Tokyo Olympics, Barreda achieved a much bigger milestone. After 11 years in the minor leagues, the Sahuarita, Arizona, pitcher finally reached the major leagues with the Orioles.
What followed is nothing short of a Hollywood story. Even then, one would call it inconceivable.
Adalberto Mondesi fouled off Barreda's first pitch. Then everything became real for Barreda, who was drafted in the 12th round of the 2007 draft by the Yankees.
"That's when it turned into war mode," he said. "I had to bring out my best stuff because they were coming in hot."
With his team down 5-0, Barreda made quick work of the Royals, striking out the last batter of the inning with a 94 mph fastball. His teammates waited for him on the top step to celebrate, but Barreda did his best to keep his composure.
"I wanted to smile," he said. "But I wasn't sure if I was going to go back out there again, so I didn't want to celebrate."
Manny Barreda destined for this
Just a few days earlier, Manny Barreda was in his car with his wife Karla Torres and two-year-old daughter Sofia when Gary Kendall, manager of the Norfolk Tides, the Orioles Class AAA affiliate, called him with the news. Barreda was finally going to The Show.
Months earlier, Barreda considered walking away from the game. He wasn't pitching particularly well and felt that there was no chance that he would get the call. Fortunately, Kendall encouraged him to stay. For some reason Barreda saw it as a sign.
Now, he sat in the dugout after completing his first inning of work when the Orioles scored nine runs, officially making him the pitcher of record. If the O's could hold on to the lead in the ninth inning, Barreda knew he would earn his first victory.
"It was just destined to be," he said. "God put me here today so I can throw the eighth and we can score nine runs."
Close until the end
The Royals made it close. They cut the Orioles' lead to one, but reliever Tyler Wells managed to shut the door.
After celebrating his first win with his team, Barreda kept looking up into the stands where his wife and daughter sat. Waving them over, they embraced behind home plate.
"It was a surreal moment," Barreda said. "My daughter was screaming. She probably doesn't even know what she's screaming about."
Little did she know, this was a real-life fairy tale. Even better, her dad was the hero of the night.
Get the Our Esquina Email Newsletter
By submitting your email, you are agreeing to receive additional communications and exclusive content from Our Esquina. You can unsubscribe at any time.