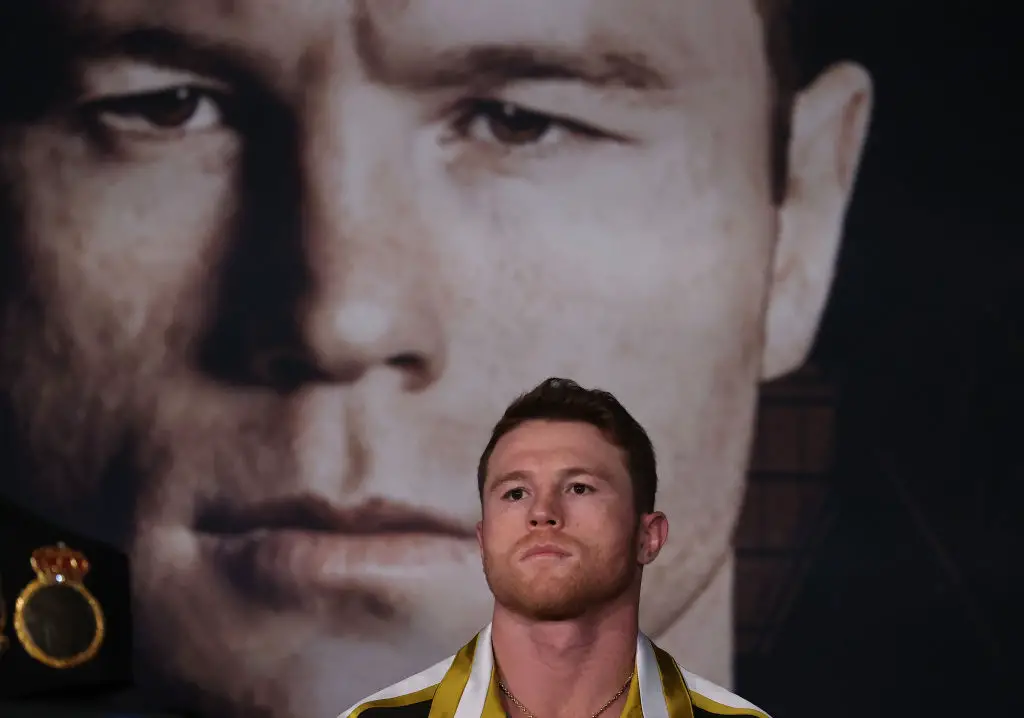 No Canelo Alvarez on Mexican Independence Day
Canelo Alvarez not likely to fight until November
Saul "Canelo" Alvarez will not fight on Mexican Independence weekend for a third straight year. The best Mexican boxer usually fights that weekend, generally in Las Vegas. It's the West Coast answer to New York's Puerto Rican Day Parade and related fight, considering the large crowds and personalities drawn to the Vegas Strip. 
Earlier this year, it appeared Alvarez would fight that weekend against Caleb Plant. However, those talks appeared to fall apart, as did later talks with light heavyweight champion Dmitry Bivol. Now it appears that there's a return to the negotiating table with Plant for the Mexican superstar nicknamed Canelo because of he's a redhead.
Canelo Alvarez has fought twice this year. His opponents threw in the towel twice. In late February, Avni Yıldırım quit at the end of the third round in a dominant performance by Canelo in Miami. Then in May Billy Joe Saunders could not continue against Canelo after the eighth round due to a broken orbital bone in Arlington. 
Canelo Alvarez in November?
The earliest Saul Alvarez would fight appears to be November. Alvarez is rumored to want $40 million for this upcoming fight. His opponent would likely earn in the neighborhood of $10 million. That would certainly be their best payday of their career, but that's far beneath Alvarez's purse.
Alvarez was once in the position of having take less to fight a bigger name, namely, the 2013 fight against. Floyd Mayweather. It's not a coincidence that Canelo Alvarez is playing hard ball with Plant, who is promoted by Al Haymon and PBC, which also managed Floyd Mayweather. 
2020 COVID19 repeat?
The resurgence of Covid cases suggests life are not "returning to normal." At all levels of college football, we are hearing rumors of low vaccination rates on teams and staff. I am neither surprised nor disappointed. 
I would anticipate that a significant number of college football games will be canceled or at minimum, will be played without key players during the season. 
While conferences have discussed and established policies for play during a global pandemic, they don't have the final say. State and local governments supersede any type of conference commands. If a city, state or school wishes to limit attendance at contests or cancel a gathering, they certainly have that right. 
There are significant costs that may not be recouped if games are cancelled. Staging games cost money. Teams spend a small fortune on flights, hotels and meals when traveling to a game.
Game cancelations or attendance limits might be something that some athletic departments and schools can not overcome. A second straight  modified season could alter the college football landscape by making it economically unfeasible for some schools to continue to sponsor football. 
Baltimore Ravens Spanish- speaking ties
Baltimore Ravens second-year running back J.K. Dobbins is attempting to speak Spanish. The native of La Grange, Texas has worked up to six hours a week attempting to learn Spanish.
To accelerate his Spanish proficiency, Dobbins sought the assistance of Ximena Lugo Latorre, a reporter and producer for 87.7 WDCN-FM, the Ravens' Spanish radio rightsholder. We wish Dobbins the best of luck in his pursuit of Spanish-language proficiency. 
The Ravens are one of the few teams in the NFL with a Latino position coach. Former NFL tight end Richard Angulo is the team's assistant offensive line coach. 
Al Riveron Retires 
Al Riveron, the NFL's first Latino head referee, retired last week from the NFL. Riveron was the senior vice president of officiating at the time of his retirement.  
The Havana-born Riveron began his NFL officiating career in 2004 as a side judge. He was named a crew chief in 2008 and was promoted to the league office in 2013.
Pupusas at Panthers Games
The Carolina Panthers' Bank of America Stadium has partnered with the Raydal Hospitality Group to open two Latino food stands inside the stadium. One stand will feature foods from Sabor Latin Street Grill, after a popular local chain, and La Caseta, a pupusa stand.
Thankfully there are increasingly more concession options at stadiums for fans who want something more than a sausage on a bun. 
Local Tacos – Sí, Corporate Tacos-No. 
The San Diego Padres suspended Hall of Fame reliever Rich "Goose" Gossage in 1986 after he said of Padres owner Joan Kroc and widow of McDonald's founder Ray Kroc, "She's poisoning the world with her hamburgers."
This might be my last column as I might be subject to similar discipline for espousing anti-corporate Mexican food views. 
In this video, Klay Thompson is giving some advice to a TikToker at a Chipotle. 
I'm not here for the substance of that message. Rather I'm alarmed that in cities with significant Latino populations, people eschew excellent Mexican restaurants in favor of Mexican – adjacent restaurants such as Chipotle. This makes my blood boil. 
Athletes especially can easily make a connection with a local restaurant and help bring business to a mom-and-pop shops that might need the strength of their name to continue to keep the doors open. 
Take the example of Fernando Tatis, Jr. and a Dominican caterer in San Diego. José Berríos, newly of the Toronto Blue Jays, shouted out a taquería in his native Puerto Rico. (Note: Toronto has some excellent Mexican restaurants in Downtown Toronto and around the Rogers Centre).  A local Toronto taquería hopefully can get some food to the Boricua right-hander. 
As we travel through the country to attend events, we'll highlight those mom-and -pop and and especially Latino-owned restaurants that get overlooked in favor of those conglomerates. Look for us stuffing our faces at a spot near you. 
Get the Our Esquina Email Newsletter
By submitting your email, you are agreeing to receive additional communications and exclusive content from Our Esquina. You can unsubscribe at any time.