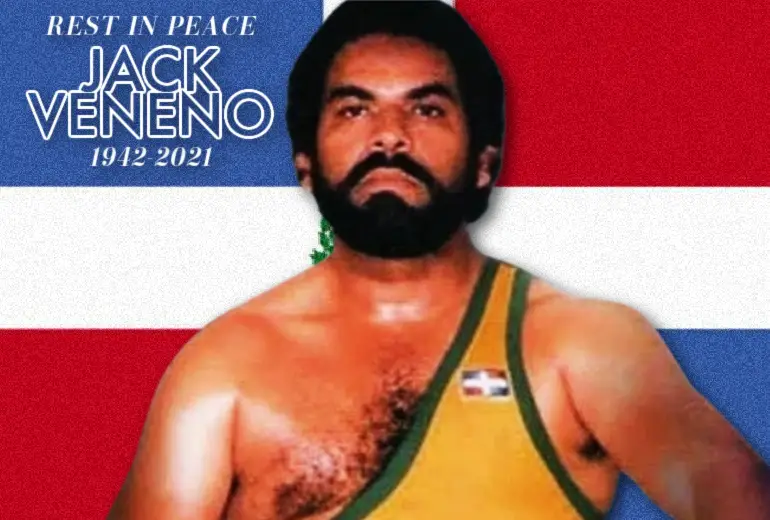 Mourning Legendary Jack Veneno
We remember Jack Veneno's impact on the Latino community, as the Dominican wrestling legend loses his battle with pancreatic cancer.
For decades, Rafael Antonio Sánchez (aka "Jack Veneno") was known as the entertainer who put Dominicanos on the map. Now, after a battle with pancreatic cancer, the 18-time wrestling champion has succumbed at the age of 78.
It's difficult to articulate the impact el Ocoeño had on, not only the Dominican Republic but also the Latino community. Inspired by Mexican wrestlers "El Santo" and "Blue Demon," Sánchez became a pop culture icon in the 1980s.
He catapulted into stardom after a pair of epic battles with "The Nature Boy" Ric Flair. The first match took place in 1982 in front of 14,000 fans in El Palacio de los Deportes in Santo Domingo. After placing Flair in his famous sleeper hold, "La Polémica," long-time rival José Manuel Guzmán (aka "Relámpago Hernández") disrupted the match, which would end in a disqualification.
Later that same year, Veneno got his revenge in the Dominican Republic. This time, as Flair prepared to hit him with a suplex, Veneno reversed the move and applied the La Polémica again. This time he successfully pins his opponent, securing the NWA World Heavyweight Championship.
A bona fide wrestling champion, soon after, Veneno starred in a television show Lucha Libre Internacional, which aired every Saturday for nearly three decades. A self-made man, he even owned Dominicana de Espectaculos, the production company that produced the show.
He ventured into the world of politics, running for Mayor of Santo Domingo Norte in 2006. Eventually, Veneno was appointed by Dominican Republic president Leonel Fernández as Vice-Minister of Sports in 2007.
Veneno will always be remembered for captivating the minds and hearts of Dominican and Latino kids everywhere as a wrestler. He is even immortalized with a statue that sits in el Parque Eugenio Maria De Hostos in Santo Domingo.
The influence he made is evident by the outpouring of love he has received since the news broke early this morning. Nobody quite captured the essence of Jack Veneno quite like his son did through his Instagram account (above), who painted a beautiful portrait of a man that was deeply admired and loved by all.
"Vuela Alto CAMPEÓN," his son signed off after confirming the death of a legend.
Fly high, Champ. Rest in Peace.
Get the Our Esquina Email Newsletter
By submitting your email, you are agreeing to receive additional communications and exclusive content from Our Esquina. You can unsubscribe at any time.