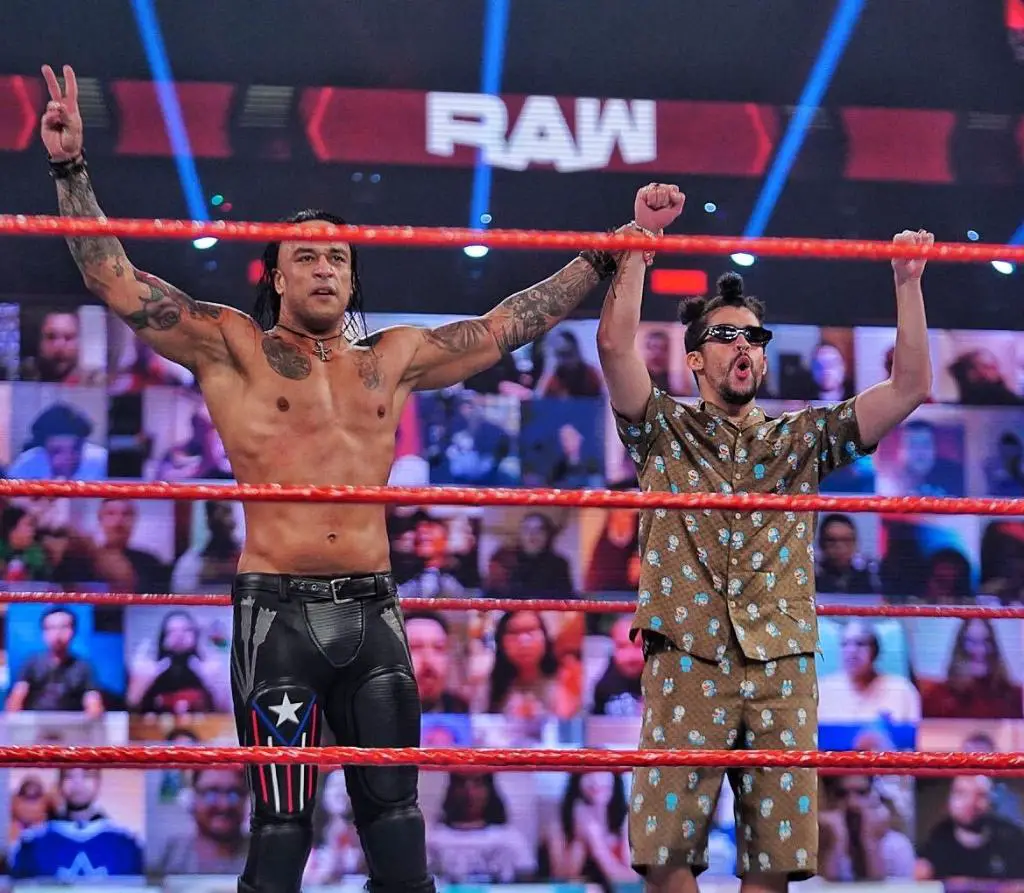 Que Onda: Bad Bunny reportedly set to make WrestleMania debut
Welcome to Que Onda, Our Esquina's twice-weekly, soon to be daily, all you need to know in Latino sports and culture today.
Bad Bunny working towards WrestleMania debut
Bad Bunny, the international Puerto Rican reggaeton sensation, has made his love for all things wrestling no secret. 
In late January, Bad Bunny performed his song "Booker T," named in honor of the former world champion, alongside the titular wrestler at WWE's "Royal Rumble" pay-per-view.
He later got in on the action, helping fellow Puerto Rican Damian Priest, real name Luis Martinez, eliminate wrestlers The Miz and John Morrison in the main event. 
Now it seems his appearance wasn't just a one-off. Per a report from Wrestling Observer Radio, a credible source for wrestling news, El Conejo Malo will be teaming with Priest against Miz and Morrison in a tag-team match at WrestleMania 37. 
Already Bad Bunny has been a merchandise machine for the wrestling company, with his "Royal Rumble" collection of apparel quickly selling out on the company's website. 
Per a separate report on Fightful Select, a pro wrestling news source on Patreon, Bad Bunny's merchandise sales have exceeded $500,000.
All of this should come as no surprise. Bad Bunny is one of the top artists in the world. Pairing his popularity with something he is passionate about is a recipe for success. 
WrestleMania 37 is set to take place on the weekend of April 10-11 from Tampa Bay at Raymond James Stadium. 
We, of course, will be watching and cheering from afar. 
Topps hosts 2021 Series 1 Box Break 
In case you missed it, Fernando Tatis Jr. is the No. 1 card for Topps 2021 Series 1 set of collectible baseball cards and Juan Soto will be the cover athlete for the flagship series of cards. 
Ahead of the official release of the Series 1 set of baseball cards Topps held a virtual rip party online to celebrate. 
Among those participating were unanimous Hall of Famer Mariano Rivera and Soto, who both partook in the ripping. 
The packs are set to debut today in retailers around the country.
Latinos top MLB Network's Top 100 (100-81) 
On Tuesday, MLB Network began revealing its annual Top 100 players in baseball beginning with 100-91. 
The list will be revealed throughout the days in the leadup to the start of Spring Training. It is already chock full of Latino ballplayers. 
Of what has been revealed so far, nine Latinos are in the first 20 named with Chicago Cubs' catcher Willson Contreras ranked the highest at No. 81.
Other noteworthy names include, Mexican-American outfielder Alex Verdugo (No. 88), American League rookie sensation Luis Robert (No. 94) and playoff phenom Randy Arozarena (No. 100).
The full list so far can be found here.
Nueva Pelota in 2021?
While we're on the subject of baseball, all signs are pointing toward a new, deader baseball in 2021 after a recent surge in home runs throughout the league.
First reported by The Athletic and later confirmed by other news outlets, MLB is ready to roll out a Rawlings baseball with a looser tension on the first of three wool windings within the ball. This would, in turn, make the ball less bouncy and also lessen the ball's weight by 2.8 grams without changing its size.
So what does that mean? New balls will reportedly fly 1-2 feet shorter on balls hit 375 feet or more. MLB does not anticipate that pitcher velocities will be impacted.
If all this comes to fruition…
We will see a few more of these:
A ton of heat from Latino pitchers:
And, of course, a lot of these:
En Social: 
The baseball community is still reeling from the sudden passing of reporter Pedro Gomez. 
Gomez, a proud Cuban-American son of refugees, died Sunday at the age of 58. SportsCenter, the flagship show of ESPN for which he was a reporter and on-air talent, aired this tribute.
En Historia: 
Fifteen years ago today, Alfonso Soriano set the record for the highest salary awarded in arbitration. Soriano would receive $10 million, $2 million less than what he was asking for, in 2006, which topped the $8.2 million awarded to Andruw Jones in 2001.
In 2005 with the Texas Rangers, Soriano slashed .268/.309/.512 with 36 homers and 104 RBIs en route to winning his third Silver Slugger while also earning his fourth consecutive All-Star Game nomination.
Soriano would later turn that $10 million contract into an eight-year deal with the Chicago Cubs worth $136 million after turning in another productive season this time with the Washington Nationals, his only season in D.C. 
Over the years that $10 million would be eclipsed by what future stars would earn in the arbitration process. As it stands, Mookie Betts' 2020 salary of $27 million is the highest salary awarded to date. 
Regardless of what today's contracts look like, Soriano getting paid what he's worth or, at the very least, close to it represented a major milestone in contract negotiations and is worth celebrating. 
Our Gente: 
If you're curious about the health and safety protocols that will govern the upcoming 2021 baseball season, New York Times national baseball reporter James Wagner has detailed them all in his latest piece. 
Give it a read: 
Get the Our Esquina Email Newsletter
By submitting your email, you are agreeing to receive additional communications and exclusive content from Our Esquina. You can unsubscribe at any time.