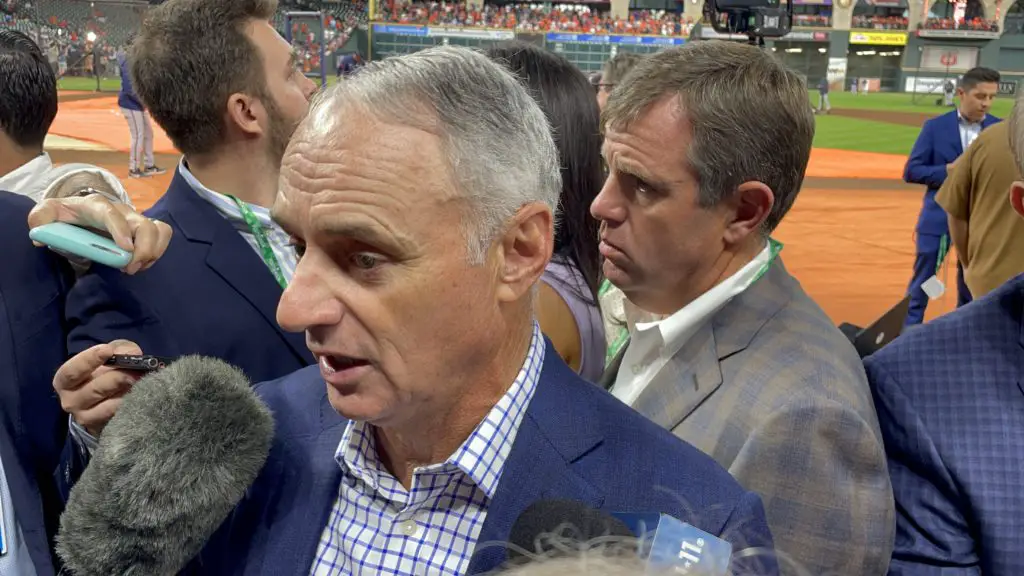 MLB lockout ends baseball's 26 years of labor peace
Last work stoppage canceled 1994 World Series
As expected, there's a lockout in Major League Baseball. The owners locked out the players late Wednesday night, ending 26 years of labor peace in America's pastime. 
MLB and the Major League Baseball Players' Association have a bit of a runway to work out a new collective bargaining agreement. Pitchers and catchers traditionally don't return to camp until mid February, so the sides have 2 ½ months to agree on a new CBA before games are threatened.
Still, this lockout is a bad look at a time when baseball's popularity continues to wane. 
"This drastic and unnecessary measure will not affect the Players' resolve to reach a fair contract," MLBPA executive director Tony Clark said in a statement. "We remain committed to negotiating a new collective bargaining agreement that enhances competition, improves the product for our fans, and advances the rights and benefits of our membership."
The last work stoppage in MLB prompted then-commissioner Bud Selig to cancel the 1994 World Series, turning off legions of fans. The fans didn't embrace baseball again until the 1998 home run chase between Mark McGwire and Sammy Sosa.
History proved that Selig and the rest of the owners were so eager to regain their lost fans, they looked the other way as records fell while steroids became prevalent in the sport.
Manfred declares 'defensive lockout'
MLB commissioner Rob Manfred sent a letter to fans late Wednesday night.
"Despite the league's best efforts to make a deal with the Players Association, we were unable to extend our 26 year-long history of labor peace and come to an agreement with the MLBPA before the current CBA expired," Manfred wrote. "Therefore, we have been forced to commence a lockout of Major League players, effective at 12:01am ET on December 2.
"I want to explain to you how we got here and why we have to take this action today. Simply put, we believe that an offseason lockout is the best mechanism to protect the 2022 season."
For the most part, this is a case of billionaires versus millionaires. 
Ultimately, though, fans will lose. 
Fans actually have been losing for quite some time. Over the last decade, MLB owners have embraced tanking in baseball.
They've had no problem letting fellow owners sell minor league-quality baseball in some cities as those teams tear down rosters in efforts to save money and stock up prospects. Baltimore was merely the latest example of a tactic that the Astros perfected to eventually win the franchise's first title in 2017.  
"We hope that the lockout will jumpstart the negotiations and get us to an agreement that will allow the season to start on time," Manfred said. "This defensive lockout was necessary because the Players Association's vision for Major League Baseball would threaten the ability of most teams to be competitive.
"It's simply not a viable option. From the beginning, the MLBPA has been unwilling to move from their starting position, compromise, or collaborate on solutions."
Lockout leaves fans out too
Manfred's statement would have more weight if the owners actually tried to make "most teams to be competitive." 
Players rightfully want to play in a sport in which all owners want to be competitive. There are many issues at stake here. Fans don't care about the details.
Fans will now focus on the NFL, NBA, NHL and MLS. The annual baseball winter meetings have been canceled. There will be no stories about signings and trades next week or for the foreseeable future.
MLB even pulled pictures and stories on current players from all of the teams' websites. As we go into the holiday season, MLB has locked out the players. History shows that baseball will suffer because of his lockout.
Get the Our Esquina Email Newsletter
By submitting your email, you are agreeing to receive additional communications and exclusive content from Our Esquina. You can unsubscribe at any time.