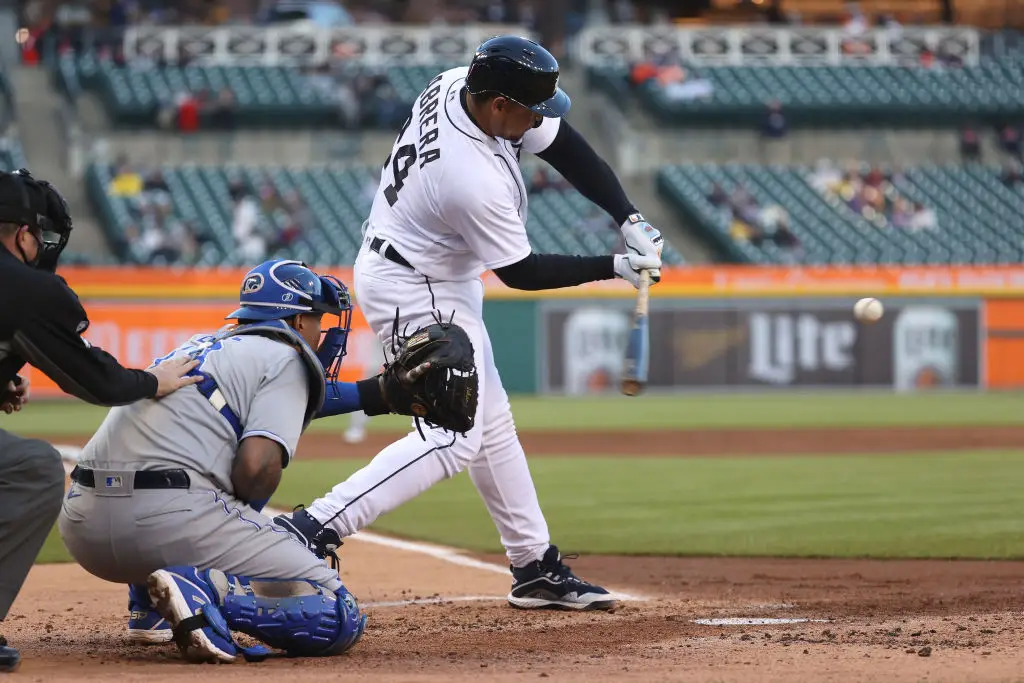 Miguel Cabrera relieved after becoming Venezuela's hit king
Tigers rejoice after Miguel Cabrera passes Omar Vizquel for most hits by Venezuelan native in majors.
As Miguel Cabrera walked back up the stairs toward the home clubhouse Wednesday night, Tigers manager AJ Hinch could sense the future Hall of Famer's relief. 
Hinch and the Tigers had just witnessed history, and they were ready to celebrate and embrace the moment. Cabrera found an upbeat and happy mood inside the Tigers' clubhouse after he became the all-time leader in hits by a native of Venezuela in the majors. 
Cabrera tied Omar Vizquel atop the all-time Venezuelan hit list with an RBI single. He then took the top spot with another RBI single for the 2,878th hit of his career in the 4-2 victory over the Kansas City Royals. The Tigers players pick a Player of the Game after each victory, and there was no doubt Cabrera would garner that honor from his teammates.
On that walk up the stairs toward the clubhouse, Hinch told Cabrera he was proud of him for accomplishing such a major feat. The last man to earn baseball's hitting Triple Crown smiled back at Hinch and conceded a sense of relief.
"Right now I feel like I'm relieved right now because so many people have been talking to me the whole season and this past year and today (asking) about when I am going to pass that record," Cabrera said. "That kept in my head. 
"So right now, I am a little relieved. I don't have to worry about that."
Miguel Cabrera tracking past Aparicio
For many generations, Hall of Famer Luis Aparicio has been the gold standard for Venezuelan baseball. He was the first and remains the only Venezuelan inducted into the National Baseball Hall of Fame in Cooperstown, N.Y.
Aparicio finished with 2,677 hits over 18 seasons with the White Sox, Orioles and Red Sox. The 13-time All-Star, nine-time Gold Glove winner and former American League Rookie of the Year was inducted into the Hall of Fame in 1984, 11 years after he retired in 1973. 
Vizquel surpassed Aparicio's hit total over his 24-year career. But the three-time All-Star and 11-time Gold Glove winner is still waiting for a call to Cooperstown. 
Vizquel had been trending in recent years toward becoming the second Venezuelan native to reach the Hall of Fame. His candidacy stalled this past year, though, amid spousal abuse allegations.
Cabrera isn't likely to wait long after the required five-year wait after retirement to earn his place among baseball's immortals. The four-time batting champ and 11-time All-Star isn't done, however. He will surely chase the 3,000-hit mark before he retires.
Cabrera, 38, had a difficult start to his 2021 season, posting a -04 WAR with a .160 batting average, two home runs, eight RBIs and only 12 hits so far.
Wednesday marked only the fourth time Cabrera has had his season-high of two hits in a game. The four-time batting champ has grown to expect more.
Miguel Cabrera hopes to build momentum
"Hopefully I can keep getting hits and start getting hot because there has been a lot of frustration this season," he said. "Hopefully we can start it again and have a good season."
Cabrera hadn't discussed the Venezuelan hits milestone with teammates even though others around him and back in his South American country kept bringing it up.
They enjoyed the milestone together in the clubhouse celebrating with him. On that walk back to the clubhouse, Cabrera smiled at Hinch and conceded a sense of relief. Cabrera's teammates admire and respect him. They've embraced and celebrated his hits and home run milestones.
They know how much the milestone means to him even if he won't express it much publicly. 
"I'm really happy for him and I know it means a lot to him," Hinch said. "He doesn't talk a lot about it but we are making sure he soaks it all up.  The names he is passing are iconic just as he is.  Of all the players from Venezuela who have played this game, no one has more hits now. That is incredible to fathom."
Get the Our Esquina Email Newsletter
By submitting your email, you are agreeing to receive additional communications and exclusive content from Our Esquina. You can unsubscribe at any time.