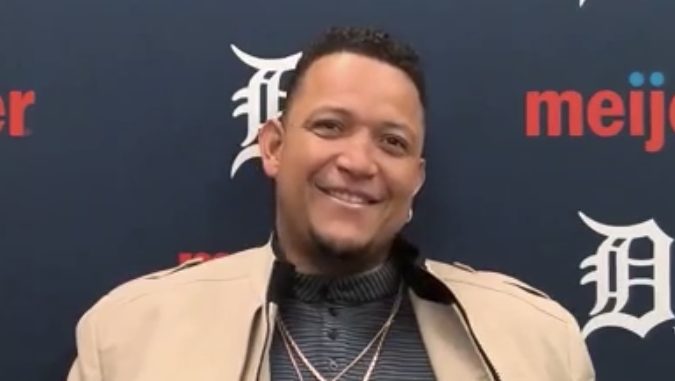 Tigers slugger Miguel Cabrera makes pitch to fight pandemic
Miguel Cabrera makes pitch to fight Covid-19 pandemic
Miguel Cabrera is tired of the Covid-19 pandemic, and he wants to help. When the Venezuelan slugger finally retires, he'll be remembered as one of the greatest hitters of his time. This pitch, however, must be recognized, celebrated and appreciated. 
The coronavirus pandemic has disproportionately hurt Latino and Black communities in America, and it's important for us to encourage each other to get the vaccine. Michigan Gov. Gretchen Whitmer named Cabrera a co-chair of the bipartisan Project Michigan Commission, which helps promote and educate about the safety and effectiveness of the COVID-19 vaccine.
Too many Americans are still hesitant or even unwilling to take the COVID-19 vaccine. We should all do our parts to get vaccinated and encourage our friends and relatives to do the same. In this era, though, influencers such as Cabrera can make a major difference.
The native of Venezuela will surely make a difference because of his status as a major superstar. With the help of the Tigers, he will cut promos in his native Spanish and his second language, English. We need more Latino superstars to follow Cabrera's lead.
Tired of this
"First of all, it's an honor for the governor of Michigan (to) ask me if I'm able to do that," Cabrera said Wednesday on a Zoom conference with Detroit media. "Right away I said yes because I think when you have the vaccine it's very helpful for you.
"I think from my opinion everybody has to have the vaccine to get better and get all this behind us and be normal again."
A few split seconds later, the superstar known as "Miggy" added a closing sentence.
"I'm tired of this," he said.
Cabrera's legacy on the diamond is already secure. He showed he was destined for greatness since his rookie season, when he helped the Florida Marlins win the 2003 World Series. Few baseball fans will forget how he refused to be intimidated by the Yankees' Roger Clemens in one of the most memorable at-bats of the 2003 World Series.
Cabrera spent the first five seasons of his career in Miami, but he has been in Detroit since 2008. He's in his 14th season with the Tigers and on pace to join the 3,000-hit club before his eight-year, $248 million contract is over after the 2023 season.
Miguel Cabrera has important voice
His voice resonates in Michigan, in Spanish and English.
He's a two-time Most Valuable Player and the last player to earn a batting Triple Crown. Now the 11-time All-Star and four-time batting champ is speaking out with a crucial pitch.
"We are grateful that 'Miggy' is stepping up to the plate to help inform Michiganders on the importance of getting their COVID-19 vaccinations," Whitmer said in a statement. "We appreciate the tremendous support and advocacy from the Detroit Tigers because this is an all-hands-on-deck moment in our state's effort to persevere and overcome the pandemic."
We're all tired of this pandemic, which is why it's important to have Cabrera speak out.
On right side of history
Cabrera is one hit away from tying Babe Ruth for 45th on baseball's all-time hits list. With 489 home runs, he is in position to perhaps join the 500-home run club this year. He's only four home runs away from tying the legendary Lou Gehrig for 28th on the all-time home run list. 
"To be next to Babe Ruth that's great," he said. "That's awesome. I never in my life thought I was going to hit (that many). … I've been blessed. I thank God every day for this opportunity."
Cabrera has definitely been blessed. He's a respected superstar in his adopted country. He has a major platform, and he'll be on the right side of history by using his voice in Spanish and English to help fight this pandemic.
Get the Our Esquina Email Newsletter
By submitting your email, you are agreeing to receive additional communications and exclusive content from Our Esquina. You can unsubscribe at any time.