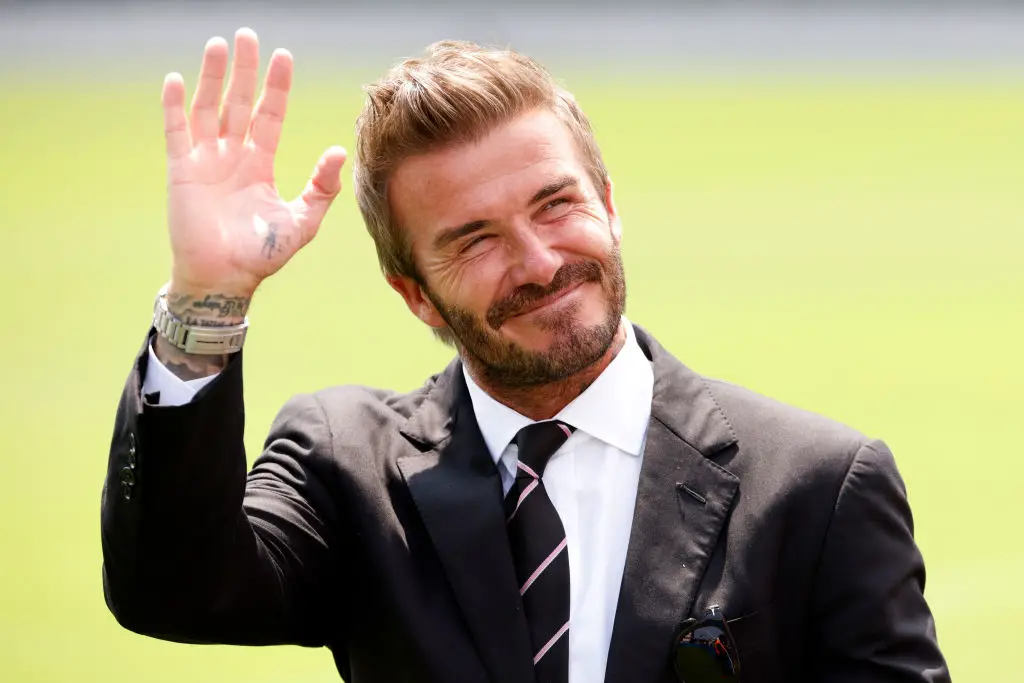 Miami not bending with David Beckham, so far
David Beckham finds hurdles as team owner
For all of David Beckham's personal athletic accomplishments, he is seeing the difficulty involved with managing a professional sports team. 
David Beckham and his partners with Inter Miami FC have tried to secure a site in Miami-Dade County for a soccer stadium. The expansion team plays home games in Ft. Lauderdale, the largest city in neighboring Broward County, Inter Miami will continue to play there until a permanent home can be built in Miami-Dade County. 
Stadium construction is controversial in many major American cities. It is even more so in Miami, where the Marlins Park financing is seen as one of the shadiest in American stadium history.
There appears to be progress toward securing a 73-acre mixed-use site near the Miami Airport. There's also an attempt to secure a backup site with a three acre parcel in Overtown, a historically African-American enclave adjacent to downtown. 
David Beckham and his group failed to obtain a stadium building permit by June 18, though, as was agreed to in the purchase of the land. The group had to request an extension. 
There is no guarantee of an extension. There is opposition. Miami-Dade County Mayor Daniella Levine Cava opposed the sale of the land to the group initially. Some community activists also see better uses for that site.
David Beckham not bending well in Miami
FC Miami is currently mired in a four-game losing streak. David Beckham's team also has been the subject of controversy in 2021 with plenty of MLS season still ahead of them. 
The expansion team was heavily sanctioned in May for roster and salary cap violations. It was an unprecedented series of fines. Managing owner Jorge Mas was fined $250,000. The club itself was fined $2 million and stripped of $2.27 million in league allocation money. Former COO and sporting director Paul McDonough was also suspended until the 2022 season.
It's been a tough road for Beckham. Hopefully they will get everything on track because the South Florida fanbase is fickle.  
Holiday Bowl moves to Petco Park
While Miami has had issues with stadium financing and construction, San Diego's failure to give the Chargers a new stadium pushed the NFL's Chargers north to Los Angeles after the 2016 season. Simply, the Chargers failed to convince city voters that a new stadium was necessary.  
Efforts to develop a new Sports Arena came to a halt earlier this month after a state agency determined that a proposed plan would violate the Surplus Lund Act. The current sports arena has been in use since 1966. It was once home to the NBA's Clippers. It held an NCAA Final Four and the first Muhammad Ali-Ken Norton fight. 
Petco Park, the downtown home of the San Diego Padres since 2004, was made possible after a 1998 World Series run generated enough support among San Diegans to pass Proposition C. The stadium was built for the sole purpose of hosting baseball games. 
The stadium has since been used for concerts, rugby tournaments, tennis matches, and even college basketball matches. Now, one of the more popular non-New Year's Day bowl games will call it home. The Holiday Bowl has moved across town from Qualcomm Stadium to Petco Park. 
The first Holiday Bowl at Petco Park is scheduled for Dec. 28. Currently, the deal has the Holiday Bowl playing in Petco Park for five years.
From Jack Murphy to Petco
The game's relocation was made necessary by the demolition of the old San Diego Stadium. That stadium was also known as Jack Murphy Stadium, Qualcomm Stadium and SDCCU Stadium over the years. 
The stadium was torn down to make room for a new complex that will serve as a football home for the San Diego State Aztecs. San Diego also hopes the new stadium helps the city join David Beckham in MLS.
The Aztecs currently play home football games over 100 miles away in Carson, which is two counties away from San Diego. Aztec Stadium is scheduled to open Sept. 3, 2022.
Bonilla Day
We are one day away from July 1, the start of the new fiscal year for many businesses and institutions. At many colleges the new budgetary year starts every July 1. This is a big deal, especially in college athletics.
For the New York Mets, July 1 is Bobby Bonilla Day.  What does that mean?
It's the day the Mets must pay former player Bobby Bonilla $1.2 million as part of a deferred payment agreement. Every July 1 from 2011 until 2035 the Mets must pay Bonilla $1.2 million because he elected to forego the $5.9 million he was due after he was released in 2000. 
NPR's Planet Money podcast recently produced an episode devoted to Bonilla Day. Their discussion centered on the power of compound interest as it relates to deferred compensation.  Also, amazingly they interviewed Bobby Bonilla. 
All the way Jay
Popular Instagrammer Jay Mendoza was recently featured on a Mountain Dew social media post in response to a LeBron James Mountain Dew commercial where James is teaching salsa lessons. I'll take the dancing by James over earlier cringe-worthy "Taco Tuesday" material.
The Los Angeleno with El Salvador and Mexico roots lineage is described himself as half pupusa, half taco on his Instagram. He frequently discusses the NBA on his Twitter and IG accounts. 
Mendoza is one of the Latino influencers and tick-tockers we've found to be impressive. Teams in the Los Angeles area or organizations that want to increase their visibility with young Latino fans would be wise to get at Mendoza. Dodgers? Rams? Angels? Chargers?
Mendoza's best work is chronicling common Latino experiences in Southern California. 
This Mendoza clip spoke to me as someone who has changed from a suit to more casual clothing in court parking lots throughout Southern California. Surely I'm not the only other person who does that, right? Also as someone who makes faces and noises when he eats, I also liked this one featuring what the first sip of Horchata feels like.
Get the Our Esquina Email Newsletter
By submitting your email, you are agreeing to receive additional communications and exclusive content from Our Esquina. You can unsubscribe at any time.