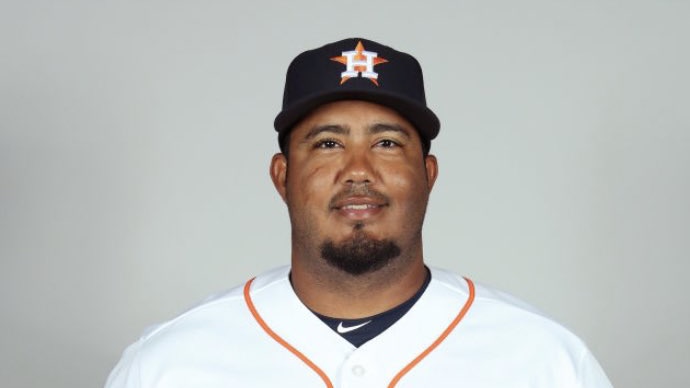 Jose Rada Finds Calling Coaching in Astros Farm System
Jose Rada continues growth as pitching coach
Almost a decade later, Astros pitching coach Brent Strom still remembers Jose Rada's good breaking pitch and his inquisitiveness. At the time, Strom was the St. Louis Cardinals' minor-league pitching coordinator, and Rada was a reliever at Class AA.
The Cardinals were using the piggyback tandem plan to develop starting pitchers. Rada, who is now a promising pitching coach in the Astros' farm system, had the unenviable task of serving as the glue between the scheduled tandem, entering games usually in the fifth inning after the starter got in trouble. 
"He always seemed to come in with bases loaded, two on, nobody out," Strom recalls. "And he pitched great. I always remembered him having a great breaking ball. He was very calm, he understood his role."
Rada was 24 when his dreams of pitching in the majors ended soon after he suffered an elbow injury that required Tommy John surgery in 2012. He pitched in the independent Frontier League and in the Venezuelan winter ball league for two seasons after the Cardinals released him in 2012. But no MLB organization tried to lure him away from the independent Lake Erie Crushers or the Tigres de Aragua.
Jose Rada shows promise
Fortunately for Rada, former Astros bullpen coach Doug White saw promise in him. White was in his second season as the organization's pitching coordinator when he offered Rada an opportunity to coach in 2016.
"In reality, when I found out I couldn't pitch, I didn't have a job," Rada said. "I didn't know anything else except to pitch. My economic situation at that time was dire. I already had a family. I already had two children. 
"I had founded a baseball school to teach kids baseball. That lasted around two months. Then after Doug WHite contacted me I accepted right away."
The Venezuelan Rada spent his first season with the Astros working with prospects at the club's Dominican academy. He joined the Gulf Coast League Astros as pitching coach in 2017.
Now as members of the Florida Complex League, Rada was ecstatic on July 29 when Cody Deason, Jeffrey Carillo and Jeremy Molero combined for a no-hitter against the GCL Marlins. 
More importantly, he continues to impress the Astros organization with the inquisitiveness he showcased as a right handed pitcher with the Class AA Springfield Cardinals.
"He always had this inquisitiveness about him, trying to learn to get better," Strom said. "When he had a chance to become a pitching coach after his career ended, I recommended him. He's an up-and-coming young pitching coach.
"We have a number of them in this organization, two of them here at the major league level right now who are ready. Right now there's a couple others in high level. Rada is on the list."
A renaissance man
Jose Rada's inquisitiveness and commitment to improve was evident when the minor league season was canceled because of the COVID pandemic. When he wasn't helping his two oldest children with their remote learning last year, Rada was taking his own classes online.
He secured nine certificates online in an effort to become a better pitching coach and to better understand and teach the analytics the Astros use. 
Rada, 33, has been taking advantage of learning opportunities since he arrived in the United States at 19 in 2005. He is fluent in English thanks to the classes the Cardinals' organization offered three to five times a week. 
Education was always important in his family, which is why he waited to sign a professional contract until three days after he graduated from high school at 17.  
He spent part of the pandemic securing certificates in probabilities and biomechanics, psychology and Structured Query Language (SQL), which teaches how to read data. Astros pitching coach Bill Murphy taught him how to use an Art Studio program to make graphics for his pitchers.
"I wanted to learn how to make graphics to show players and explain (stats and info) to them in a simpler way so they can see graphics," Rada said. "I want to become a filter so players can learn things easier. 
Going above and beyond
Nobody in the Astros' organization asked Jose Rada to take those online courses. He says he took those courses in part because general manager James Click and assistant GM Pete Putila are always encouraging coaches and players to improve.
"He did that all on his own," Strom said. "Between Murph and Josh MIller, who are really good at all this stuff, he kind of took to what Murph was bringing to the minor leagues. And also Chris Holt was in the minor leagues with us and now the pitching coach for the Orioles.
"That was his staple, and (Rada) just didn't want to be left behind. He took it upon himself. … He's done some other things to better himself. That's not being asked to do something. He did it on his own. He's self motivated, which is really what you need. It's what's going to make him good."
Rada's role has changed, but the dream has not. 
"My dream since I signed professionally and as a child I always wanted to be a pro player," he said. "I've always wanted to be involved. My goal was to be in the big leagues. It's the same dream. It didn't change, it just took a different path. But thinking a bit differently, my path now is still to get to the show."
Get the Our Esquina Email Newsletter
By submitting your email, you are agreeing to receive additional communications and exclusive content from Our Esquina. You can unsubscribe at any time.