Jaime Jarrin Opened Booth for Francisco Romero
Astros broadcaster Francisco Romero grateful for Jaime Jarrin
Jaime Jarrin opened the door for me. Literally and figuratively, Don Jaime placed me in the Houston Astros' Spanish broadcast booth.
The Dodgers' legendary Spanish language broadcaster is more than an icon in broadcasting. Don Jaime is also an icon for Latinos who come to this country to work hard. He's a model of what hard work can produce and what Latinos contribute to this country.
Jarrin is a great example to all of us. That's why I needed to call and congratulate him after he announced that he would retire after the 2022 season, his 64th with the Dodgers.
When I saw the news that he was retiring, I kept wondering what to say. What do you tell the longest serving broadcaster in Major League Baseball on the day he announced that he would retire? How do you express your appreciation and admiration for a man who earned his place among the immortals in the National Baseball Hall of Fame? 
Gracias, Jaime Jarrin
That's what I kept thinking Tuesday morning before calling the Ford Frick Award winner. A lot of things came to mind.
Only one word describes what I really wanted to tell him: Gracias.
Thank you, Don Jaime.
I wanted to thank him for many reasons. One major reason I wanted to thank him, of course, is for being one of the MLB pioneers along with Rene Cardenas in Spanish language broadcasting. He opened the doors for a lot of us in this game as broadcasters.
I also wanted to thank him for something that happened to me early in my career when I applied for the Houston Astros' job. Rosi Hernandez, the Astros' director of Hispanic marketing at the time, was in charge of hiring the new Spanish language broadcaster.
Hernandez listened to all the tapes and then sent them to Don Jaime Jarrin for a critique. He picked my tape and said, "This is the voice that I think will work for the Houston Astros." Imagine Jaime Jarrin saying that about you?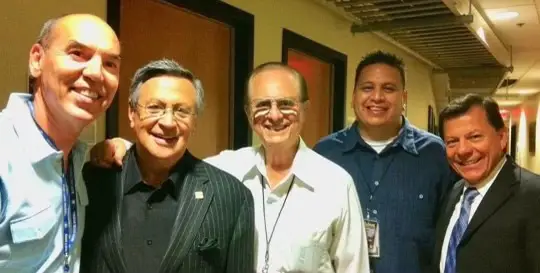 I didn't learn about Jaime Jarrin's role in my hiring until five years after I joined the Astros. Hernandez shared that story in the media dining room at Minute Maid Park as we ate dinner with Don Jaime.
"Thank this man right here for us hiring you," Hernandez told me that evening. 
She explained how he listened to the tapes, recommended me and said he liked the way I broadcasted. 
I immediately thanked him. "Gracias," I said. 
He countered, "Oh, no. It wasn't me. I gave my opinion, but it wasn't me. It was all you."
Jarrin remained humble
I would see him every year when the Dodgers visited Houston when the Astros were in the National League. We often sat together for dinner, but he had never mentioned his role in my hiring or that he even heard my tape.
Despite his stature as a Hall of Fame broadcaster, he was so humble that he never said a word about his major assist. His not talking about it is very humbling to me.
Humility is just one defining memory of Jaime Jarrin's career. He's also beloved for his longevity in the game and the way he treated the game and its players. 
Don Jaime also broadcast all those great games we all followed. Jaime Jarrin will forever be one of the greatest broadcasters in the game. I'm very happy to know him.
So today when I called him, I said, "I'm so honored that I can pick up the phone and call you, and you answered right away."
He reiterated that he's always here for us. Jaime Jarrin has definitely been here for all of us. He is the Spanish voice of baseball in Major League Baseball. It was an honor to have shared broadcasts when both of our teams were in the National League.
Golden voice of baseball
He has a great voice. I have always admired great voices. His unique voice will always be the voice of baseball in Spanish. That voice is very iconic. In a good way I envy that voice that he has.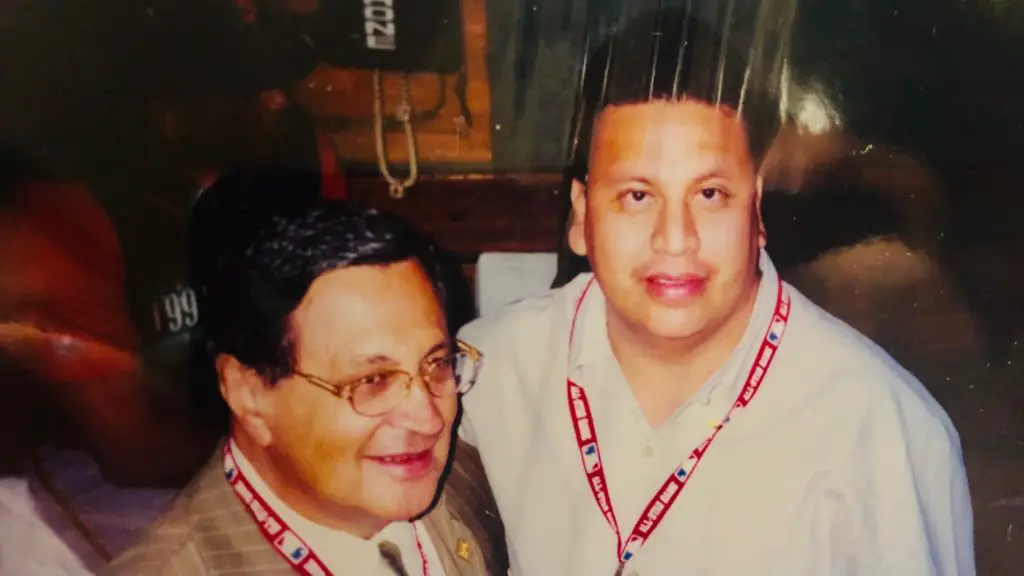 It resonates loud and hard. When you hear Jaime Jarrin's voice, whether it's a lawyer's commercial or anything else, you go back to baseball.
I'm sorry to see him retire. He will always be a part of this industry. I'm also very happy to have met him at the All-Star Game in Boston in 1999. He let me take a picture with him that day.
I showed him the picture years later. 
"Hey, we were very young at the time," he said then.
Jaime Jarrin is still a great broadcaster. He will always have a special place in my heart because of the career that I have and because of things that he did that helped me get to where I'm at today.
Gracias, Don Jaime. Thank you!
Get the Our Esquina Email Newsletter
By submitting your email, you are agreeing to receive additional communications and exclusive content from Our Esquina. You can unsubscribe at any time.