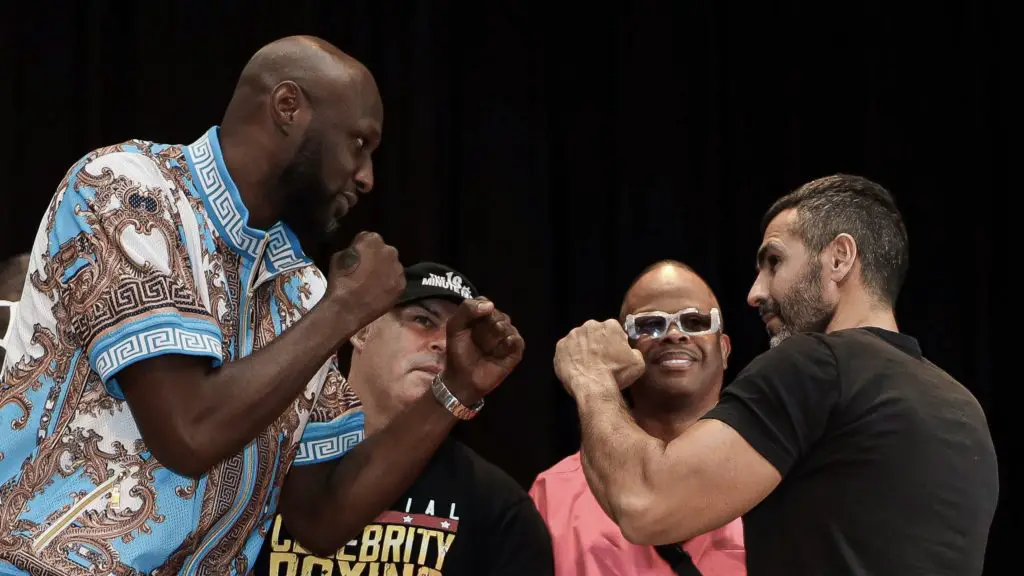 J-Lo's ex Ojani Noa Set To Fight Lamar Odom
Cuban Ojani Noa is prepared for Celebrity Boxing Match
Ojani Noa is best known for being Jennifer Lopez's first husband. This Cuban's story is much deeper, though. At 15 years old, Noa fled his home island to chase the American Dream. When the opportunity to go to the United States presented itself, Noa took advantage.
Noa jumped on a raft with a couple of close friends and headed to Miami with a simple goal: a better life. 
Growing up in Cuba was not easy for Noa and his family. He recalls that it was a grind daily to survive. The daily necessities were hard to come by, and resources were limited. 
"We had access to go out and fish," said Noa, who is set to fight former NBA star Lamar Odom on Saturday night in a Celebrity Boxing bout in Miami. "Sometimes we kept half of it, and the other half we would sell it to restaurants or hotels," Noa said. "That's how you go by, and that's how I grew up."
Communism had a tight hold on the island. It controlled the economic, social and political aspects of Cuba. Over the years, Noa got accustomed to the standard of living in his home country. He wanted to do better, which sparked his desire to leave. 
Landing in Miami
Upon his arrival in Miami, Noa enrolled in high school. He and his friends got into occasional trouble, which prevented him from finding early success in school as a teenager. They got into several fights. He was eventually kicked out of school. 
Noa briefly moved to Tampa, where he worked several jobs. He worked on cleaning and construction crews with his uncle. After a year away, Noa relocated back to Miami. That's where he first got into the restaurant business. He began working for Larios on the Beach, a Cuban restaurant that was owned by singer and songwriter Gloria Estafan. 
"My first official job was washing dishes for them and as I was doing that, I was doing all different jobs," he said. "Cleaning patios, bathrooms. … I did food runner, bartending. I mean you name it."
At the same time, Noa went back to school to continue his education. His daily routine consisted of working night shifts at the restaurant, sleeping three to four hours and then waking up early just in time for class. He began his acting and producing career by hiring an agent, taking different jobs and making several appearances on Univision and Telemundo. 
While moving up the ranks at the restaurant, Noa met actress and musician Jenifer Lopez. They developed a relationship and were married from 1997 to 1998. 
Noa moved with J-Lo to Los Angeles, where he took on more acting and restaurant opportunities. 
Ojani Noa makes mark in movies
Since then, Noa gained major experience in the film industry. He was the executive director for the film "Eye See Me," and he had roles in other projects such as "Vendetta: No Conscience, Mirame Así and No Mercy. 
He also continues to open, operate and manage several restaurants. Television programming was limited in Cuba. Nonetheless, Noa credits watching classic movies on videocassette recorders with his friends for getting him involved in acting and directing. 
"I remember watching movies [such as] Rambo, Rocky, Bloodsport with Jean-Claude Van Damme," he said. "We would watch those movies daily like three, four times a day."
Noa was also very active in sports as a child. He was heavily involved in boxing, karate, swimming and water polo.  
Noa, 47, is committed to health and fitness. He enjoys keeping himself in shape while also training others in living a healthier lifestyle. 
Gym rat
"If I don't go to the gym I get mad, so I have to go no matter what," Ojani Noa said. "No matter how tired I am, I'm at the gym or at home training because I love it." 
Noa signed with Celebrity Boxing last year. He has looked for an opponent since. He'll finally step in the squared circle against two-time NBA champion Lamar Odom at Miami's James L. Knight Center Saturday night. 
Odom isn't new to the celebrity boxing scene. He already defeated musician Aaron Carter in June. 
"I got to give it up to Aaron, he put up a lot of effort. My approach will be different," Noa said. "I got to approach my technique and what I know and apply it to [Odom]."
Noa has garnered many accomplishments since making the move to the United States. He still continues to find success in his many endeavors. 
"Every single day that I wake up I thank God I'm here [in] this amazing country," Ojani Noa said. "I still continue following the dreams and the things that I like."
Get the Our Esquina Email Newsletter
By submitting your email, you are agreeing to receive additional communications and exclusive content from Our Esquina. You can unsubscribe at any time.