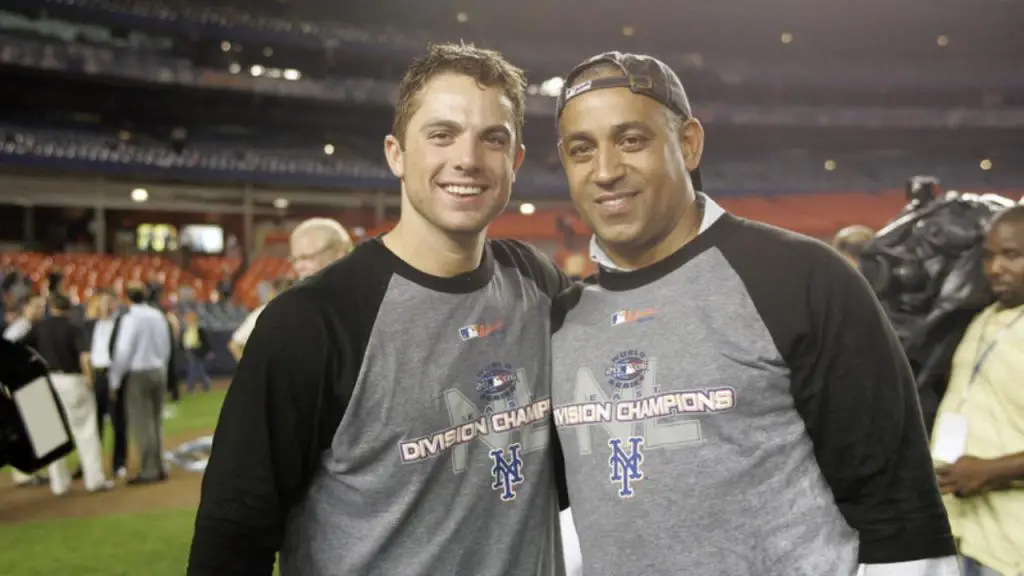 A Conversation at Our Esquina with Omar Minaya
Former Mets and Expos GM's Impact Extends to NBA
It's not rare to see Omar Minaya's impact throughout Major League Baseball. The man who signed Sammy Sosa has opened doors for many, and his protégés are all over the big leagues as coaches, scouts and front offices.
He has been such a trailblazer, his impact is now being felt in the National Basketball Association.
As Colombia native Gersson Rosas worked his way up through the Houston Rockets' front office, the longtime baseball fan found inspiration in Montreal and then New York.
Rosas, the first Latino to serve as president of an NBA team, was inspired when Minaya became the first Latino general manager in Major League Baseball history with the Expos in 2002.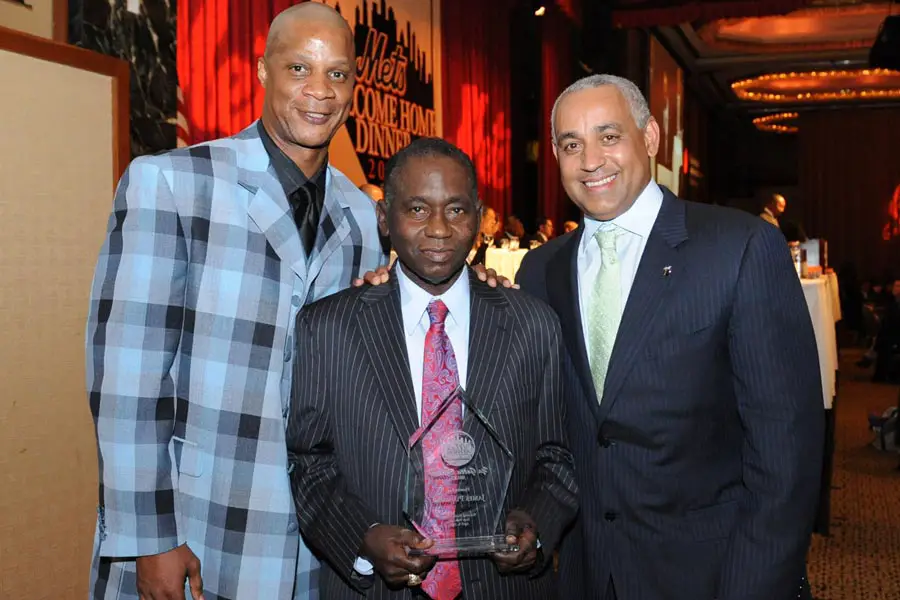 Minaya, a native of the Dominican Republic who was raised in New York, still remains active in baseball. His legacy, however, clearly extends throughout the sports world.
Our Esquina's podcast editor Manuel Gomez sat down with Minaya recently to discuss his trailblazing career from the Dominican to New York and points in between.
Here's the Q&A with the former Expos and Mets GM:
Manuel Gomez: Tell me about your journey from the Dominican Republic to the United States.
Omar Minaya: I came to the United States when I was 8 years old. My parents immigrated to New York. My first home was in Corona Queens, and I was a Queens kid. Growing up I went to PS 19, a local public school. I was close enough to go to Shea Stadium almost every day even when I was 10 years old.
MG: What drew you to the game of baseball, especially growing up in New York City?
OM: I think it was just growing up as a kid, baseball was probably more popular back then. We didn't have so many sports. We didn't have social media. We didn't have internet, so baseball, football, boxing, those were the primary sports back then, and basketball.
Now you have much more information about different sports. To me, you grew up in the streets of New York and you don't have grass fields, but you have schoolyards. You play stickball, you play softball, you play baseball in concrete, but you're still playing the game.
I played mostly stickball with a Spalding and a … Pinky Ball.
MG: Tell me about your days as a player. How would you describe yourself as a player?
OM: I was drafted by the Oakland Athletics out of Newtown High School in 1978. I played under that A's organization for one year. I went to camp the next year and was released. Then I played again with the Seattle Mariners.
The highest I got to was A-ball in the Midwest League. Then, I played in Europe in Italy for two years, and that was a wonderful experience. It really formed me in a lot of different ways. Not only culturally, intellectually, politically. It was a great time to be in Italy in the early '80s. I was able to not only understand baseball, I was able to understand European culture and come back to America with a different view of what the world was like.
MG: How did that shape your philosophy as a GM?
OM: Diversity. Open-mindedness. I think that it opened me up as far as not only being Latino but being a world citizen
MG: When did you realize that it was time to transition from player to scout and eventually a member of the front office?
OM: I was fortunate that when I got back from Italy, I was given a job as a scout first by Ralph DiLullo, who signed me. He's a great man, and I owe so much to him. And then Sandy Johnson with the Texas Rangers offered me a job to be a scout and coach, and told me to do it for a couple of years and decide which one I liked best. I gravitated to scouting without a doubt.
My first year scouting, I was fortunate enough to sign Sammy Sosa from San Pedro de Macoris, Dominican Republic.
MG: For a lot of people, Sammy Sosa is influential. How does it feel to know that you found this guy and look what he became?
OM: Well, you feel fortunate and you feel like you were fortunate to come across a player like him at the time, who was 16 years old and, of course, I had no idea that he would end up becoming the player that he did. But you feel fortunate that you were a part of his opportunity. You gave him a chance, and he took that opportunity and became the player that he was. I know he impacted the game in a lot of ways. When we look back, he was a big part of the resurgence of the game.
MG: In 2002, you were named general manager of the Montreal Expos. How does it feel to know that you are the first Latino to serve as GM of an MLB team?
OM: I feel grateful and honored to have been given that opportunity. I feel that because of that opportunity, I'd like to help others get opportunities. Really, what I'm doing right now is being a mentor for others – not only Latinos, though I always make sure that Latinos get an opportunity. When I see guys like Ismael Cruz, one of the best scouts in the game with the Dodgers, and guys like Rafael Perez, who's in the (MLB) Commissioners office, and to be able to associate with people like that and give young guys opportunities – Ronnie Reyes with the Mets. You feel like you were given a chance. My job is to open doors for others.
MG: Minnesota Timberwolves president Gersson Rosas, the first Latino executive to run an NBA team cited you as an inspiration for him growing up. How does it feel to know that you've made an impact on people, especially Latino people's lives?

OM: It's really powerful for me. For a guy like him to even mention me. We're talking about a president of a basketball team. So, when he said that to me it made me reflect and to realize that there's people you didn't even know you impacted. And it made me happy. It was something powerful. But at the same time, it goes to show you that you have to keep doing the best you can to help people do the right thing. You never know who's watching. For him to say that is as good as a compliment as I can have in my position.
MG: Were you a Mets fan growing up? What was it like being hired by the Mets to serve as GM being that you are from Queens?
OM: I was a National League fan growing up. I love the Giants because they had players that I loved. I loved (Juan) Marichal. I loved the Pirates when they had (Roberto) Clemente. And of course, I liked the Mets because you saw them every night on Channel 9, and Tom Seaver and that group in '69. Overall, I was a National League fan.
MG: Growing up in the Heights, I was a Yankees fan, but you saw a lot of people wearing Red Sox hats because of Pedro's influence, and Manny Ramirez and Big Papi.
OM: When I was a GM, I thought we were doing really great work. We brought Pedro (Martinez) in, and we had Jose Reyes, and we had a whole bunch of guys. I thought that the Red Sox were great with Pedro. I thought he did a really good job with the Mets in '05-'08 and I do believe that as a whole, the Latin community in New York as a whole is a National League fan base.
MG: One thing I enjoyed about your time as Mets GM was that you fielded what seemed like the most diverse team in the sport. How important is it to you to field a culturally diverse group on the field?
OM: To tell you the truth, it was part of the plan. It was part of the plan because we wanted to fit into the geography that we were in New York. I felt that I'm a true New Yorker. I'm Dominican, but I tell people that I am a New York Dominican. I love New York. But I thought it was good business.
The most important thing was talent. You have to get a team that fits and connects with your fanbase.
MG: Latinos make up close to 30 percent of MLB players, yet in the 2020 season there was only one MLB GM (Al Avila of the Tigers) out of 30, only one MLB majority owner (Arte Moreno, Angels) out of 30 and only four MLB managers out of 30 (13 percent) with Rick Renteria of the White Sox, Charlie Montoyo of the Blue Jays, Dave Martinez of the Nationals and Luis Rojas of the Mets.
OM: I believe the good thing is, when you say 30 percent, well, that 30 percent those guys are stars. When you're talking about the stars of the game right now, we probably have 70 percent of the stars of the game. I look at that.
As far as representation on other levels in ownership or front offices and all that, I think we have good people and I hope more people get an opportunity. I do believe that the future of the game for Latinos is very positive, not only for players. I will tell you that we have a lot of good, young executives that hopefully one day will be given an opportunity.
Get the Our Esquina Email Newsletter
By submitting your email, you are agreeing to receive additional communications and exclusive content from Our Esquina. You can unsubscribe at any time.