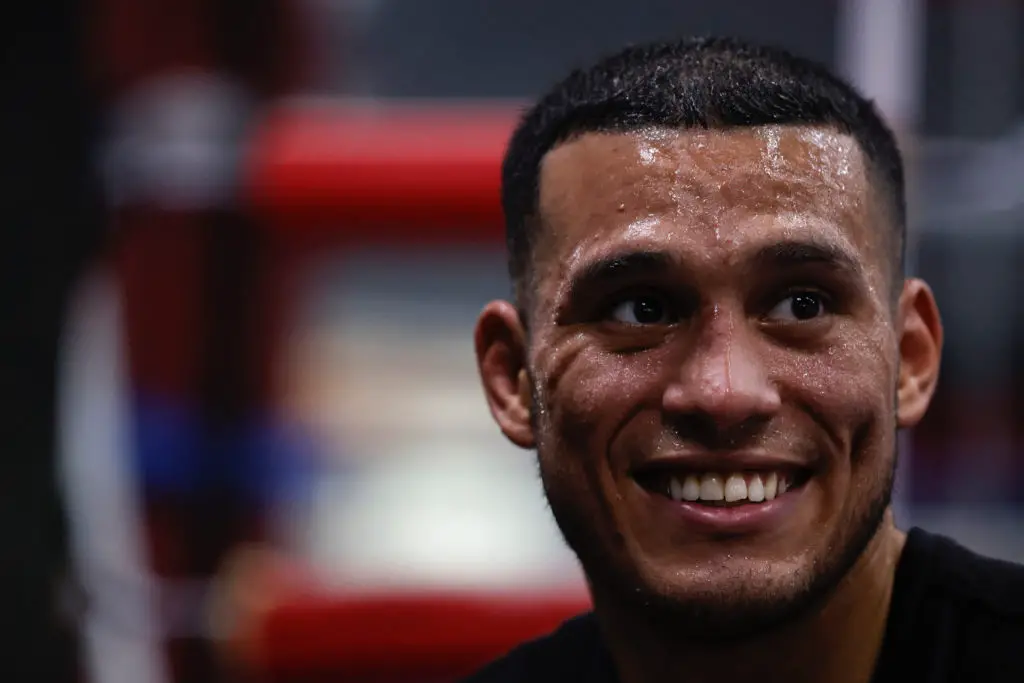 David Benavidez eyes Canelo Alvarez
Boxer David Benavidez prepares for WBC interim title fight
David Benavidez's smile says it all. You don't even need to hear his answer once you see his eyes light up at the mere mention of a fight against Saul "Canelo" Alvarez.
Benavidez wants a shot at Canelo, the Mexican icon and undisputed middleweight champion. Guadalajara's famous redhead is at least one fight away and perhaps now even a weight class up from Benavidez. 
As Canelo currently chases the WBC cruiserweight belt, though, Benavidez will seek Canelo's WBC title, so to speak, against David Lemieux in a bout for the WBC interim super middleweight title. 

Chasing big fights
"Right now we're just trying to get to the big fights," Benavidez said. "Obviously the biggest fight right now is with Canelo Alvarez, but if we cannot get to him I feel like there's a lot of other good fights too. …
"My next fight is going to be for a WBC interim title with David Lemieux. You know that David Lemieux is a great fighter too. That's going to be a really good fight for the fans."
Benavidez, 25, has earned the right to challenge Canelo. Many in boxing wonder if Canelo is ducking him. Former champion Floyd Mayweather said as much in early December after it was announced that Canelo would go up in weight class.
Only Canelo, 31, knows if he's ducking Benavidez, 25.
Meanwhile Benavidez (25-0, 22 knockouts) will prepare for Lemieux with an eye on the present and hopes for the future.
"Honestly I'm willing to just fight whoever to give the fans a great fight because at the end of the day I'm a fighter and I love boxing," Benavidez said. "My job is to fight whoever is willing to fight me. Whoever is the best in my way is whoever I'm going to fight."
Benavidez has been groomed for boxing greatness since he was three years old by his father and trainer Jose Benavidez Sr. He has been in the boxing gym since he could walk, following the footsteps of his brother Jose Benavidez Jr.
David Benavidez held title already
David Benavidez has held the super middleweight title twice. He was stripped of the title once because of a positive drug test for cocaine in his urine in 2018. Almost two years later, he was stripped of the WBC title again for failing to make weight.
In the ring, however, he has yet to taste defeat. 
He's considered the greatest threat to Canelo's four-belt throne in the super middleweight division. David Benavidez will be favored against Lemieux, a Montreal native.
If he gets past Lemieux, the boxing world will surely clamor for Canelo to give Benavidez a shot at the title. 
Benavidez is "definitely" even open to moving up to cruiserweight if that means a shot at Canelo.
"You know 175 is a weight class with a lot of great fighters too," he said. "So, like I said, I've been trying to get this Canelo fight for a while. But if there's other options available at 175 I wouldn't be scared to take them.
"I feel like that's a weight division I can dominate and I can be even stronger. If I'm already strong at 168, well I'll be extremely strong at 175. Maybe it's time for a move maybe in like a year or two. But like I said, I promise to try to make all the biggest fights for my fans at 168. But if I can't get them, there's a lot of big fights to be made at 175."
Get the Our Esquina Email Newsletter
By submitting your email, you are agreeing to receive additional communications and exclusive content from Our Esquina. You can unsubscribe at any time.