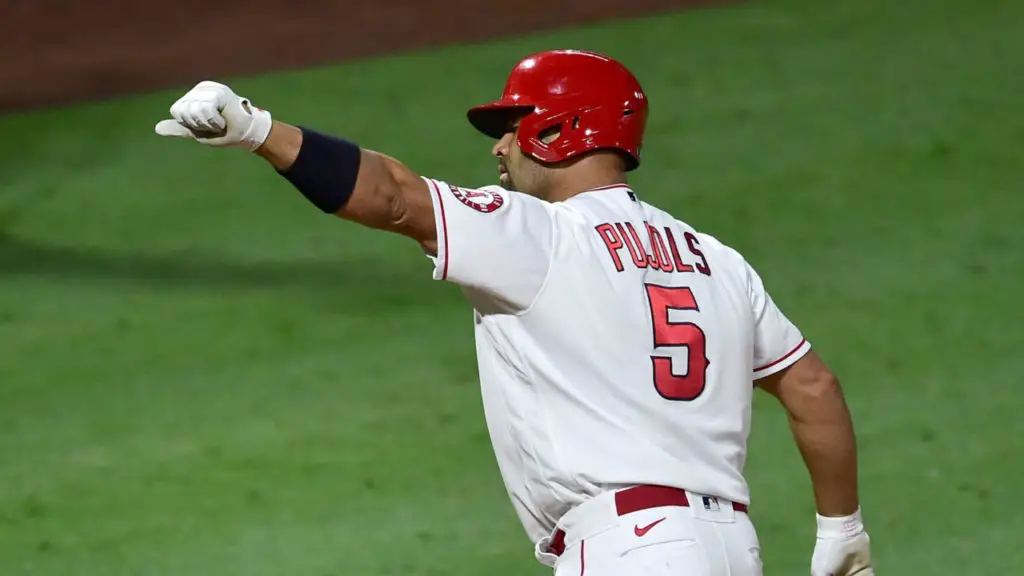 Celebrating Albert Pujols' greatness on the anniversary of his 500th HR
Appreciating The Machine seven years after Albert Pujols joined 500-homer club
When Albert Pujols entered the majors in 2001 with the St. Louis Cardinals as a fresh-faced 21-year-old from the Dominican Republic , he immediately began making his presence known. Even then, the milestone of 500 home runs seemed more a question of precisely when not if he would. 
And on this day in 2014, Albert Pujols did just that, becoming the 26th member of the exclusive 500-home run club and the third-youngest player to reach the milestone. 
In the Angels' 7-2 win over the Nationals in Washington, D.C., Pujols smacked his 499th and 500th career home runs. He became the first player to hit those two in the same game. 
While it was a milestone that baseball fans across the country were waiting for to happen, if you asked Pujols that day he already had it booked. As it turns out, Pujols told his teammates before the game that April 22, 2014, would be the day. 
Having gone 0-for-5 the day before, Pujols said, "he was going to hit two homers and drive in five runs," according to teammate Erick Aybar. 
"If Albert tells you something, he's going to do it.," Mike Trout relayed to reporters.
He did exactly what he set out to do, putting on a show for the 21,915 fans in attendance at Nationals Park.
"It's pretty special," Pujols said. "There are 18,000 players to wear a big league uniform. To have only 26 do this, it's pretty special."
Pretty special indeed. 
A year later in 2015, a 39-year-old David Ortiz joined the club, bringing the total number of players to 27. Of that group only seven are Latino — Ted Willliams, Ortiz, Manny Ramirez, Rafael Palmeiro, Sammy Sosa, Pujols and Alex Rodriguez. 
Currently, Pujols stands as the only active player who has accomplished the feat. And in the years following his 500th career home run, Pujols added an additional 164, bringing his career total to 664, good for fifth-place on the all-time list. 
Future Members of the 500-Home Run Club
He could soon be joined soon by Miguel Cabrera, who is 12 home runs shy of becoming the 28th player to reach the milestone. 
The next closest Latino to reach the milestone is Edwin Encarnacion, who has 424 career homers. He currently is a free agent. With no universal DH in place for the '21 season, it doesn't seem likely that he will play this year. 
Nelson Cruz has 423 homers, but he's also 40 years old, soon to be 41. It's possible that he could reach the achievement given the fact that he has less traditional wear on his body due to being primarily a DH, but it'll be a close call regardless. 
The Padres' Manny Machado is 28 years old, has 226 home runs to date and is signed through 2028. He's also batting in the three-hole of a lineup that stands to be among the league's best for some time. Assuming he ages slowly and suffers no major injuries, 500 home runs are definitely a possibility for him. 
Looking towards the future, there's a good chance we'll have this same conversation centered perhaps on the Braves' Ronald Acuña Jr. and Nationals' Juan Soto. Those are two of the game's brightest hitters. Acuña displays brilliant levels of power, and Soto is the modern-day Williams with a bat in his hands.
Appreciating Albert Pujols 
By season's end, Pujols will be a free agent, entering his age-42 season. This could very well be it for The Machine. 
On Tuesday he hit No. 664. There's no telling how many there are left for him. 
The Angels are in third-place in the AL West, but in line for a Wild Card spot if the season were to end today. 
Regardless, if the Angels make it to October or not, Pujols is a first-ballot Hall of Famer. He's one of the best players of his generation, of all-time and to ever come out of Latin America.
On days like today, let's celebrate the magic that Pujols was and still is. Let's hope that several months down the line, an October showdown is in order so the whole world can appreciate a man who undeniably left his mark on the game of baseball.
Get the Our Esquina Email Newsletter
By submitting your email, you are agreeing to receive additional communications and exclusive content from Our Esquina. You can unsubscribe at any time.