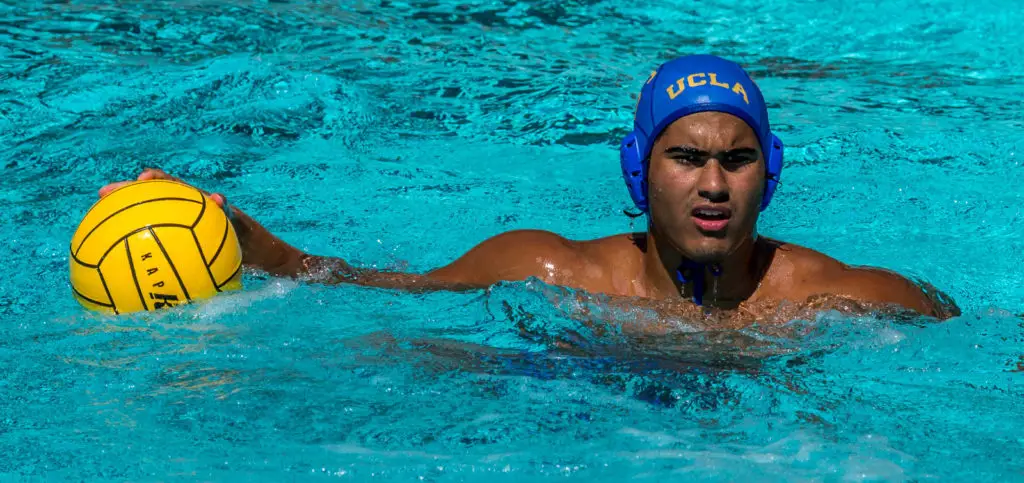 Brother helps Guillermo Ocasio push UCLA to water polo title
Guillermo Ocasio values older brother's support
Guillermo Andre Ocasio got out of the pool in tears one afternoon in late February. UCLA's 6-foot-2 freshman had just received an accidental blow to the head in practice a few weeks before the NCAA Water Polo Championships. His head was throbbing, and he was overcome with frustration.
Ocasio's tears had little to do with the pain he suffered from a teammate's elbow. It wasn't the first or even second concussion he had suffered while becoming one of the best young water polo players in America. The freshman from Puerto Rico was more upset about possibly missing the goal that drew him to UCLA – a chance to fight for a national title.
Ocasio had already lost two weeks of training and one tournament while battling a Covid infection that robbed him of his stamina. He was still working himself back in shape when he suffered the concussion. 
"I was really worried because that was my third concussion," he said a week after helping UCLA beat rival USC for the national title. "When I got out of the water I was crying. I was worrying (and thinking), 'Am I ever going to play this year?'
"Since I was not playing like the whole year I was like, 'Maybe I'm not going to play the NCAA (Championships). Maybe I'm not going to play this year. Maybe I'm going to play next year.' My head was in circles, just like spinning around." 
Two for the price of one Guillermo Ocasio
Fortunately for UCLA, there wasn't only one Guillermo Ocasio in this fight. There were two – Guillermo Andre of UCLA and his older brother Guillermo Alberto of the University of La Verne. 
Actually, there were three. Their father is also named Guillermo. Guillermo Sr. and his wife Marybel Gomez moved the boys from Puerto Rico to Tustin, Calif., when the UCLA utility was only 12 years old in part so they could have better opportunities in water polo.
"It's a blessing because not a lot of Puerto Ricans play water polo," the older brother said. "It's a very small community in Puerto Rico. There's not a lot of funding into it. Water polo is not a very popular sport over there. 
"Just getting this far as Puerto Ricans shows us that no matter where you come from, no matter how small the place, no matter how big the sport is, if you know you have the talent and you believe in yourself, you can go the distance."
Chasing big brother
By the time they moved to Southern California, Guillermo Andre had already spent five years trying to be better than his brother, who is three years older. 
Like most young Puerto Rican athletes, they first started playing baseball and basketball. That's what you do on the island of Roberto Clemente, Ivan "Pudge" Rodriguez, Francisco Lindor and Carlos Correa. 
Guillermo Andre transitioned to water polo at seven years old because that was his older brother's sport.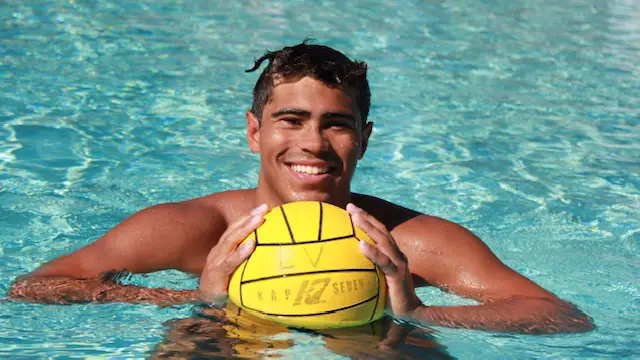 "From that point it stuck right there," Guillermo Andre said. "I've just been behind my brother and following his steps. He gives me motivation to keep moving forward."
The brothers were already fluent in English when they moved to California from Puerto Rico, which is a U.S. territory. While in Orange County, they continued to develop into elite water polo players. 
The 5-foot-7 Guillermo Alberto helped Foothill High win the 2016 CIF Southern Section Division 2 water polo title. He continued his career at the University of La Verne while his brother blossomed into one of the best in America at Servite High.
Sibling rivalry faded
What started as a sibling rivalry blossomed into more of a mentor's role. 
"It was pretty cool to have that inspiration with me because I kind of needed it in the sense of that motivation to keep moving forward, to don't give up," Guillermo Andre says of his older brother. "He's the reason why I'm at this level in Division I. He and I would talk about water polo. 
"He would give me advice, 'Do this and do that.' And I would do it because he's my older brother. I would listen to him because he's such a role model. He's such an inspiration. He takes everything to heart. He's just a really hard worker. He's really movited in many ways."
Long wait before NCAA Water Polo Championship
Guillermo Andre was kept out of practice for about 10 days last month as he recovered from his concussion. Once he was cleared, coach Adam Wright approached him with a simple question: "Are you ready to play?"
Those words provided a boost of adrenaline. Although he wasn't at the fitness level he had been before getting Covid or even after recovering from it, Guillermo Andre was more than ready.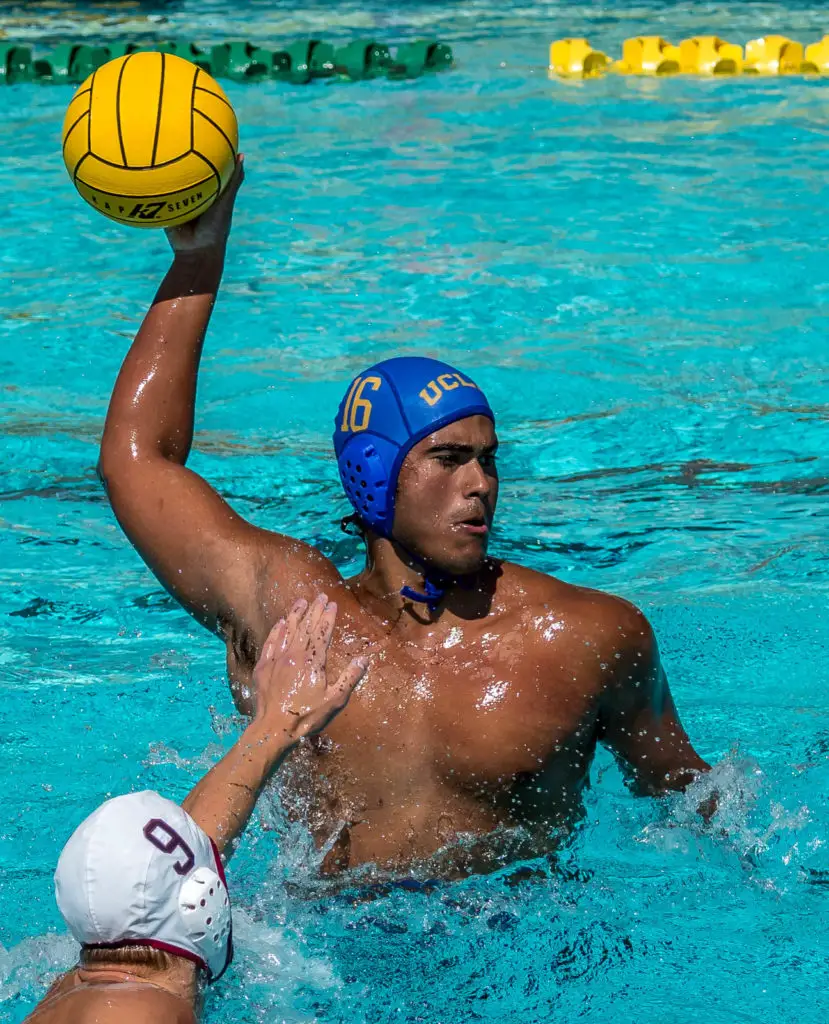 He was confident because of what he had done in the past. He had played while sick and even with a broken finger before. 
"I was not in the shape that I was before I had Covid, but in shape that I could play and I could do things," he said.
He definitely did some "things." He scored two goals and had a steal to help UCLA win the opening round. Then in the semifinals against the reigning national champion and top seed Stanford Cardinal he scored another goal and a steal in that 11-10 victory.
Guillermo Andre drew an exclusion in the national final against rival USC. The Bruins scored on the power play and eventually beat USC 7-6 for the title.
All the way through, Guillermo Alberto sent him motivational texts that still remain on his younger brother's phone. They're in their native Spanish. 
Loosely translated, Guillermo Alberto would text. "Get it done. You can do it! Pray. Pray before so He can give you the power. Good Luck." Then after the games, Guillermo Alberto would text, "Good game. You played well. I'm proud of you. Just remember what I said before."
Guillermo Ocasio sent those texts before and after each NCAA game.
"That kind of gave me a boost of confidence, boost of, 'I can really do this, I can score some goals in the NCAAs,'" he said. "That's why in the NCAAs I was able to do what I can do and I was able to do it because of him and because of his inspiration throughout the years."
The older sibling still has a year of college eligibility at La Verne. At 21, though, he's equally proud of helping his 18-year-old brother.
They've been training together since they were in Puerto Rico trying to be the best. By best, that means trying to be better than each other too.
Guillermo Alberto Ocasio accepts brother's status 
"So for him it was always like, 'I got to be better than my brother, got to be better than my brother, I got to be better than my brother,'" Guillermo Alberto says. "And he's done it. I can admit it. 
"He's a lot better. I know it's a tough pill to swallow for me as an older brother because you know as an older person you have to be better than their brother."
Guillermo Alberto is at peace with his brother's excellence. He embraces it, nurtures it, celebrates it.
The sibling rivalry mindset has changed slowly over the years. 
"My mindset is to make him better than me," Guillermo Alberto says. "Make him a better water polo player, make him a better person in all aspects. No matter where you come from, that doesn't matter. If you have the mindset and you have the dedication and consistency you can make whatever you want to do."
One Guillermo Ocasio has a national water polo title, and they're proud to have done it together.  
Get the Our Esquina Email Newsletter
By submitting your email, you are agreeing to receive additional communications and exclusive content from Our Esquina. You can unsubscribe at any time.