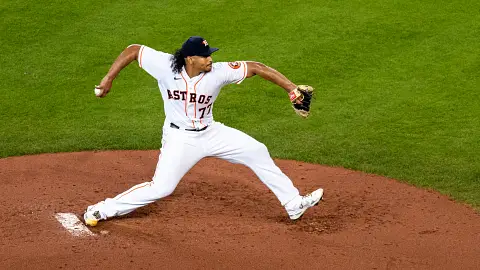 Astros righty Luis Garcia embraces Yankee Stadium start
Luis Garcia appreciates the opportunity to face the Yankees in the Bronx
Luis Garcia has already started when the stakes are highest and the pressure most intense. The Astros' Venezuelan righthander got a taste of the American League Championship Series last October, and there's only one stage bigger than that one.
Garcia proved capable last season with two scoreless innings as the "opener" in Game 5 of the ALCS. There's a huge difference, however, between starting against the Tampa Bay Rays in an empty neutral site and performing before an angry mob in the Bronx. 
As Jose Altuve and Co. saw on Tuesday, though, there's something different about starting at Yankee Stadium. If anything, the atmosphere is more intense in the Bronx during the Astros' first visit to the Bronx since MLB sanctioned the club for stealing signs in 2017.
"The challenges are crowd noise," Astros manager Dusty Baker said. "(Garcia) has to have the ability to shut them out and also to call a timeout on the mound without us having to go to the mound. A lot of it depends on the catcher because a lot of the action happens very, very quickly. 
"I remember when Fernando (Valenzuela) was a rookie. The thing that I always admired about Fernando all the time was that he would call his own 20-second timeouts to kinda cut the action and cut the momentum."
Luis Garcia in search of first victory
Garcia, 24, welcomes the opportunity to face the Yankees for the first time in his career.
"It means a lot truly because it's a historic stadium," says Garcia, who is still looking for his first victory in the majors. "Many, many kids dream of one day pitching at Yankee Stadium. It's an honor for me to pitch there."
The native of Bolivar, Venezuela, still has his rookie status intact even though he was 0-1 with a 2.92 ERA over five games (one start) and 12 ⅓ innings last season. He entered the season as the Astros' No. 6 ranked prospect.
Garcia is 0-3 with a 2.70 ERA over five games (three starts) this season. He has 20 strikeouts over 20 innings while holding opponents to a .194 batting average and ..673 OPS.
Combined with the postseason, he has a 2.62 ERA, allowing 10 earned runs in 34 ⅓ innings over in 11 career games (five starts). 
Leaving the West for a change
This will be Garcia's first appearance in a ballpark outside of the AL Central and NL Central. Heck, Yankee Stadium will be only the seventh stadium where Garcia has pitched during his brief big league career. He has pitched at Coors Field, Globe Life Stadium, the Oakland Coliseum, Minute Maid Park and Angel Stadium in the regular season and Petco Park in the ALCS.
None of those stadiums are known for hostile crowds or choruses full of expletives quite like the ones that greeted the Astros on Tuesday at Yankee Stadium. 
More critically, the Yankees also have one of the most potent lineups in baseball with Giancarlo Stanton and Aaron Judge a threat to homer each time they go to the plate. 
"If you see things unraveling you're going to have to like call a 20-second timeout and just let things calm down," Baker says. "And let things calm your heart and also calm your mind. Like I said, things happen very, very quickly. Those are some of the main challenges that you have, especially as a young player to not let things unravel too quickly."
Garcia knows that many children dream of pitching at Yankee Stadium. He appreciates the Yankees' place in baseball history, and he's excited about the opportunity to face them.
"Well, as a kid I didn't dream of this stadium," he said, "but for all kids it's an honor, truly."
Get the Our Esquina Email Newsletter
By submitting your email, you are agreeing to receive additional communications and exclusive content from Our Esquina. You can unsubscribe at any time.