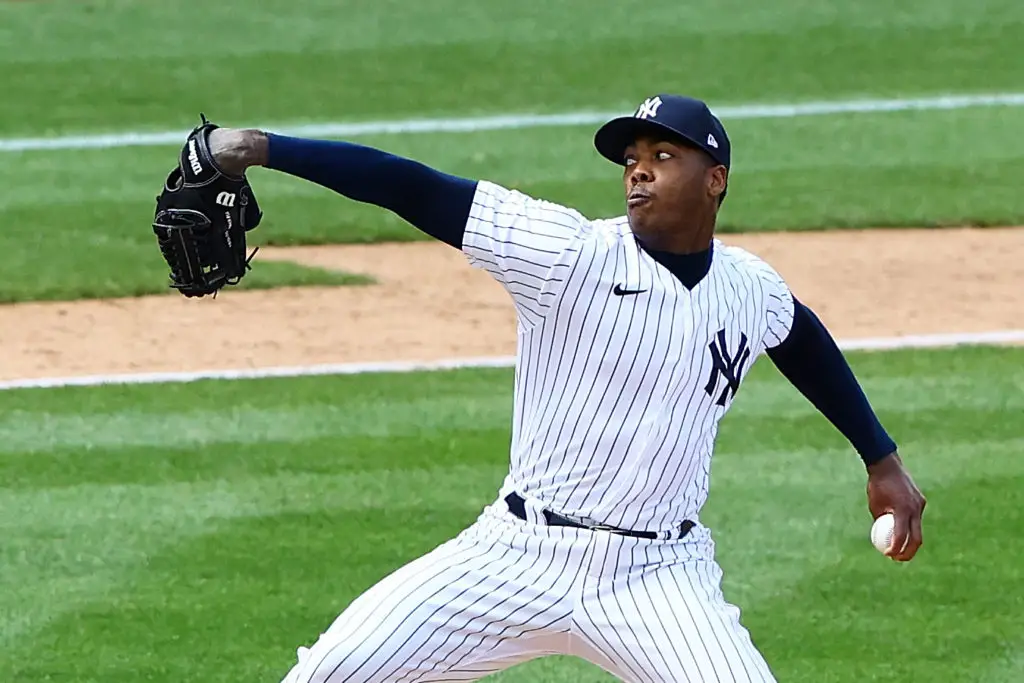 Aroldis Chapman's secret weapon is the key to dominance
Aroldis Chapman has developed a secret weapon, a split finger that has returned him to dominance.
In his final two games of the 2020 regular season, New York Yankees closer Aroldis Chapman experimented with a secret weapon. At the time, he had used this weapon thrice, all against right-handed hitters, and with the same result – Strikeouts.
Here, try to guess what the weapon is.
The weapon is a nasty split-finger, and it has since become a mainstay in the hard-throwing Cuban's repertoire. This season, Chapman has thrown the split-finger 13% of the time across seven plate appearances.
And just like it did in 2020, each time he uses the splitter this season, he gets another strikeout. In fact, it is currently one of the fastest-growing pitches by percentage that he uses to strike out batters.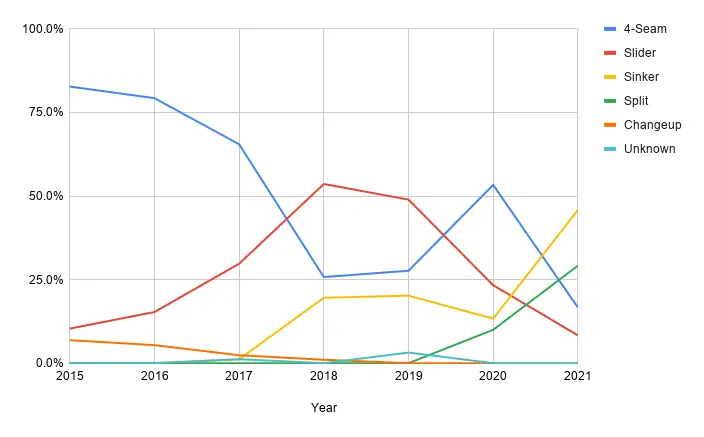 Aroldis Chapman 2.0
There was a time when the Cubano was known simply for his pitch velocity. It's why they call him "The Cuban Missile," because his lifetime fastball averages 99.6 mph. This is the highest velocity of any pitcher in MLB since his debut in 2010.
This year, that hasn't changed. Only now, he compliments it with a slower, more deceptive pitch in the split-finger.
Contrary to his four-seam fastball, Chapman's splitter averages just 89.6 mph. What's more, it starts off looking like a changeup, until suddenly, it drops out of the batter's reach.
This has resulted in what could be the best start to a season of his career. So far, Chapman leads all relievers in the following categories:
0.8 fWAR
-0.79 FIP
21.6 K/9 – highest of career and up from lifetime 15 K/9
23.3 SwStr% – highest of career and up from lifetime 16.9 SwStr%
It's not only his strikeout rate and swing and misses that are outpacing his career numbers either.
70.5% of pitches thrown are strikes – highest of his career and up from lifetime 64.3%
38.4 CSW% – highest of his career and up from lifetime 33.4%
Aroldis Chapman is simply more deceptive than he has ever been. Where he used to be able to blow away hitters with a hard fastball, now he's just making batters look foolish.
Get the Our Esquina Email Newsletter
By submitting your email, you are agreeing to receive additional communications and exclusive content from Our Esquina. You can unsubscribe at any time.