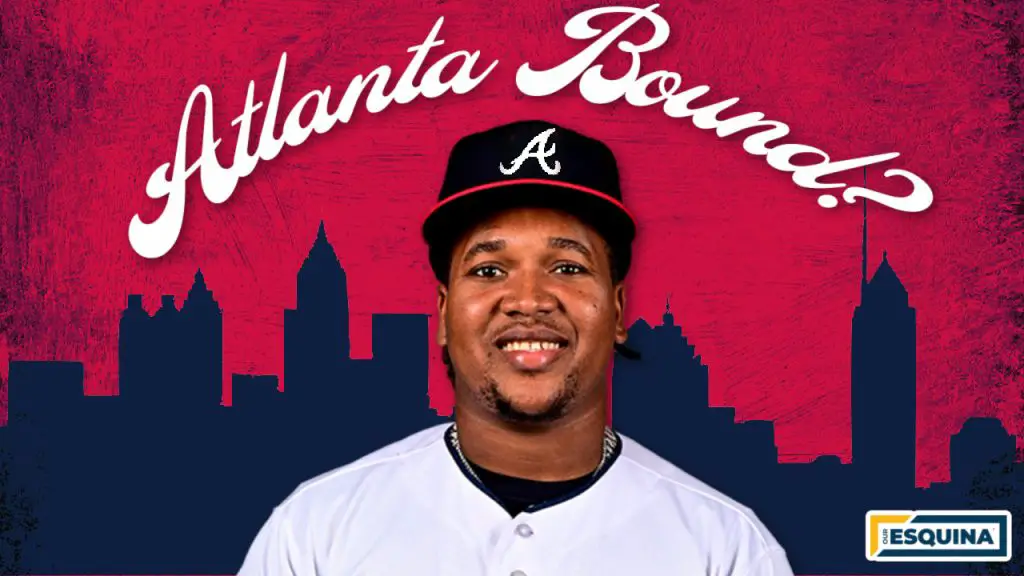 A José Ramírez Deal Could Propel Atlanta Braves to Top of NL
On the heels of Francisco Lindor being traded to an AL East contender, the Atlanta Braves are said to be in full pursuit of José Ramírez.
The Cleveland Indians are officially in a rebuild. After trading away Francisco Lindor and Carlos Carrasco to the New York Mets, they are now said to be in talks with the Atlanta Braves to trade José Ramírez.
Such a deal would completely sink the Tribe, who have competed in the postseason in four out of the last five years. In turn, combined with the addition of Charlie Morton, it would make the Braves a powerhouse in the National League.
There's no question that Ramírez is good. But just how good is he?
Ranking Ramírez in 2021
Since becoming a full time player in 2016, José Ramírez is hitting .290 with a .895 OPS. In that time, he's finished top three in the MVP voting three times. Last season, he came in second, behind Cuban slugger José Abreu.
In that past five seasons, Ramírez is one of only two players with 100 HR and 100 SB, according to baseball statistician Jim Passon. The only other player on that exclusive list: Mookie Betts.
Additionally, in that same time-span Ramírez is a top-five player in MLB, according to FanGraphs, tied with Christian Yelich with a 26.4 fWAR. They trail only Mike Trout (37.1), Mookie Betts (33.6), and Anthony Rendon (26.9)
Possible Trade Scenarios
When assessing possible trade scenarios between two teams, every baseball fan is essentially playing an educated guessing game. Fortunately, Baseball Trade Values (BTV) designed a simulator with a near-perfect trade acceptance rate.
Using this system, here are three potential trade scenarios accepted by BTV that would benefit both the Braves and the Indians.

This deal garnered 20 up-votes versus eight down-votes on BTV. It also includes more value on the Indians' side by around six points.
In essence, the Indians would gain a bunch of prospects and MLB-ready players. Conversely, the Braves' lineup would certainly improve, but they would be weakening their outfield depth.

In this deal, the Braves would keep their outfield depth. However, they'd lose three top-10 and one top-15 prospect in the organization.
This is the price you pay to win a championship in MLB, however.
For the Indians, they would retool by adding a number of players who are not that far away from MLB action. What's more, they would control these players for a longer period of time.

Similar to the first deal (above), this offer includes a mixture of prospects and MLB-ready players. Instead of Austin Riley, the Indians would get Touki Toussaint, a once promising pitcher who has underperformed on the big stage.
Every deal we've seen includes the Braves' No. 2 prospect Drew Waters. Two of them have included the team's No. 7 prospect in William Contreras. This final deal includes a name we haven't seen yet, Atlanta's No. 5 prospect Braden Shewmake.
With the emergence of Dansby Swanson, the Atlanta Braves don't necessarily need the shortstop prospect. This deal might be the most attractive of the bunch. However, it only got nine up-votes and four down-votes.
Potential Atlanta Braves Lineup
| | | |
| --- | --- | --- |
| Order | Player | Position |
| 1 | Ronald Acuña Jr. | CF |
| 2 | José Ramírez | 3B |
| 3 | Freddie Freeman | 1B |
| 4 | Dansby Swanson | SS |
| 5 | Ozzie Albies | 2B |
| 6 | Austin Riley | LF |
| 7 | Travis d'Arnaud | C |
| 8 | Cristian Pache | CF |
| 9 | Max Fried* | P* |
*Pending DH approval
Get the Our Esquina Email Newsletter
By submitting your email, you are agreeing to receive additional communications and exclusive content from Our Esquina. You can unsubscribe at any time.