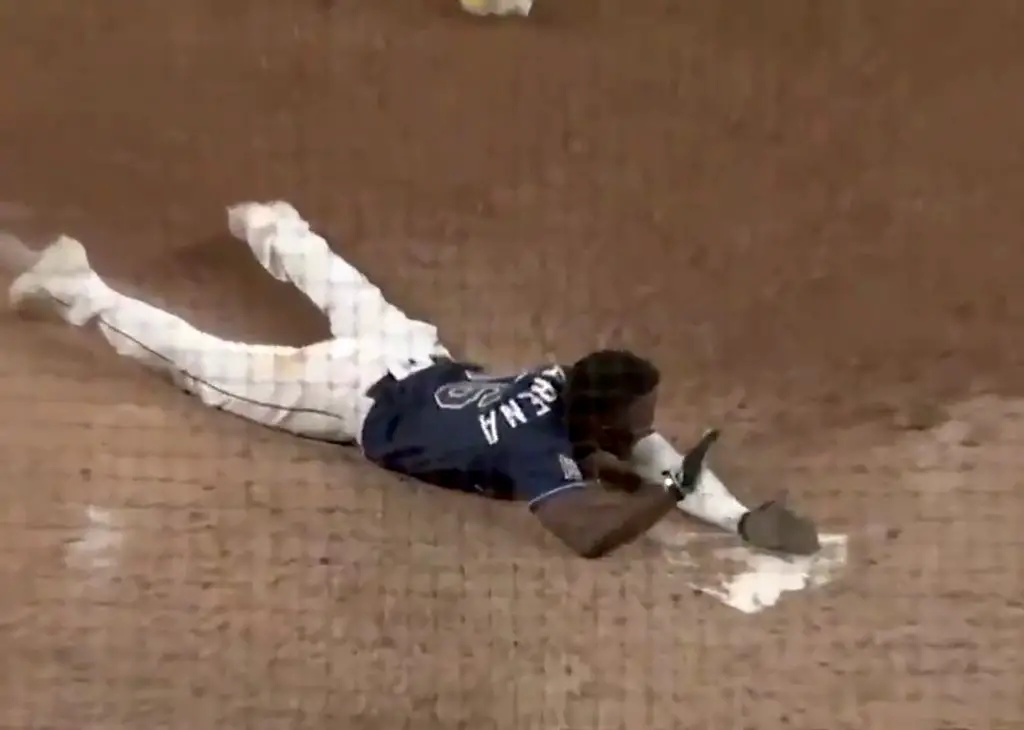 Tampa Bay Rays' Arozarena caps thrilling comeback
Rays third base coach Rodney Linares never hesitated sending Arozarena with winning run to tie World Seres
ARLINGTON, Texas – Randy Arozarena slapped at home plate in quick succession with the power that propelled him to the biggest home run outburst in postseason history. Once, twice and so on, pounding the plate eight times while Brett Phillips joyfully stretched out his arms and ran around the outfield as Rays teammates chased him.
It was one of the most ridiculous finishes in World Series history, a walk-off comedy of errors in many ways in Game 4 Saturday night at Globe Life Field. It was Bill Buckner times three if you count Chris Taylor's error in center field, the poor relay from Max Muncy and Will Smith's inability to secure the throw near home.
In the middle of it all, the Rays' Cuban sensation stumbled between third and home. He then ran back toward third before turning back home after third base coach Rodney Linares noticed Smith had dropped the ball. 
Rays 8, Dodgers 7. 
"It was impressive, two teams fighting to win the World Series," Arozarena said after becoming the first player to hit nine home runs in a single postseason. "It was a game that was a two-by-two. We'd score and they'd score. That's baseball. It was very important for us because we were able to tie the series and it was a hard fought game by both teams." 
Now the best-of-seven World Series is tied at two games apiece. On a night when Dodgers manager Dave Roberts pulled lefthander Julio Urias too early, the Rays got a little help at the end.
"I wasn't surprised," Arozarena said of Linares' decision to send him home. "He saw that the ball escaped the center fielder. In my mind from the time the ball was hit I said I have to score with that hit. We got in sync. I thought that I had to run and score, and he sent me. That's why I got there."
The teams combined to use 13 pitchers, setting a record for most pitchers used in a nine-inning World Series record. The Dodgers used six pitchers. Three of the five relievers gave up at least one run with Blake Treinen and losing pitcher Kenley Jansen each giving up two runs.
The Dodgers led 7-6 heading into the bottom of the ninth. Kevin Kiermaier put the tying run on base with a one-out single to center off Jansen. One out later, Jansen walked Arozarena to put the winning run at first. 
Then Phillips strolled to the plate. Linares, who managed Phillips in Class A and Class AA in the Astros' organization, took off his mask and yelled at Phillips.
"Swing the bat kid, you're going to win the game," Linares yelled.
That's exactly what Phillips did. He singled to center, setting off a series of improbable blunders beginning with Taylor's error.
Linares never hesitated after the ball kicked off Taylor's glove. 
"Dále," he yelled at Arozarena in Spanish as the Cuban sensation raced toward home with the winning run. "Sí! Sí! Sí! Sí!"
"Go! Yes! Yes! Yes! Yes!"
Get the Our Esquina Email Newsletter
By submitting your email, you are agreeing to receive additional communications and exclusive content from Our Esquina. You can unsubscribe at any time.