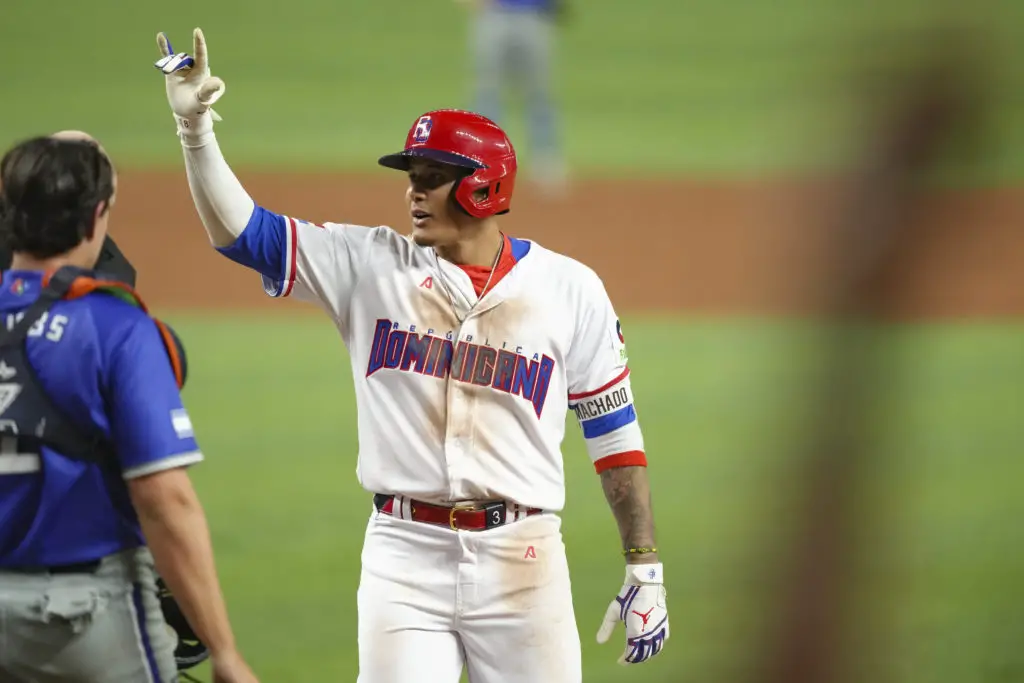 WBC: Dominicana forces crucial game against Puerto Rico
D.R. will play a win-or-go-home game against Puerto Rico on Wednesday.
The Latino Dream Team, otherwise known as the Dominican Republic, has arrived. After splitting the first two games of the World Baseball Classic and going 3-for-22 with runners in scoring position in those games, the D.R. looked very beatable.
That is until their third game of the WBC on Tuesday. Dominicana went 6-for-12 with runners in scoring position and defeated Israel 10-0, setting up a win-or-go-home game against Puerto Rico on Wednesday.
Juan Soto led off again, immediately setting the table with his third double of the tournament. He later scored the Dominican's first run on Eloy Jimenez's RBI single.
In the third inning, Manny Machado homered into the Budweiser Porch in left center field to make the score 2-0. This was the six-time All-Star's second home run in as many days.
In the bottom of the sixth inning, Machado collected two more RBIs on a sharp line drive to right field that drove in Soto and Julio Rodriguez.
After going 0-for-4 with two strikeouts against Venezuela, the Dominican American Machado is 4-for-9 with two home runs, a double, and four RBIs.
Along with Machado, five other players delivered RBIs to contribute to the Dominican's victory, including Jean Segura. Segura's seventh-inning, ground-rule double proved to be the finishing blow to Israel.
"It was a really good game," Dominican manager Rodney Linares said. "The guys swung the bat well, but the most important thing (was) we didn't have to use our guys. You know, we shut them down, and guys came up big."
A WBC rivalry renewed
By forcing the mercy rule over Israel, Linares has every player available for the crucial game against Puerto Rico.
After P.R.'s perfect game on Monday, manager Yadier Molina looked ahead to the deciding game against D.R.
"This is going to be the most important game in the tournament," he said. "We are going to be ready for that."
Linares concurs.
"If we lose, we don't move to the next round," Linares said. "It is going to be the best or the most important game, considering the rivalry against Puerto Rico, (and) the good players they have."
Like the Dominican Republic, Puerto Rico is 2-1 in Pool D. Both teams lost to Venezuela. Now, D.R. and P.R. will have to play an elimination game against one another to determine who gets to move on to the quarterfinals with Venezuela.
Don't you love baseball?
Get the Our Esquina Email Newsletter
By submitting your email, you are agreeing to receive additional communications and exclusive content from Our Esquina. You can unsubscribe at any time.