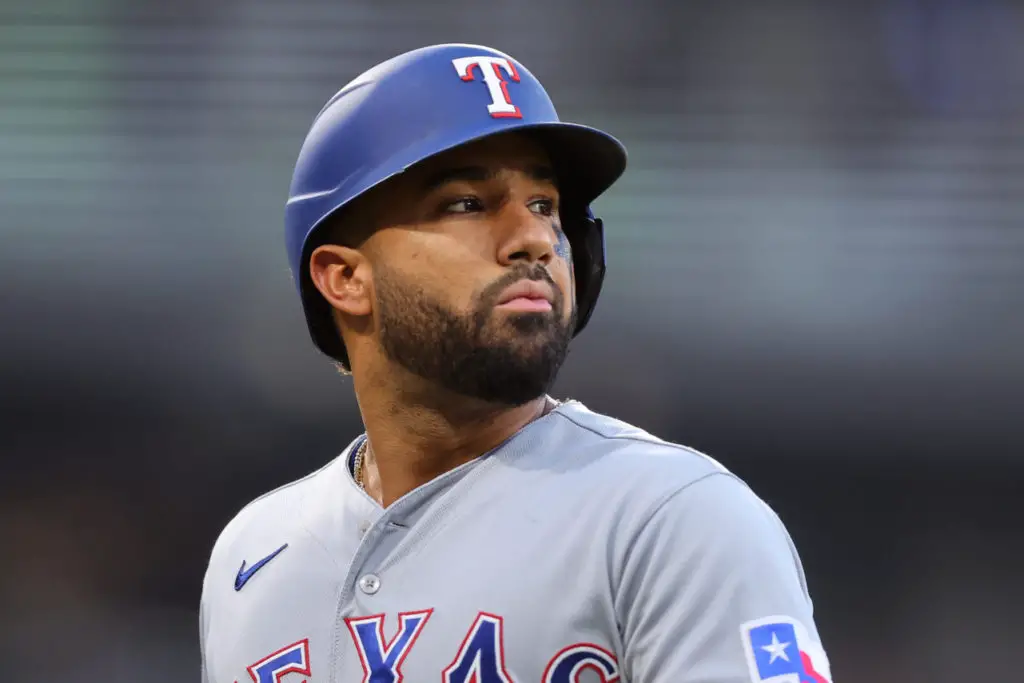 Ezequiel Duran finds home all over diamond
Rangers rookie Ezequiel Duran's versatility on display in Arlington
HOUSTON – Growing up, Texas Rangers super utilityman Ezequiel Duran wasn't sure if he wanted to play baseball. But at five years old he was influenced by two New York Yankee infielders: Derek Jeter and Dominican native Robinson Cano.
"As a kid, I played infield a lot of the time," Duran said. "That's all I wanted to play."
At 16 years old, Duran could've turned pro coming out of the Dominican Republic in 2015. He was delayed, though, due to issues with the registration process, according to MLB.com. Two years later, the Yankees signed Duran to their international class for $10,000, just as the Yankees signed Cano in 2001.
Duran was excited to get to work with the Yankees. He dreamed of potentially making his debut at Yankee Stadium. Those hopes ended in 2021 when the Yankees sent the 5-foot-11 second baseman to the Rangers in a trade package for outfielder Joey Gallo. Duran was devastated.
Altered dreams
"I felt bad at the time," he said on the trade. "I mean, the Yankees were like family to me."
Eventually, though, he thought of the trade as a new opportunity.
"I kinda felt a little bad," Ezequiel Duran said. "When I got traded to the Rangers I felt like I had a better opportunity for more playing time. I'm thankful for that opportunity."
The Rangers signed shortstop Corey Seager and second baseman Marcus Semien as the core pieces of their franchise and the middle infield. 
More from Our Esquina:
Rangers, Astros lead effort for Uvalde Boys & Girls Club
White Sox Oscar Colas among rookies to watch
Phenom Elly De La Cruz sparks Reds resurgence
The San Juan de la Maguana, Dominican Republic, native made his MLB debut in 2022.  He finished the season batting .236/.277/.365 and played two different positions. That was just the start of a middle infielder transitioning into a special utility player.
"When I got here (the Rangers) gave me an opportunity to get in the game," Duran said. "It didn't matter what position they put me in, as long as I was playing the game. I was willing to learn how to play that position, but whatever I needed to do to get in the lineup."
Duran is making the most of the 2023 season. He is currently batting .297/.339/.509 with a 130 OPS+. Those are great offensive numbers, but the storyline is his defense.
All over the diamond
Zeke has already played six positions this year. He's played 29 games at shortstop and 23 in left field. Duran has also played four games at second, two at third, and one each at first and right field.
"He has great versatility," Rangers third base coach Tony Beasley said of Duran. "The one thing about him is that you can plug him in anywhere and he won't complain about it."
The rookie has everything you can ask for in a player. He makes contact, hits for power, runs with good speed. Ezequiel Duran's arm strength is also impressive, and he can play multiple positions when called upon.
Get the Our Esquina Email Newsletter
By submitting your email, you are agreeing to receive additional communications and exclusive content from Our Esquina. You can unsubscribe at any time.