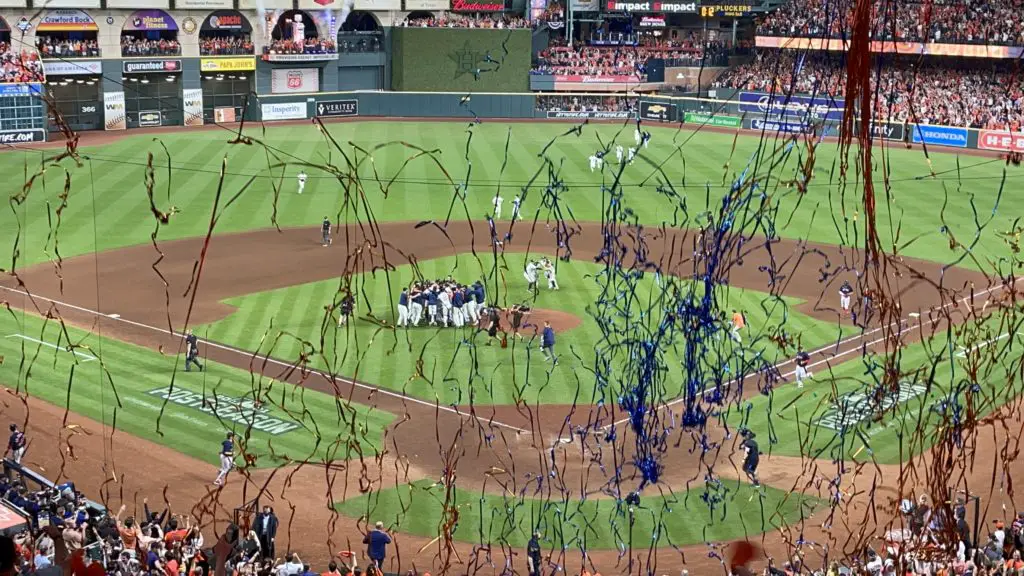 Five changes we want to see after MLB lockout ends
Bring the robocops and universal DH and a retractable roof mandate
It's been more than a month since the MLB lockout commenced. Since then, we have sat patiently waiting to hear a word from owners and players. We have been met with a deafening silence, however.
There has been no movement between players and owners regarding the new collective bargaining agreement. With a little over a month left until pitchers and catchers report to spring training, fans are getting desperate.
All we can do is wait and hope that an agreement is reached before it's too late. If and when an agreement is struck, here are just five things I would like to see implemented when play resumes.
Bring On the Robo Umps
Across the country, professional baseball stadiums in the Atlantic League have been equipped with Automated Ball-Strike (ABS) system, but you wouldn't even know it. In these stadiums, home plate umpires wear Apple Air Pods that are connected to an iPhone which receives ball-strike calls from a computer located in the press box.
As the computer registers a call, it relays it back to the home plate umpire in real time. Umpires would have to use their judgment for calls that aren't registered by the ABS system and can overrule calls they deem to be incorrect.
By implementing this system, it would be very difficult to argue balls and strikes. Mid-game arguments would be all but eliminated as consistency improves. No team would feel slighted because they feel an umpire has a personal slight against them.
The system is ready to use, so let's use it.
Improve the Replay System
We have all been there. An umpire makes a bad call on a bang-bang play that is challenged. The umpires gather somewhere near the stands, where they receive a headset to communicate with headquarters.
Meanwhile, multiple angles of the play are shown on the jumbotron – or at home on television – and the call is clear as day. Still, we sit there as the umpire waits for the official call. One minute passes, sometimes two, until the call is corrected.
There are even times when the player in question concedes after watching the replay himself. He trots back into his dugout, joining the rest of us, waiting for this joyless slog of a process to be completed.
For this reason, when the MLB lockout ends, I would like to see a modified replay rule. Home teams must make replays readily available for umpiring crews to view if a call is challenged. Upon viewing the footage, umpires have 60 seconds to change the call, otherwise, it is upheld.
Universal Designated Hitter
Some purists won't like it, but the time has finally come for the National League to adopt a designated hitter. Far too many pitchers have been lost to injury because they are required to hit in the NL, and if they somehow manage to escape injury, they're usually automatic outs.
In no other American professional sport is it possible for one league to play under a different set of rules than the other. Baseball has done it for close to four decades. It's time for it to end.
Also, by making the DH universal, you extend the careers of aging hitters, like Albert Pujols, Nelson Cruz, and Josh Donaldson. Just imagine the St. Louis Cardinals re-signing Pujols and seeing No. 5 get his farewell tour right back where it started. 
I'd sign up for that!
Modify Schedule
It's time we all admit it. The MLB regular season is too long. For this reason, it's time to reduce the regular season from 162 games back to 154. 
Sure, it's only eight fewer games, but a lot can be done to improve player performance and therefore the quality of play on the field. For example:
Teams can operate on a six-games-per-week schedule
There will be fewer instances of teams resting players
Then, in an effort to recoup some of the money lost to a shortened schedule, MLB should expand the postseason. Instead of five teams – three division winners and two wild card teams – in each league making the postseason, eight teams – the top eight teams by record – in each league would play in October.
The survivor of this sweet-16 style bracket would be crowned the World Series champion.
Raise the Roof!
When the Minnesota Twins opened the doors to Target Field in 2010, many were surprised to see that the stadium featured an open roof. If ever there was a place to have a retractable roof, it's in Minnesota where the temperatures in March and April sit in the 40s and 50s in the daytime.
Rain/snow delays and postponements have become a regular circumstance in MLB. And it's preventable. The technology has existed for decades, so why aren't teams required to implement it?
When the MLB lockout ends, I would like to see a plan in place for all teams to have retractable roofs within the next 10 years.
Sure, this won't be a cheap endeavor — retrofitting Wimbledon's center court cost approximately $150 billion – but it will pay off in the long run. 
Get the Our Esquina Email Newsletter
By submitting your email, you are agreeing to receive additional communications and exclusive content from Our Esquina. You can unsubscribe at any time.