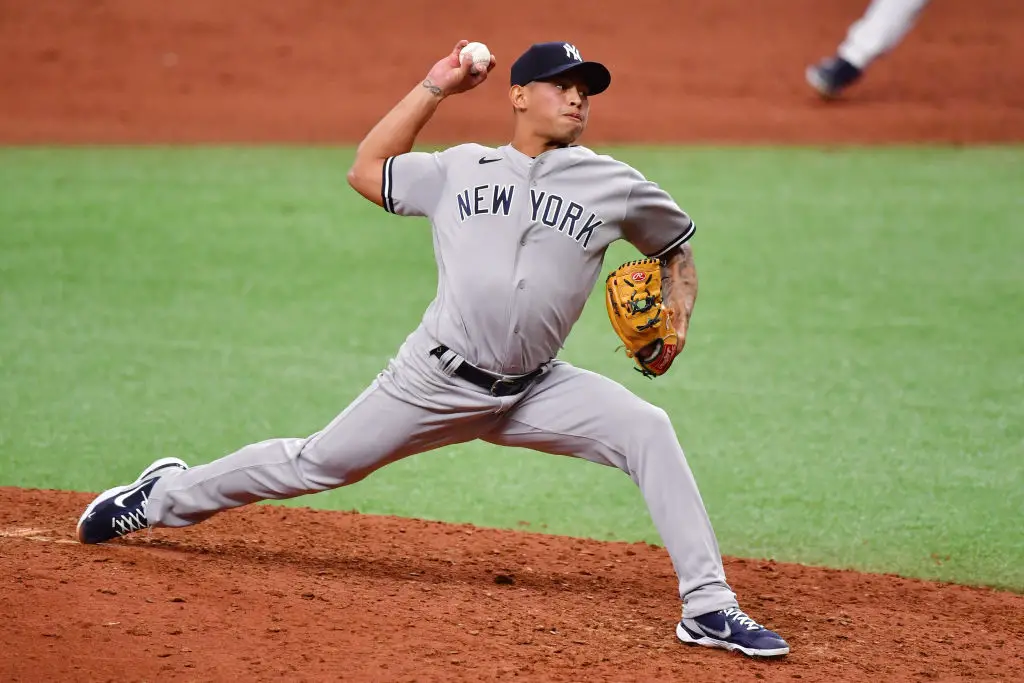 Yankees reliever Jonathan Loaisiga's sinkerball origins
New York Yankees relief pitcher Jonathan Loaisiga tells the origin story of his effective sinkerball as well of his love of baseball.
For New York Yankees reliever Jonathan Loaisiga, baseball is in the blood. He may not be El Presidente. That nickname belongs to another Nicaraguan, but the Loaisiga surname is synonymous with baseball in his native Nicaragua. 
Jonathan Loaisiga's grandfather played professionally in La Liga de Beisbol Profesional Nacional (LBPN), Nicaragua's professional baseball league. His father Stanley Loaisiga rubbed shoulders with the likes of Moises Alou,  Hall of Famer Vladimir Guerrero Sr., and fellow Nicaragüense Dennis Martínez, "El Presidente", while playing in the Minors for the Montreal Expos. 
Though he never got the call to the Big Leagues, Stanley Loaisiga holds the all-time home run record in the LBPN.  
Heck, even Jonathan Loaisiga's little brother played in the Minors. He signed with the Los Angeles Dodgers and played three years in the Dominican Summer League before being released.
Loaisiga was six or seven when his Abuelo took him to play baseball in el Campo de Beisbol in Nicaragua. It was love at first sight.
"From that day on," he said. "I knew this is what I wanted to do. This is what I love."
Jonathan Loaisiga's sinkerball origins
The Yankees' Jonathan Loaisiga was advised to stop throwing sinkerballs after he underwent Tommy John surgery in 2016. Then, during a random bullpen session in 2019, baseball's only player from Nicaragua couldn't contain himself.
Under the watchful eye of then-Yankees pitching coach Larry Rothschild, Loaisiga secretly unleashed the pitch. 
"What was that?" the veteran reliever recalls Rothschild saying, marveling at the pitch's movement. Afraid that he may get in trouble for throwing the sinkerball, Loaisga said it was a four-seam fastball.
"Mentiroso," Loaisiga recalls his pitching coach saying playfully. "Liar."
That August night, against the Oakland Athletics, Loaisiga debuted the pitch for the first time as a big leaguer. In 2 ⅔ innings pitched, he induced four ground balls. Two of them resulted in double plays, the most he recorded that season.
From then on, the Yankees and Loaisiga were believers. Now, it's his best pitch.
A reliable Yankees pitcher
Earlier this season, similar to Rothschild, we marveled at the effectiveness of Loaisiga's sinkerball. Since then, the 26-year-old from Managua has nearly perfected it.
In a time when teams increasingly have a home run-or-nothing approach, sinkerball pitchers are like gold because they typically induce groundballs. You would be hard-pressed to find a reliever who throws it better than Loaisiga.
In fact, among all MLB pitchers with at least 30 innings pitched, he has the fifth-highest ground ball percentage in baseball (63.6%). Also, his 2.80 groundball-to-flyball ratio places him in the top 5% of pitchers in the game.
In turn, the Yankees rely on Loaisiga to make outs and give them length. This season, he has already made 31 appearances and tossed 39 1/3 innings, the most by a Yankees reliever.
Loaisiga has given the Yankees an increased chance of winning. In games where Loaisiga pitches, he provides them with a 1.38 win probability added. That's the most of any reliever on the team. 
What's more, his seven wins are just one shy of the team's ace Gerrit Cole.
Get the Our Esquina Email Newsletter
By submitting your email, you are agreeing to receive additional communications and exclusive content from Our Esquina. You can unsubscribe at any time.