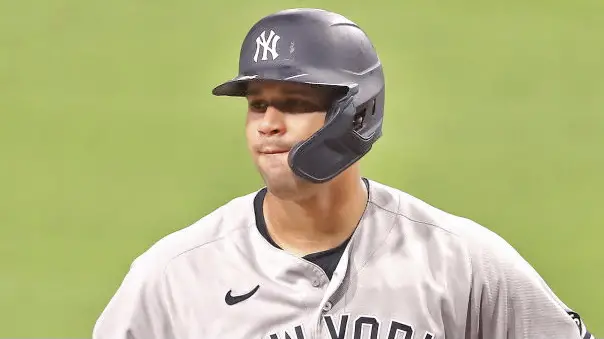 Yankees catcher Gary Sanchez's job is on the line
Yankee catcher Gary Sanchez is on the verge of losing his job to Kyle Higashioka.
It hasn't even been a month and Gary Sanchez's job already seems to be on the line. 
New York Yankees manager Aaron Boone spoke with Sanchez about giving Kyle Higashioka more playing time. This comes on the heels of Sanchez hitting just .094 in his last 10 games. He does not have any extra-base hits since he smashed two home runs in the first two games of the season.
Conversely, Higashioka is hitting .276 for the season with a stellar 1.122 OPS. The team is also 6-2 when he starts behind the plate.
Typically, organizations don't make rash decisions in the first month of the season. However, given Sanchez's continued struggles, you can understand why the team is considering a change behind the plate.
Over the last few seasons, Sanchez has been the poster child for the Yankees' lack of success. He hits the ball really hard, but strikes out far too much. He is also pegged as a guy who shrinks in big situations, which is a big no-no in the Bronx.
But Sanchez seems confused by the thought of being replaced so early in the season.
Gary Sanchez confident
"I don't consider myself to be in a slump," he said. "I feel like I'm close. I feel that If I could get a couple of hits in the coming games, my average will spike up. We haven't played that many games, so If I can get in a streak, those numbers can spike up quickly."
Thursday's performance could go a long way in making Sanchez's case. In five plate appearances, Sanchez walked twice and smoked a single that traveled 103.9 mph.
"I feel a lot better than I did last year," he said. "I feel healthy and I feel good. I want to focus on these upcoming games and help as much as I can."
At the end of the day, Sanchez understands why he's in the position he is in. But he doesn't want to get bogged down on things he can't control. Instead, he committed to focusing on helping the team win.
Get the Our Esquina Email Newsletter
By submitting your email, you are agreeing to receive additional communications and exclusive content from Our Esquina. You can unsubscribe at any time.