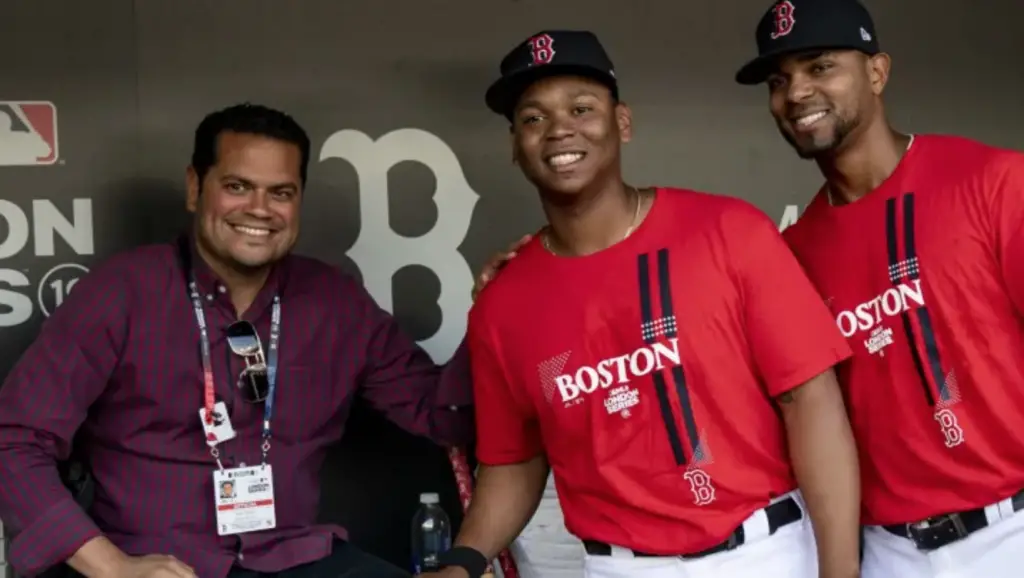 Red Sox Assistant GM Eddie Romero Jr. Learned Watching Dad
Despite never playing baseball professionally, Eddie Romero Jr.'s influence runs deep within the Boston Red Sox organization.
When we watch baseball, we learn to love the players on the field. The team that they represent. Something that often gets lost in the shuffle of wins and losses are the effects that certain ball players have not only on viewers but on their own children. 
Boston Red Sox assistant general manager Eddie Romero Jr. knows exactly what that entails. Watching his dad's playing and coaching career was like "earning a graduate degree in baseball" every year.
Romero's dad's playing career took him from the Brewers to the Red Sox, where the younger Romero has established himself in the front office. The highs and lows that come with the experience of seeing your father play baseball stuck with him.
As he kept growing and as his dad's career shifted, Romero Jr. learned more and more about the game. A deeper understanding and the experience of living in towns as small as Clinton, Iowa, to as large as Phoenix, Arizona, led to his desire to pursue a career in baseball. 
Eddie Romero Jr., however, never played the game professionally.
Following his high school career and an internship in baseball in 2002, Romero was at a crossroads. He was offered a full time job with the team, or he could pursue a law degree. He wanted to stand out, get an advanced degree and create a nice life for himself and his family.
Although he doesn't consider himself a person with many regrets, he began to wonder if he had made the right decision. Oftentimes in sports it's about the connections you make, and by taking a few more years to really enter the industry, he may have made it more difficult on himself.
He didn't let up. though. He got a job working as a prosecutor, one that taught him an invaluable experience buoyed by the knowledge that having a strong work ethic, being humble and appreciating opportunities are what matter the most.
He's now grateful that he pursued his law degree. Dispute resolution and seeing both sides to each argument, which you learn in law school, transition smoothly to baseball and sports as a whole.  
One of Romero's first responsibilities was overseeing the Red Sox Latin American operation in Santo Domingo, Dominican Republic. Being able to be around the young players in the Academy made the job that much more fascinating.
His own heritage and background made the work down there much easier. Being able to speak the language and learn the intricacies of various cultures made learning the scouting evaluation part of the job much more manageable.
As the years have moved forward, so have the technological aspects of the game. While their use in the majors is ubiquitous, introducing them into the smaller academies has been slower.
Romero has seen how receptive these players are to this tech, even if they aren't familiar to them. A key is for players to "feel like they're invested in it as much as" the organization, Romero says. 
It's aided by visuals and making correlations. Romero's own advantage is that he can speak to them in their own language and explain the purpose behind them. Players are more responsive to that. 
The key for Mr. Romero wasn't about reaching a certain title. It was about having a voice that would be heard. He's been fortunate to have that experience through the Red Sox.
Standing Out
When asked for his advice to young Latinos who want to make an impact in the sports community, Romero says "resiliency". 
He knows how difficult it is to get a foot in the door, but he reiterates that once you get that opportunity, you have to grind.
It's a grind to get that first foot in the door, but once you get that one chance you have to continue to grind. 
Of course, now it's a little easier to make connections via Linkedin, Twitter and other social media channels. That's valuable. Being able to publish your work online is something he also emphasized.
Teams look through a Fangraphs article and are always searching. It's a way that teams can not only find more information but also a way that they can find potential candidates for positions. 
The key is "finding ways to distinguish yourself," he says. 
As for what he thinks is a reason for the lack of general managers of color in the big leagues? Well, it's complicated. 
Nearly 30 percent of the players in the majors are Latino. Most of these players come from "traditional" baseball backgrounds in which they have spent their whole lives playing. 
Players know the game, but they may not have much formal front office training,  so they may prefer to stay on the field. He does think that the future is Latino. 
"It's a matter of time before front offices … employ more people with Latin backgrounds," he says. 
It's a reflection of the same Latinos who continue to push themselves and educate themselves so they can make an impact. 
After a short, COVID-affected season, he's aware of the new challenges that a full season, and a full slate of minor league games. The priority is being able to keep all these players and their families safe. The next thing is to be able to make an impact in each player's developmental ladder, many of them weren't able to play last year and that has a domino effect. The last thing he's trying to enjoy this year? Is being with his baseball family as they continue to pursue another World Series ring. 
Get the Our Esquina Email Newsletter
By submitting your email, you are agreeing to receive additional communications and exclusive content from Our Esquina. You can unsubscribe at any time.