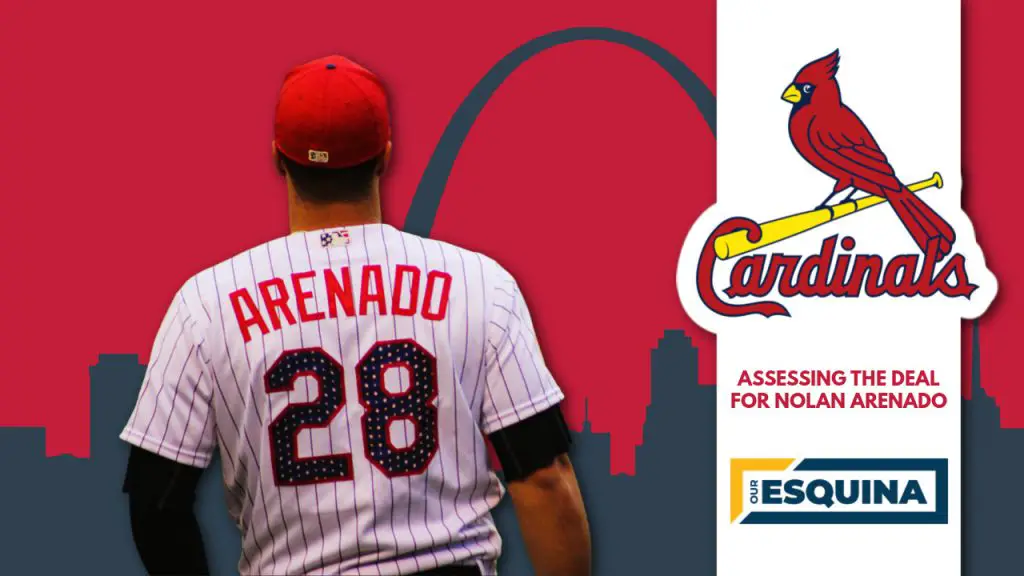 St. Louis Cardinals Can't Contain Excitement Over Nolan Arenado
Today, the St. Louis Cardinals formally introduced Nolan Arenado. The Latin-American third baseman is poised to take the NL Central by storm.
The Cardinals got their man: Nolan Arenado. Finally.
"In the end, we got our man," Cardinals chairman Bill Dewitt Jr. proclaimed as he prepared to formally introduce Nolan Arenado as a member of the St. Louis Cardinals.
This statement was followed by a shot of president of baseball operations John Mozeliak, sitting in front of a red and white Arenado jersey.
"With the addition of Arenado, we went from a good to a great team," Mozeliak proudly exclaimed.
It was clear from the moment Arenado's press conference began that the team he was now a part of was thrilled about their future. Even Arenado, who is typically quite reserved, couldn't contain his excitement.
"I'm very thankful to be Cardinal," he said. "Great organization with a great history."
And so began a promising relationship between a star player and a storied organization.
Who is this player who's been buried in the NL West all this time? And did the Colorado Rockies get enough in return? Let's take a closer look.
For Arenado, Baseball is Everything
Just under two years after the Rockies agreed to extend Arenado to an 8-year, $260 million deal, the team decided to part ways with their main man. In exchange, they get a slew of prospects including lefthander Austin Gomber, infielder Elehuris Montero, righthander Tony Locey, infielder Mateo Gil, and righthander Jake Sommers.
The Rockies are also sending $50 million as part of the deal. In other words, the St. Louis Cardinals get a free year and more for their prized possession.
Is he worth it?
That question is relative, of course, but by all accounts, the Cards got themselves a winner. In fact, just a few weeks ago we spoke to Arenado's first manager in the Rockies' organization Tony Diaz. To say that he spoke glowingly of the third baseman would be an understatement.
"I had Nolan Arenado out of high school and he was pretty good," he said. "He ate baseball. He breathed baseball. He slept baseball. Everything was baseball."
Ranking Arenado
Arenado was only 18 years old when Diaz had the pleasure of managing him with the Casper Ghosts, a Rookie Class affiliate of the Rockies organization. At the time, the Rockies didn't envision him becoming one of the greatest third basemen of his generation.
"The organization thought he was going to be a catcher, and I remember talking to him about that," Diaz said. "And he was like, 'OK, I'm going to show them that I'm not a catcher. I'm a third baseman.'
"Now you look at Nolan possibly being the best third baseman in the history of the game."
That's no exaggeration either. In his 8-year career, Nolan Arenado has walked away with a Gold Glove award in every season. He's earned Platinum Glove status four times.
Arenado even ranks highly offensively. Through any third baseman's first eight MLB seasons in the live-ball era (post-1920), Arenado ranks in the top 1% in the following categories:
Home Runs – 235 (9th)
Doubles – 262 (T-12th)
Slugging – .541 (T-12th)
RBI – 760 (15th)
None of this can be said for what the Rockies got in return. At least not yet.
Therefore, it appears that the St. Louis Cardinals appear to have won this deal.
Photo by jenniferlinneaphotography | Adapted by Manuel Gomez (@MannyGo3 on Twitter)
Get the Our Esquina Email Newsletter
By submitting your email, you are agreeing to receive additional communications and exclusive content from Our Esquina. You can unsubscribe at any time.