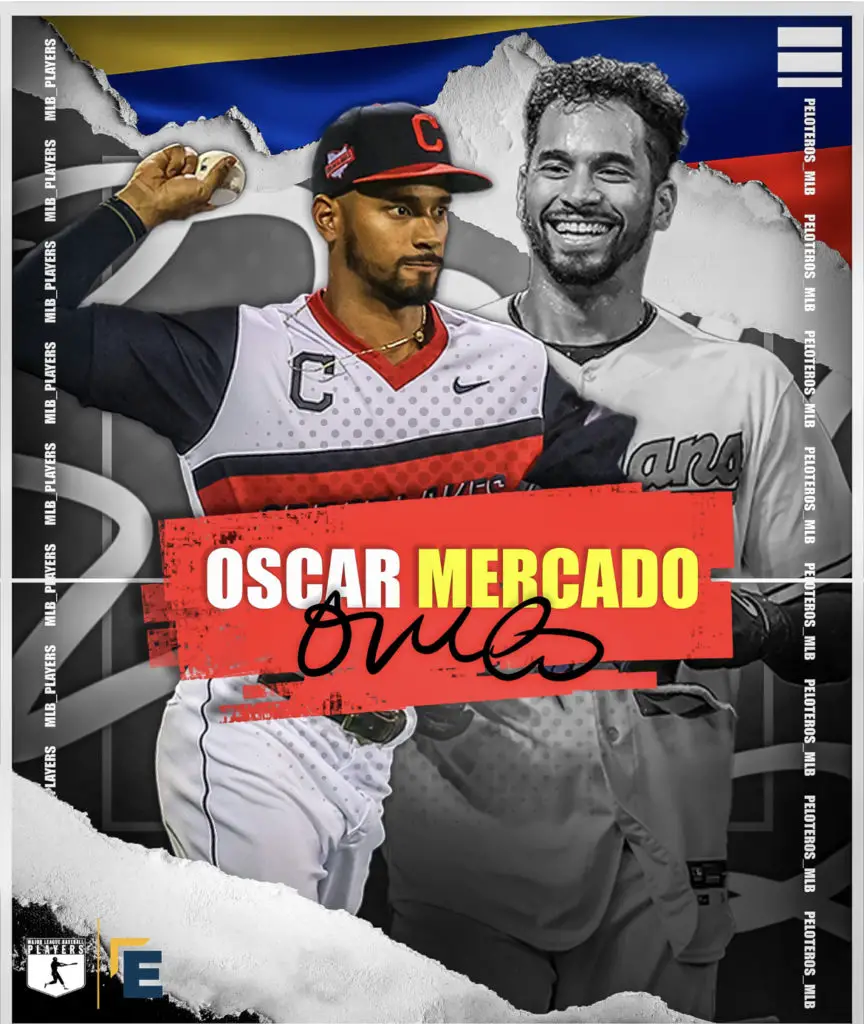 Óscar Mercado represents Colombia
Óscar Mercado hopes to grow baseball in Colombia
Cleveland Indians outfielder Óscar Mercado didn't have many baseball idols as a boy in his native Colombia. But when he left his homeland with his parents and siblings and settled in the United States at age seven, it opened up a world of opportunities. 
"Seeing all the struggles my parents went through to help us get ahead," Mercado said, "it allowed us to be the people that we are now."
This is a sentiment shared by many children of immigrants. No family wants to abandon its homeland. That was especially true of the Mercados, who took great pride in their Colombian roots.
Mercado is from Cartagena, a port city in the northern part of Colombia along the Caribbean coast. Cartagena's economy relies mostly on tourism, though parts of it resemble a metropolitan city.
"The food and the culture are great," Mercado said. "So, I would say if you go to Colombia, you have to go there."
Fortunately, for Mercado, his family's journey to the United States turned out to be a fruitful one. It's where his dream of becoming a ballplayer became a real possibility.
Making more sacrifices
Sacrifice is a way of life for professional baseball players. They're routinely asked to abandon the comforts of home for a life on the road, away from family.
When Óscar Mercado was drafted out of Gaither High School in Tampa, Fla., in the second round by the St. Louis Cardinals in 2013, he faced yet another obstacle. Years after leaving his home in Cartagena, he was required to leave home again. This time it was to fulfill his dream of playing professional baseball.
"I was just an 18-year-old kid leaving the house to play professionally," he said. "I wasn't used to being away from my family. Traveling and living in hotels was a big change for me, but now I'm used to it. If you want to have this life, you have to fight and be positive and understand that that's just the way it is."
Inspiring the future
All told, it took Mercado seven years to reach The Show. Today, he couldn't be prouder to share the field with his favorite Latino player, José Ramírez.
"The things he does on the field are very impressive," Mercado said. "It's a blessing, not just for me, but for all players on the team to be able to share the field with him and to get to learn from such a great player like him."
Mercado hopes to inspire more Colombianos to play baseball so that someday the country can produce its own version of Ramírez. His advice to those peloteros is simple:  Work hard, be disciplined, stay healthy and have fun.
"At the end of the day, this is a sport and it's a game," he said. "So, it doesn't matter if you're small and play at the highest level. You have to enjoy it or else you're going to go crazy."
Get the Our Esquina Email Newsletter
By submitting your email, you are agreeing to receive additional communications and exclusive content from Our Esquina. You can unsubscribe at any time.