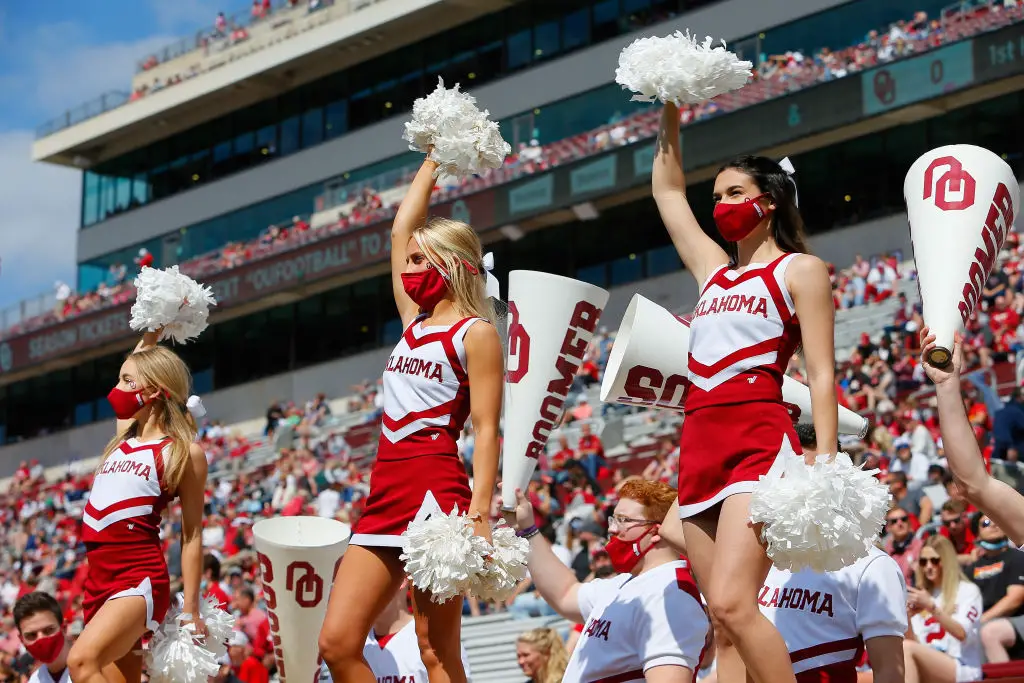 Oklahoma Offers SEC More than Texas On Field
Sports biz columnist Juan Lozano breaks down the Texas, Oklahoma moves to SEC
Oklahoma rival Texas football fired Tom Herman after a strong Alamo Bowl performance against the Colorado Buffaloes on Jan. 2 and immediately hired Alabama offensive coordinator Steve Sarkisian. 
A coaching change almost always has an element of turbulence for players as well as administration. 
Now Texas looks to add more change to the program in the future. They and Red River rival Oklahoma are seceding from the Big 12 to join the Southeastern Conference. I find this funny considering that both teams once played their games in the Southwest Conference more than a century ago.
This is highly disrespectful toward the Big 12, considering the conference wanted to protect the school's delicate sensibilities and seeks to penalize the "Horns Down" hand signal that opponents seem to resort to when defeating the Longhorns.
I guess seeing Abilene Christian go horns down after an NCAA victory was too much for the conference to bear. (Note to self: FOIA the University of Texas and "horns down" after the ACU loss). 
You can't discuss college football without discussing the possibility of the new SEC Super Conference. It's got everyone talking, even school Presidents and athletic directors of other schools. 
The discussion by university officials at other schools suggests to me that athletic departments and sports are only loosely related to the universities that sponsor them.

The schools demonstrate a commitment of capital and resources, but as time goes on, it makes it difficult, if not impossible to see how intercollegiate athletics is consistent with the academic mission of a school. 

Sooners belong
Let's push that elephant aside for a second and look at what the SEC will inherit. 
Oklahoma makes sense. They're the better of the two schools athletically using the one metric that really matters to the SEC, football. 
But the University of Texas? Why does the SEC need them from a competitive standpoint? 
They bring little to the table in the way of competition on the gridiron. Their last conference championship was in 2009. That's a Dust Bowl -like drought. Texas has won a total of three Big 12 Championships since the Big 12's inception in 1996. 
During that time, Oklahoma has 14 Big 12 titles. You read that correctly. Fourteen. Not four.   
That's simply incredible considering the commitment to football that the state and the school make. In football circles, you hear about the high school facilities that some city that usually has the name "Lake" in it. Never mind that the river or lake was probably drained for residential and commercial development purposes.
"Oh, have you heard about the $50 million dollar facility that SouthLakeNorthRiver built?" 

Texas should be better
The University of Texas has all the conditions for success. It's a state school in a populous state full of athletic talent. In the Big 12 conference the only other schools in the state that you need to compete against for athletes are religious schools, and a public one in a harder-to-get-to West Texas.  
Yet, the school has only one championship since 2009. 
I'd give more of a reason as to why this is occurring but that's a discussion for another time. 
It's not the competition the SEC craves.  It's access to the "Eyes of Texas" (oh yeah that song was an issue this year too) that are glued to their flat screens when the Longhorns play. It's all of that Texas money.
Why else would they want Texas? For football? Nah. 
It's for that money and for the remaining SEC schools to get access to Texas players. 
For all the Texas A&M fans clapping like circus seals. You're not off the hook. 
Your school had only one Big 12 championship when they were in the Big 12. 
This too is incredible as the Aggies athletic department is No. 2 in revenue generated. No. 1? You guessed it. The University of Texas. 
Name me a Texas public school that has "achieved" in the last 10 years.  Not underachieved. Or overachieved. Just a school that has achieved consistent with the resources in the state. 
I've got one. 
That's Division II Texas A&M- Commerce. They won a national title. 
Who else? 
There's an old card player adage "If you can't spot the sucker at the table, then you are the sucker."  Have fun playing at the high limits tables,  Longhorns.  
You can send your hate mail to juanlozano@ouresquina.com 
Biles dominates headlines
Gymnast Simone Biles  dominated last week's Olympics coverage, specifically her decision to  pull out of various events for reasons related to mental health. 
Of course, because the athletic events are tied to national identity, people had strong opinions on her decision to pull out. 
Some people were vocal in their support for Biles. 
Others took great offense and acted as if they were going to miss out on some award because of Biles' non-participation. 
Biles became fodder for corny conservative commentators that focused on how great athletes used to be back in the day. True to form, they highlighted white athletes, specifically gymnasts who endured injury to win a medal. And of course, public officials, like Texas Deputy Attorney General Aaron Reitz, weighed in as well, only to later get slapped down and provide a mea culpa. 
Those folks are thankfully in the minority, albeit vocal minority. 
Biles is one of the Games' more popular and marketable athletes. Her sponsors such as apparel company Athleta, nutritional product CorePower and Visa have publicly expressed their support for Biles. 
Certainly what these companies are doing and saying in support of Biles makes good business sense, but it also feels like there's some much-needed and little demonstrated decency. 
Nonstop NBA tune
THE SONG THAT NEVER ENDS 
"This is the song that doesn't end.
Yes, it goes on and on, my friend(s).
Some people started singing it not knowing what it was,
and they'll continue singing it forever just because…."
The NBA should use this song, popularized by Shari Lewis and Lambchop as the soundtrack for the NBA season. 
The NBA Finals ended on July 20. 
The NBA Draft was on July 29. 
The NBA season isn't starting training camp just yet, but there's a league event taking place, on Aug. 3-4 in Sacramento at the California Classic. Three of the four California-based NBA teams (Kings, Lakers, Warriors) and the Miami Heat will face off for a series of games. 
The league is scheduled to return to action for all 82 games on Oct. 19. 
That's a three- month break from Finals to regular season. That's not much down time for the athletes. No wonder there's a need on the part of players to cite "load management" to get a few days of rest during the season. 
The Association must think that this is an NBA2K video game with the fatigue and injuries setting turned to "OFF". 
Let these players rest!
And with that, the Plaintiff rests his case. See you next week. 
Get the Our Esquina Email Newsletter
By submitting your email, you are agreeing to receive additional communications and exclusive content from Our Esquina. You can unsubscribe at any time.