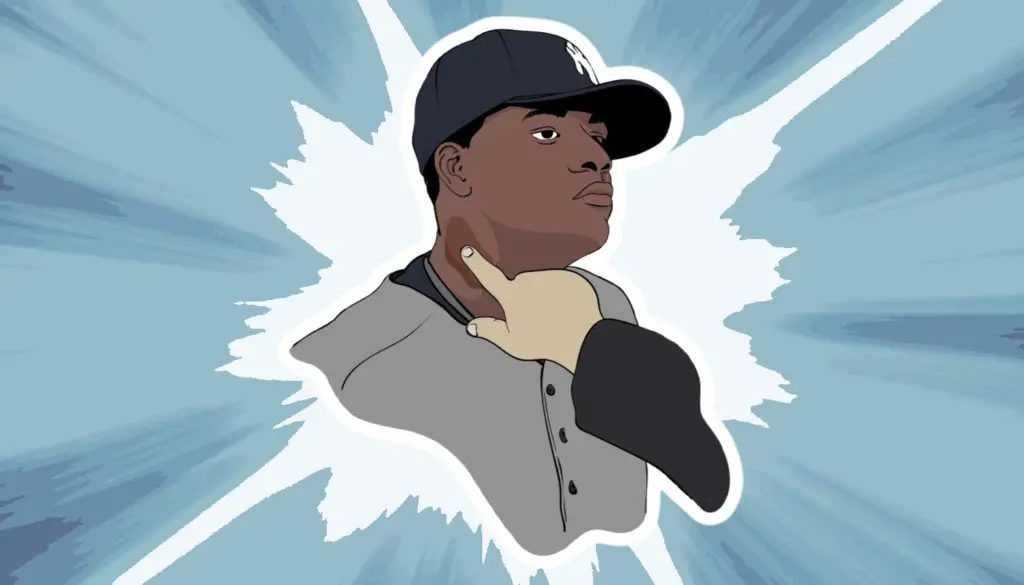 MLB's sticky situation is nothing new
MLB's sticky substance issue is nothing new. How did we get here and why it's not too late to stop it.
This week, New York Yankees pitcher Gerrit Cole caused a stir in the world of MLB. In a cringe-worthy video conference, he awkwardly didn't deny using sticky substances while on the mound.
This has led to a conversation about the use of foreign substances by MLB pitchers. Some, like Minnesota Twins slugger Josh Donaldson are even threatening to name names, exposing those who are "cheating."
I hate to break it to you, but the use grip-aiding substance has always been a issue in MLB.
Rules outlawing the use of these substances have been around since 1920. Still, we can trace instances of pitchers doctoring baseball's since then.
Some of the most popular examples of this include Yankees legend Whitey Ford, who admitted to using "gunk," a concoction made of baby oil, turpentine, and resin.
Or how about Hall of Fame pitcher Gaylord Perry, who most baseball fans associate with the "spit ball?" Perry admitted to using anything from K-Y jelly to fishing-line wax to achieve a better grip on the ball. He wasn't busted until his penultimate season, the 21st of his career.
More recently, former MLB All-Star pitcher Russ Ortiz admitted to using foreign substances on the Bodega Baseball podcast. He used the hair gel on his hair combined with sweat to get a good grip on the ball. He even used shaving cream before the game to help keep hands moist.
All of this and nobody questioned the integrity of the game… until now.
How did we get here?
A combination of things have led to baseball's latest controversy.
First, hitting has never been worse. The league-wide .237 batting average is tied for the worst in the modern era. In the same time span, hitters have amassed a worst ever K% of 9.22.
In addition to this, teams are deploying exaggerated shifts on batters, making for some awful offensive performances.
You might wonder why batters don't just lay down a bunt against the shift? Well, a source inside of MLB told me that if all these hiters could pull off is a single because of the shift, then the shifting team has succeeded.
Lucky for that guy's team, these batters are so focused on launch angle, they can't execute a bunt-for-a-single if they tried.
On top of all this, pitching has never looked so good. With an average 93.8 velocity, pitchers are throwing harder than ever recorded. Pair this with pitch movements the likes we have never seen, and suddenly no-hitters are a weekly occasion.
Finally, there's the issue with the baseballs. With no input from players, MLB has changed the baseballs, seemingly, on a year-to-year basis. This year, it is said that the balls are lighter, creating yet another advantage for pitchers.
All of this has left people grasping at straws and looking for a boogeyman to blame. In the past, it was steroids and sign-stealing. Now, its sticky substances.
For MLB, it's better late than never
MLB shares a lot – if not all – of the blame for the increase in pitchers doctoring baseballs. For years, its been the worst kept secret in baseball, enforced only if the opposing team points to the obvious.
Take the famous Michael Pineda incident for example. Despite the whole world seeing him wear a blob of sludge on his neck during a 2014 Yankees-Red Sox game in the first inning, it wasn't until Red Sox manager John Farrell pointed it out to the umpires in inning-two with 2-outs that Pineda was finally removed from the game.
Fortunately, baseball seems to be ready be more proactive about policing the use of illegal substances. Though some might say that it's too late, I'd say that it's better late than never.
The clearest example of this occured last week when veteran umpire Joe West confiscated St. Louis Cardinals pitcher Giovanny Gallegos' hat. Spotting a suspicious substance on Gallegos' cap, West proactively called it out and demanded the pitcher replace his cap.
This prompted the ejection of Cardinals manager Mike Schildt.
"You want to police some sunscreen and rosin? Go ahead." Shildt said in his postgame remarks. "Get every single person in this league … Why don't you start with the guys that are cheating with some stuff that's really impacting the game?"
Fortunately, it seems baseball is finally starting to do that.
Just last week, four Minor League pitchers were suspended for doctoring baseballs. This has prompted a decrease in spin for players like Gerrit Cole, who surrendered five earned five earned runs in his start before holding the Twins to two runs in six innings Wednesday. Those five runs were the third most earned runs he's allowed since being traded from Pittsburgh to Houston in 2018.
Though this has been a long time coming, it should not fall upon players to answer for something the league has turned a blind eye to for over a century.

It falls on MLB to declare "my bad" and correct the problem moving forward.
Featured art designed by Luigi Gómez (@GomezGfx on Instagram)
Get the Our Esquina Email Newsletter
By submitting your email, you are agreeing to receive additional communications and exclusive content from Our Esquina. You can unsubscribe at any time.