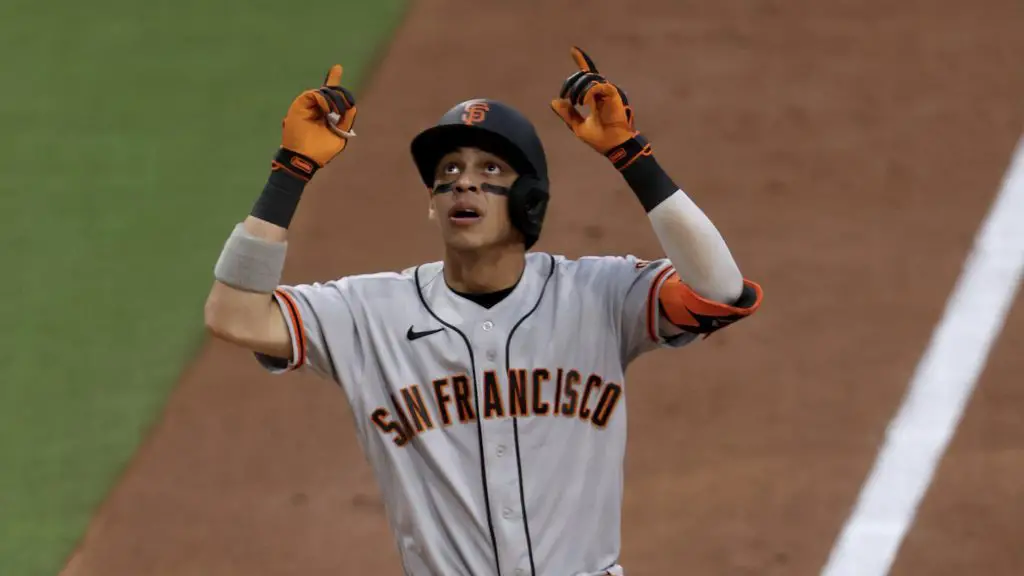 Mauricio Dubón swats away difficult April
Honduran Mauricio Dubón hits first homer of the season
Mauricio Dubón had such a difficult April, his biggest highlight actually belonged on the blooper reel. At one point last month, his batting average dipped to .083. The San Francisco Giants' utility man's average climbed to .107 on April 21, dropped to .097 a day later and then climbed steadily toward the Mendoza Line.
May, however, is already off to a better start for Dubón, the lone Honduran in the big leagues.  
Dubón is one of the best stories in baseball. His journey from San Pedro Sula, Honduras, to Sacramento at 15 and then eventually to the majors is worthy of the big screen. 
Dubón's third season in the majors could hardly have gotten off to a worse start. May is already looking better, though. He drilled his first home run of the year on Sunday, pushing his average to .200 for the first time since April 5.
"It's baseball," he said. "It's crazy. You want to get your spirits up. You've been hitting the ball hard and having good at-bats. It's tough to see that .100 when you're hitting, but, like I said, it's baseball. Eventually it's going to even up."
Dubón, who is in his third season in the majors, is a career .261 hitter. He entered the season as a .274 career hitter. He hit .274 with four home runs and nine RBIs as a rookie in 2019 in 30 games combined with the Milwaukee Brewers and San Francisco Giants 
The Catracho hit .274 again with four homers and 19 RBIs in 54 games during the abbreviated 2020 season. So there's reason to believe the line drives will start falling again more consistently.
Moreover, the Giants need him and his glove in the lineup while they cope with injuries. He may have lost his grip on the center field job, but he's a valuable glove who can also excel at shortstop and second.
"Every day I've been taking my groundballs in short," he said. "You never know. Especially how we've been managing  the lineup, you never know. I can go in for defense in second, short or center. Every day if I'm not playing I take groundballs in all those spots and fly balls when I'm in the outfield shagging."
Catrachos in the majors
It has been 11 years since he left Honduras to live in Sacramento, Calif., where he moved to play baseball at Capital Christian High. He's the second native of Honduras to reach the majors, joining former Astros, Rockies and Cardinals outfielder Gerald Young.
Unlike Young, though, Dubón, 26, was raised in Honduras. Young was raised in the United States. Whatever the case, Dubón  returns to his country annually to help.
He raised funds last November to help Honduran victims of Hurricane Eta. He has overcome enough to know things will get better.
Dubón can even laugh a bit now at his most embarrassing and frustrating moment of the season. 
Mauricio Dubón vows to keep head up, literally
"I can't cuss here," he said with a smile when asked about the play during a Zoom conference Sunday, "but it was a mental mistake."
During that mental mistake, he collided with third base coach Ron Wotus on April 27 when he failed to see Wotus put the stop sign up.
"I just got to run with my head up," he said. "That's something we've talked about with Wo. I'm surprised he's OK. I'm a big man coming at him and collided with him. But I've got to run with my head up. That's something we discussed, and it's not going to happen again."
On the bases and off the field, Dubón has plenty of reasons to keep his head up. He's overcome quite a bit already to make baseball history as the first player to reach the majors after he was raised in Honduras.
April is over, and May is already better for the young Catracho. 
Photo by Sean M. Haffey/Getty Images
Get the Our Esquina Email Newsletter
By submitting your email, you are agreeing to receive additional communications and exclusive content from Our Esquina. You can unsubscribe at any time.