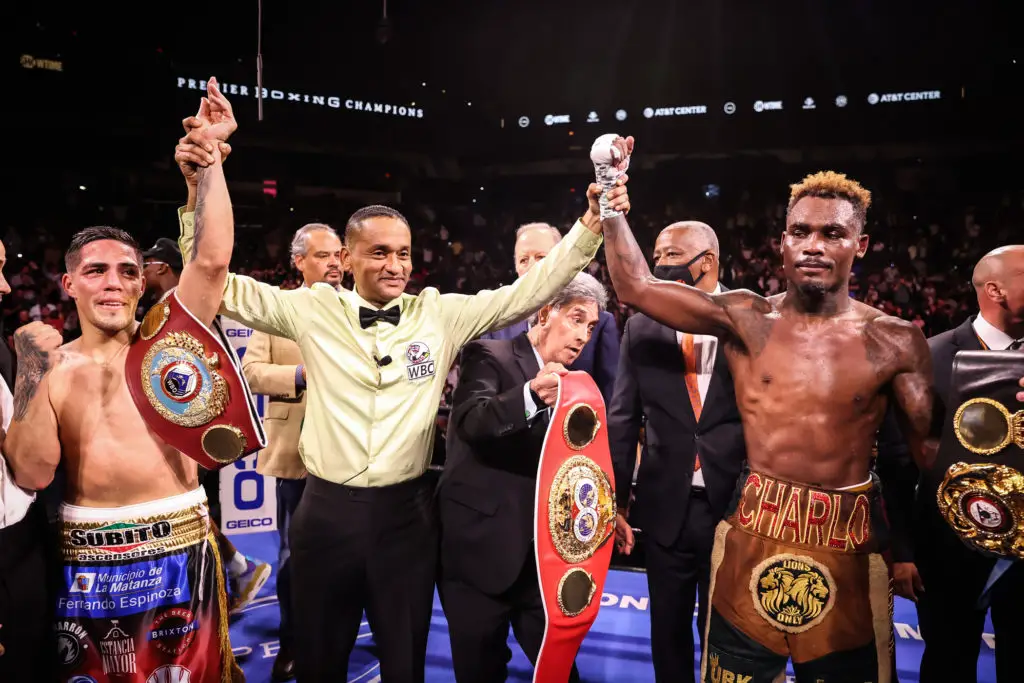 Judges Keep Giving Boxing Black Eye
Sports Biz columnist Juan Lozano calls for transparency in boxing judging
When the recent Brian Castaño-Jermell Charlo boxing title unification fight in San Antonio was announced, I knew it was going to be an uphill battle for the WBO light middleweight champion Castaño. 
The Argentine had to come to the United States and defend his lone title in the Alamo City against Charlo, a fan favorite from Houston and holder of three light middleweight belts (IBF, WBA, and WBC). If the fight went the distance, he'd also have to likely overcome the judge's scorecards.
When a fight in Texas goes to the judge's scorecards, I always brace myself for something unpredictable and completely inconsistent with what actually transpired. 
For example, in 1993, the late Pernell Whitaker outclassed undefeated Mexican legend Julio César Chávez in San Antonio. Yet the fight was deemed a draw in one of the most egregious decisions in my lifetime. 
Also, whenever I see a fight in Texas featuring a Texan versus a non-Texan, I immediately think the non-Texan is going to have to score a knockout to win. The fight that cemented that idea was when former champion Paulie Malinaggi lost a unanimous decision to Houstonian Juan Diaz in August 2009 at Houston's Toyota Center. 
Shady boxing history
Malinaggi went on a justifiable post-fight rant that pointed out how ridiculous the decision was. To further highlight this point, Malinaggi defeated Diaz in Chicago in December of 2009. 
Bad judging in boxing is not exclusive to Texas, however. In both the amateur ranks and in the pros, boxing judging has received a great deal of scrutiny in the last 30 years or so, and rightfully so. Who can forget Roy Jones' loss at the 1988 Olympics? 
It was no surprise that again San Antonio was the sight of a sorry scorecard on Saturday night. Castaño and Charlo fought to a split-decision draw in an entertaining match where both fighters had moments of brilliance. 
Both men claimed to have won it afterward.
"I won this fight," Charlo said. "I hurt him way more than he did to me. Castaño is a real warrior. But my power is serious at this weight division." 
Not surprisingly, the Argentine disagreed.
"I won the fight," Castaño said. "There were some rounds that he did hit me, and he hit me hard. But I won this fight."
Draw not shocking
The decision wasn't the issue here. In fact, the decision was a reasonable one. An aggressive Castaño had built a lead in the fight on the strength of power punches, but per the words of German synth-pop group Alphaville in their 1984 smash hit "Forever Young,' he finished like a fading horse. 
He lost the last three rounds. Judge Steve Weisfield scored the bout 114-113 for the Argentine. Tim Cheatham ruled it a 114-114 tie. The scorecard that drew the ire of boxing fans and pundits was Nelson Vazquez's. He called it 117-111 for Charlo. 
The scoring unfortunately became the story. After a tremendously entertaining fight, the talk surrounding the fight should be about how entertaining it was and how quickly a rematch can take place, and not about one judge's scorecard.
A rematch is certainly in order. It likely will be in Texas because of Charlo's appeal. Castaño and his crew should ask for more, including a piece of the gate. 
Can boxing improve judging
How does boxing clean up this issue? This type of scoring isn't good for the sport. It's most unfortunate that this happens during popular fights. This fight was Showtime's most watched live boxing event since December 2019. It is the type that can potentially help grow the sport's fanbase. 
Commissions should let the public see what the judge's scorecards look like round by round. This would eliminate the element of the bad surprise scorecard or outcome. 
On a macro level, a review of how judges are selected might be necessary. 
The Athletic's Lance Pugmire gave a brief summary of how judges are selected in Texas. The process is prime for malfeasance. 
All for NCAA change  
Imagine a national sporting system where athletes that generate revenue are prevented from sharing in any of the profits they help generate. Where does that take place? 
It does not take place in Venezuela, Cuba or China. Rather, that's the reality for amateur athletes in the "land of the free" who participate in the NCAA.
Critics will point to the NCAA now permitting players to profit from name and likeness as evidence of their progressive new stance toward athletes.It's amazing to contemplate that until just a few weeks ago, NCAA athletes played under a system that prevented them from generating income that the athletes were able to generate on their own.
Don't kid yourself, though.  The players still aren't getting paid. The athletes are not getting a chunk of the television rights deals. They don't get a cut when a corporation signs on to be the official sponsor of a sport. They have the opportunity to now secure their own sponsorship deals, but with limitations, of course. 
At least in some national sporting academies the athletes will draw a salary. Cuban baseball stars have defected to the United States to make money in their prime earning years. The NCAA and NFL with their restrictions on who is draft-eligible certainly undermined the movement to provide players compensation or the ability to generate income. 
In response one player, LaMelo Ball left the United States and early on chose to not participate in the NCAA system. He skipped part of his junior and senior high school seasons to compete professionally first in Lithuania and later in Australia. And of course, the Ball family endured attacks for playing outside of the system. 
Boxing isn't only sport with questions
We are going to look back and examine hard questions about this era in sport. Specifically, what was the public policy rationale that permitted athletes to go uncompensated?
In the future, pundits and coaches will state that they were all for players' economic rights and their abilities to generate income. I have the receipts. I can break those at any time. But this is a family show and I'm not trying to bring about that type of violence. But where is the media and sports administration's collective mea culpa?
Will the media act contrite similar to how they are behaving during the recent Britney Spears conservatorship saga? Will they ask hard questions of coaches and leadership of whether they are re-considering their bombastic anti- income player sentiment? 
But the battle is just beginning. Even though the players have made some progress, let's not confuse this with significant change. It's spare change.
This "progress" is change. It's just that loose change that the players have to find beneath the cushions of the dilapidated college living room sofa, while the NCAA and the member schools keep the big bills in the vaults. 
Oh My Ohtani
Many of the headlines about last week's Home Run Derby and All-Star game were about superstar pitcher and outfielder Shohei Ohtani. 
There are great young players in the game currently, namely the Juniors (Fernando Tatis and Vladimir Guerrero), Juan Soto, Jazz Chisholm, just to name a few of the players who are must-see-TB. And of course Ohtani. 
There's a clear attendance bump when Ohtani takes the "bump," both home and on the road. 
The clamor for Ohtani memorabilia is intense. Per this ESPN article by Dan Hadjucky regarding Ohtani's exclusive memorabilia deal with Fanatics,  sales of Ohtani items dominate.
"Ohtani accounted for 28 percent of all 2021 All-Star Game merchandise sales," he wrote. "Fanatics started selling Ohtani memorabilia last week; not only did the 2018 AL Rookie of the Year quickly become baseball's No. 1 athlete on the site, but his sales outrank the No. 2 MLB player 10 times over. Since July 1, in memorabilia and merchandise, Ohtani is the top-selling athlete on Fanatics across all sports, which includes hundreds of professional and collegiate teams."
Prior to the 2018 season, there was a bidding war for Ohtani between a number of teams, including the New York Yankees. A number of pundits, most notably Mike Francesa, questioned why anyone wanted to sign the Japanese star, going so far as to question if he was going to "embarrass somebody" who signed him. 
Francesca even said "The Yankees are lucky they didn't get him." That's a first-ballot inductee in the Bad SportsTake Hall of Fame. Yet, others could see the brilliance of Ohtani from the very beginning. 
That's the end of our show for this week. We will see you next week. Cue the This Week in Baseball outro music.
Get the Our Esquina Email Newsletter
By submitting your email, you are agreeing to receive additional communications and exclusive content from Our Esquina. You can unsubscribe at any time.